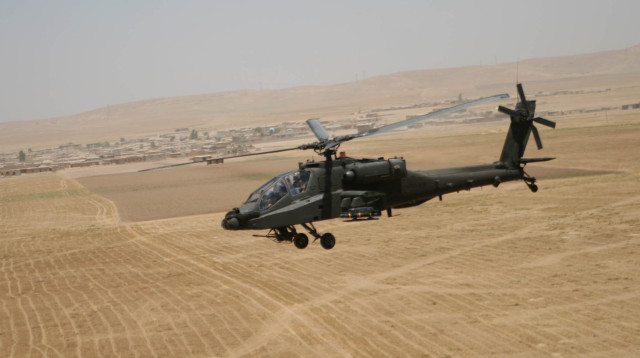 The Boeing AH-64 Apache is an attack helicopter which has a tandem cockpit for a two-man crew.
It's armed with a 30 mm M230 chain gun carried under the aircraft's forward fuselage. On the stub-wing pylons, there are four hardpoints mounted which typically carry a mixture of Hellfire missiles and Hydra 70 rocket pods.
The Apache prototype had it's maiden flight on 30 September 1975, in 1982 it was approved for production and it entered service in April 1986 replacing the AH-1 Cobra. Over 2000 have been built since, and tt has been in continuous production.
It saw combat for the first time in Panama, in 1989 and saw action in every conflict since.
During Operation Desert Storm, the liberation of Kuwait, the Apache's launched the first strike when they took out Iraqis radar network.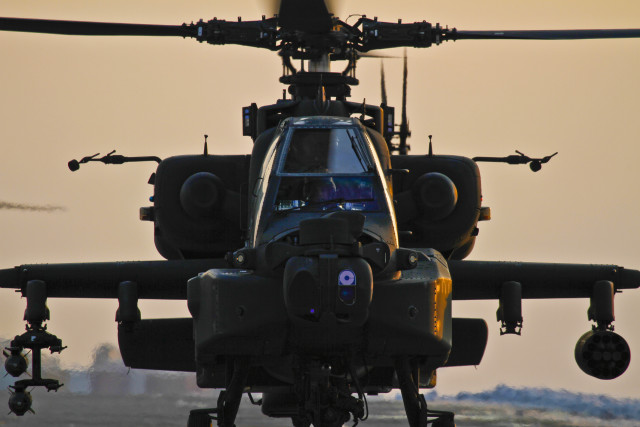 A total of 277 AH-64s took part in During the 100-hour ground war, destroying 278 tanks, a large number of armored personnel carriers, and other Iraqi vehicles. Only one AH-64 was lost when it was hit by an RPG at close range, the Apache crashed but the crew survived, a testimony to the design.
Roughly 450 to 500 Iraqis, the better part of an Iraqi infantry battalion, surrendered to Apache gunships, which were armed with rapid-fire 2.75-inch rockets.
Pictures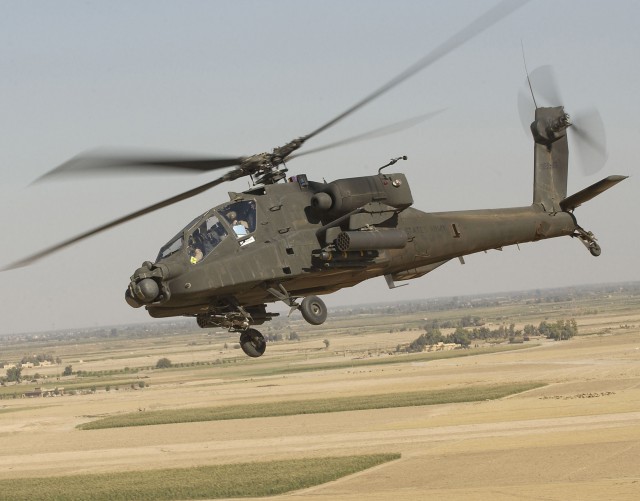 An AH-64D Apache Longbow helicopter from 1st Battalion, 101st Aviation Regiment, based at Forward Operating Base Speicher, Iraq.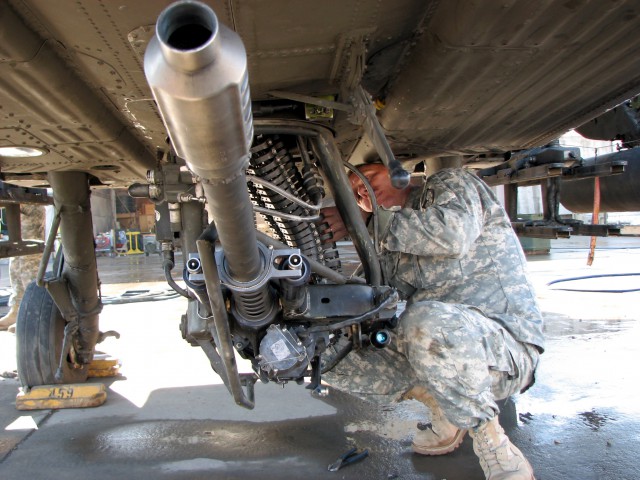 The 30 mm canon (M230 Chain gun) under the fuselage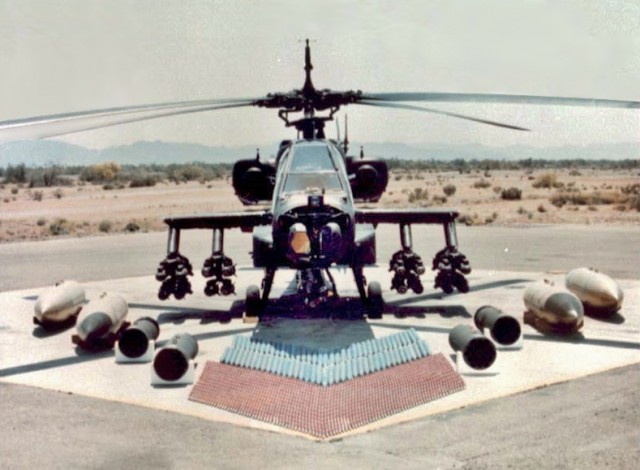 Weapon loadout of the AH-64 Apache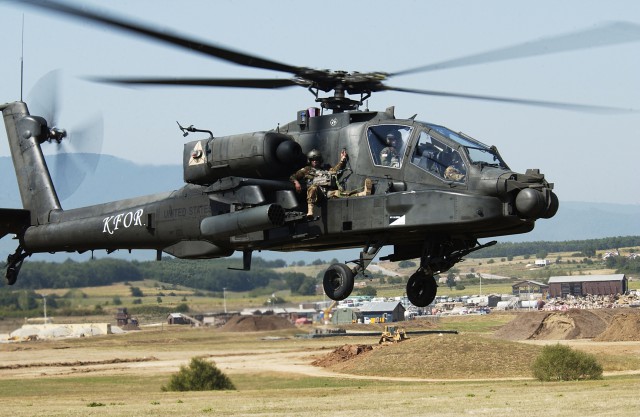 AH-64 during an extraction exercise at Camp Bondsteel, Kosovo, 2007. Note the soldier on the avionics bay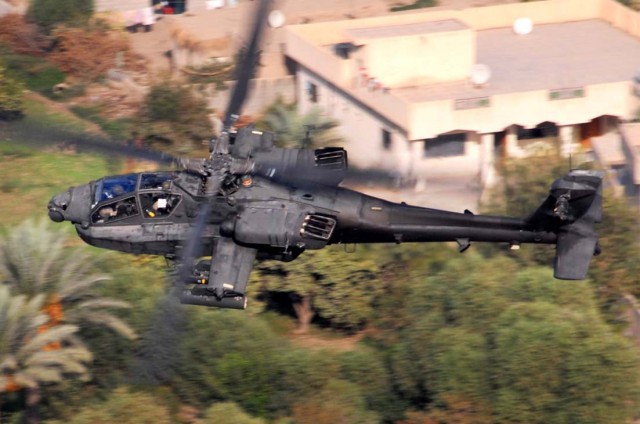 AH-64D Apache flying over Baghdad, Iraq in 2007, on a reconnaissance mission Photo Credit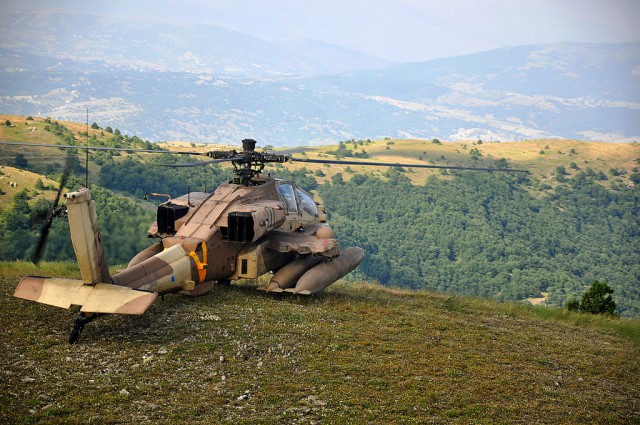 Israeli Air Force AH-64D "Saraph" during an exercise with the Hellenic Air Force in 2011.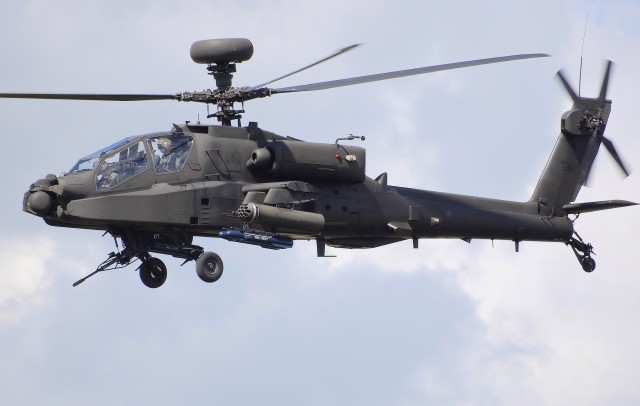 UK Army Air Corps Westland WAH-64D Apache Longbow displays at a UK airshow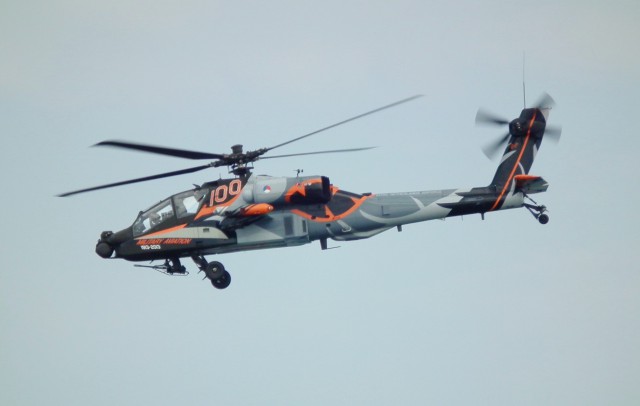 A Royal Netherlands Army AH-64D Apache – Photo Credit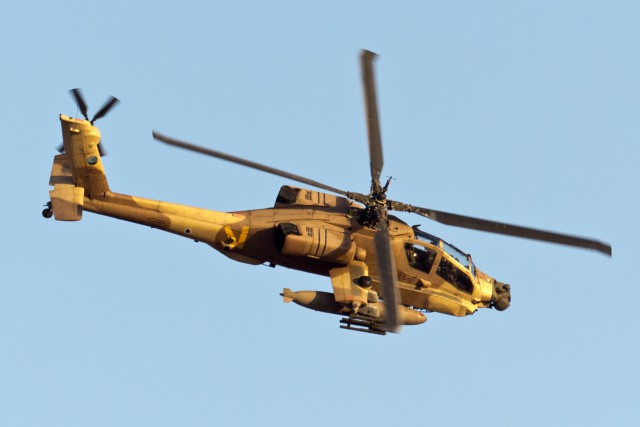 IAF AH-64A Pete – Photo Credit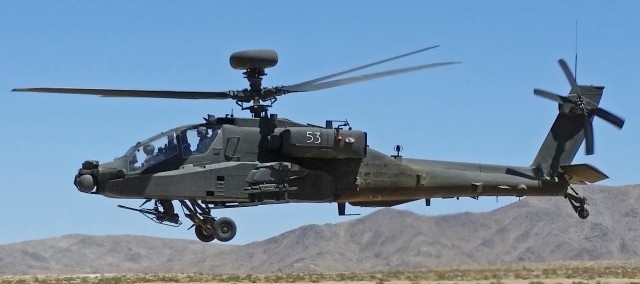 An AH-64E Apache from 1st Battalion, 25th Aviation Regiment, 25th Infantry Division, takes off from its landing pad after arming and refueling during the unit's rotation at the National Training Center on Fort Irwin, Calif., May 21.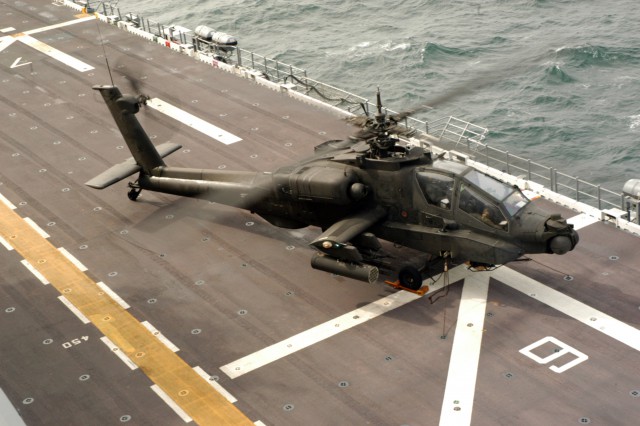 Atlantic Ocean (Feb. 1, 2005) – A U.S. Army AH-61 Apache helicopter prepares to launch from the flight deck aboard the amphibious assault ship USS Nassau (LHA 4) during Joint Shipboard Weapon Ordnance (JSWORD) training. The JSWORD exercise provided an excellent opportunity for Navy and Army ordnance personnel to work together in a joint training environment. The AH-64 Apache is a twin-engine, four bladed, multi-mission attack helicopter designed as a highly stable aerial weapons-delivery platform. U.S. Navy photo by Photographer's Mate 1st Class Brian McFadden.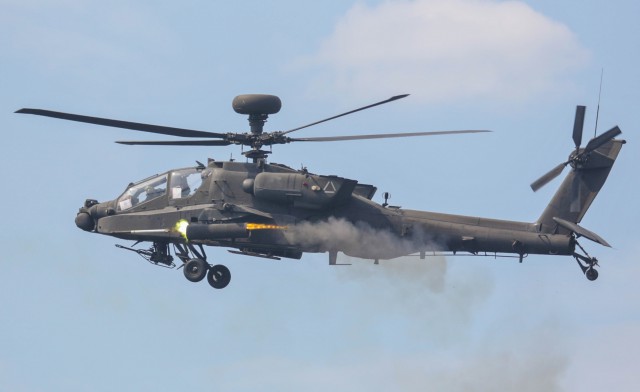 U.S. Soldiers assigned to the 12th Combat Aviation Brigade fire on targets from an Army AH-64D Apache Longbow helicopter during a combined arms live-fire operation at the Grafenwoehr Training Area in Bavaria, Germany, June 27th, 2014, as part of exercise Combined Resolve II. Combined Resolve II is a U.S.-led combined arms exercise designed to prepare U.S. and European forces for multinational operations. (U.S. Army photo by Spc. Bryan Rankin)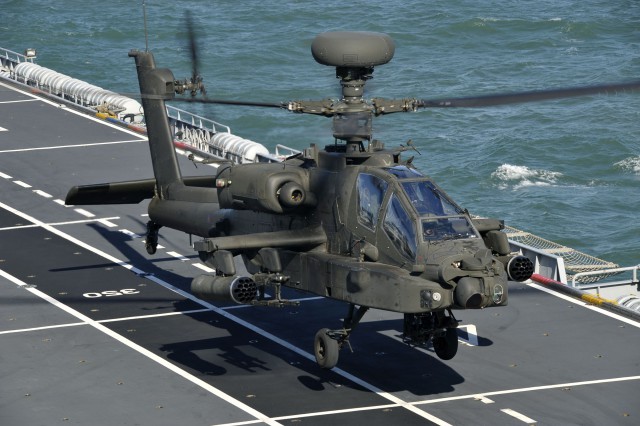 An Army Air Corps Apache attack helicopter takes off from the deck of the Royal Navy's amphibious assault helicopter carrier HMS Ocean, the first to do so for 5 years. HMS Ocean was conducting training off the coast of Suffolk, enabling the helicopters to have a short journey back to their base at RAF Wattisham. – Photo Credit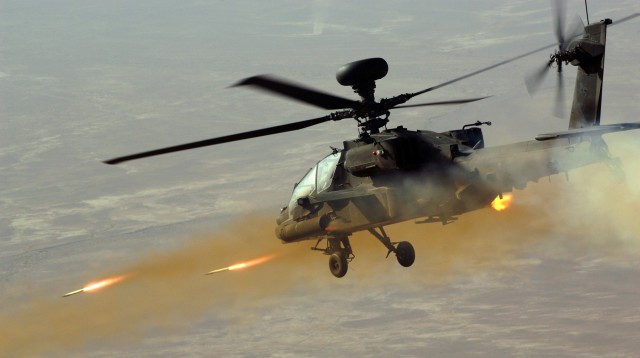 An Apache Attack helicopter of the Army Air Corps in Afghanistan fires rockets at insurgents during a patrol in 2008. – Photo Credit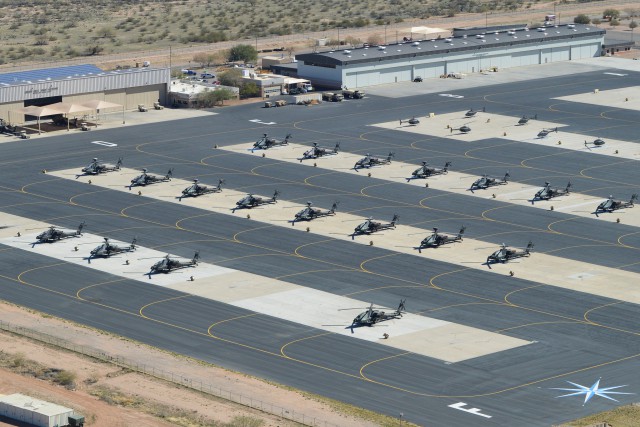 Visible in this shot of Silverbell AHP are six OH-58A Kiowa & nineteen AH-64D Apache gunships. Silverbell Army Heliport, Pinal Air Park, Marana, Arizona. Via Flickr