The B-24 Liberator was, together with the B-17, the workhorse of the United States Army Airforces who used it in every theater of operations. It was also instrumental in the Battle of the Atlantic, where it's long range enabled it to close the Mid-Atlantic Gap. Twelve thousand B-24s saw service with the USAAF, at the peak, in September 1944 there were 6,043 active!
It featured a very modern design featuring a shoulder-mounted "Davis wing," which gave the Liberator long-range, a high cruise speed, and the ability to carry a heavy bomb load. For defense, the B-24 carried up to 10 .50 caliber M2 Browning machine guns which were located in the waist or in turrets.
It was less robust than the B-17 and the aircrews tended to prefer the B-17, General Staff favored the B-24.
These pictures are a reflection not only on the toughness of the machines but also the skill and courage of the pilots and crews that got these warbirds home. Must have been an horrific experience and these images give us just a small insight.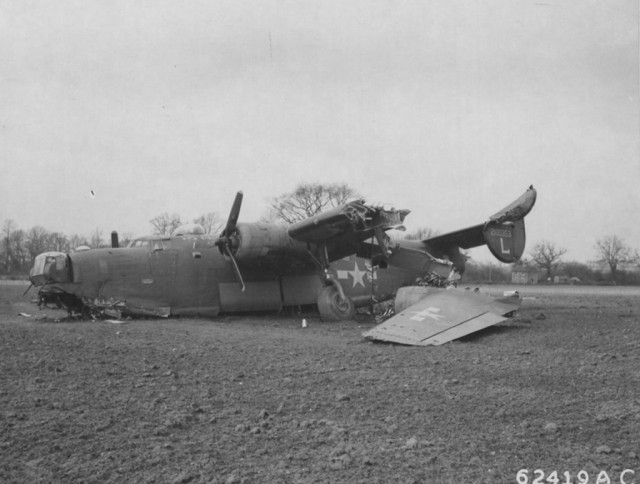 Consolidated B-24J-90-CO Liberator – Serial number 42-100353
703rd Bomb Squadron, 445th Bomb Group, 8th Air Force.
Crash landed in a field near Metfield, Norfolk, England on March 8, 1944 and salvaged two days later. [Via]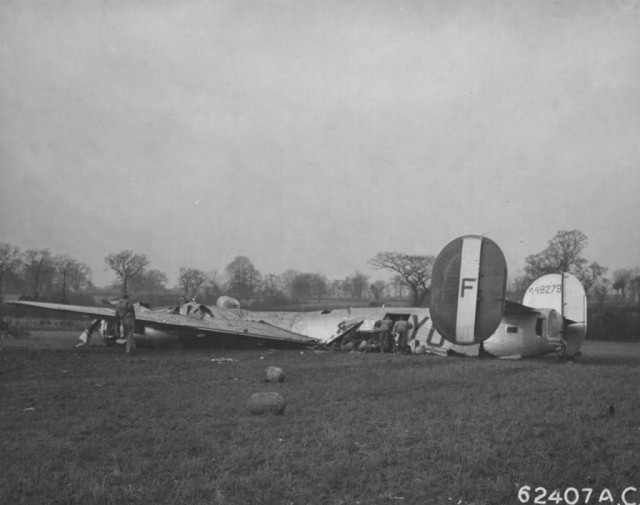 Ford B-24L-5-FO Liberator – s/n 44-49279 – 564th Bomb Squadron, 389th Bomb Group, 8th Air Force
Crashlanded at Ashwellthorpe, Norfolk, England on Feb. 6, 1945 after returning from a mission to Magdeburg, Germany. [Via]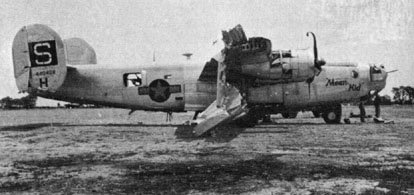 Battle damage resulted in this brand new 34th BG B-24 Liberator being written off at Manston, June 14, 1944. [Via]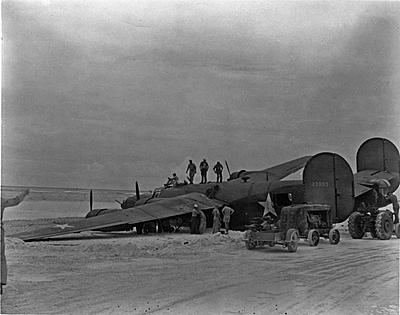 Daisy Mae down on the beach at Midway after a harrowing raid against Wake Island. Landed with no brakes- you can see hydraulic fluid blown back on the fuselage. [Via]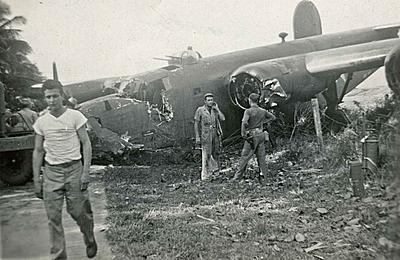 Thumper, crashed on take-off from Kualoa overloaded for a photo-recon mission. #2 propeller slashed through the cockpit before cartwheeling over the plane and broke the pilot's wrist [Via]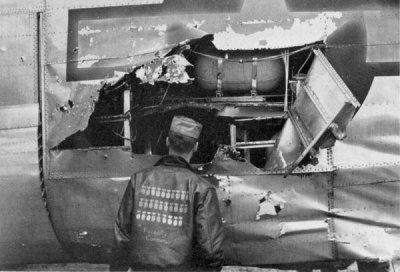 This B-24 didn't make it home, but at least it landed safely. Damaged by flak, Piccadilly Pete of the 448th BG was brought to rest on her tail skid when her pilots sought the sanctuary of Bulltofta airfield in Sweden on April 9, 1944. [Via]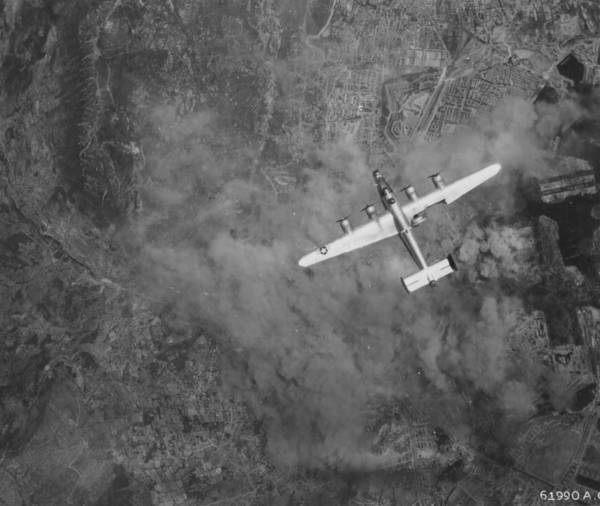 B-24 Liberator from the 376th Bombardment Group, US 15th Air Force, during a bombing mission on a submarine in Toulon docks, Southern France.Despite a badly damaged right wing, this Consolidated B-24 "Liberator", maintained its place in formation on the bomb run over the target.Flying at an altitude of 22,700 feet and they made it back to their base in San Pancrazio, Italy.6 August 1944. [Via]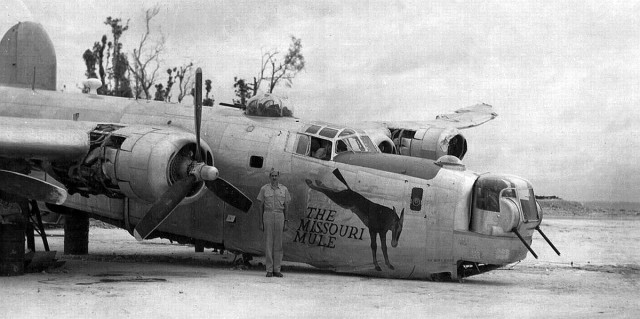 B-24 flak damaged over the Philippines, belly-landed Anguar Island, Carolines [Via]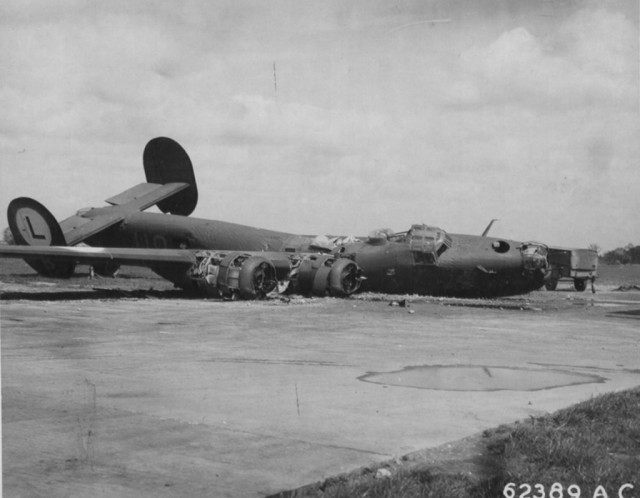 Named "Shack Rat," B-24H-15-FO Liberator, s/n 42-52566, with the 786th Bomb Squadron, 446th Bomb Group, 8th Air Force. Damaged by flak on mission to bomb the airfield at Gutersloh on 19 April 1944, she was totally destroyed in the crash landing at Attlebridge. [Via]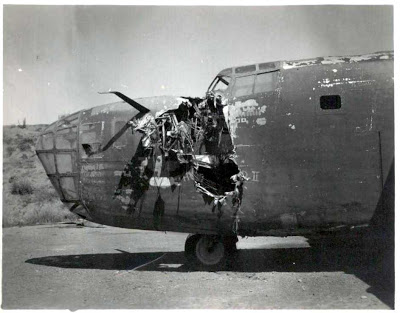 B-24D 42-41142, "THUNDERBIRD II", 308th/375th Chengkung, China 1 Apr 44, the result of a runaway propeller, on takeoff that cut into the flight deck. The Pilot, John Z. McBrayer, lost his left leg.  [Via]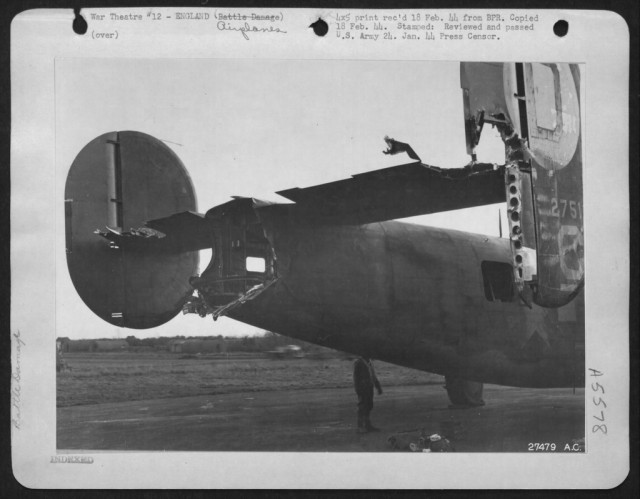 The damage in the photo occurred on the December 20, 1943 mission to Bremen, Germany. It is still not completely known what happened other than a propeller from another plane sliced away the tail turret,right rudder and part of the horizontal stabilizer and killing the gunner.
There are two stories about this mishap. One says it was a prop which came off another plane; another says "El Lobo" slowed, suddenly, and was hit by another aircraft.
The tail gunner – S/Sgt. Donald D. Pippitt – died as a result, and the plane returned to the 392nd a month later. She was later reported as MIA [missing in action] on an April 29, 1944 mission to Berlin. [Via]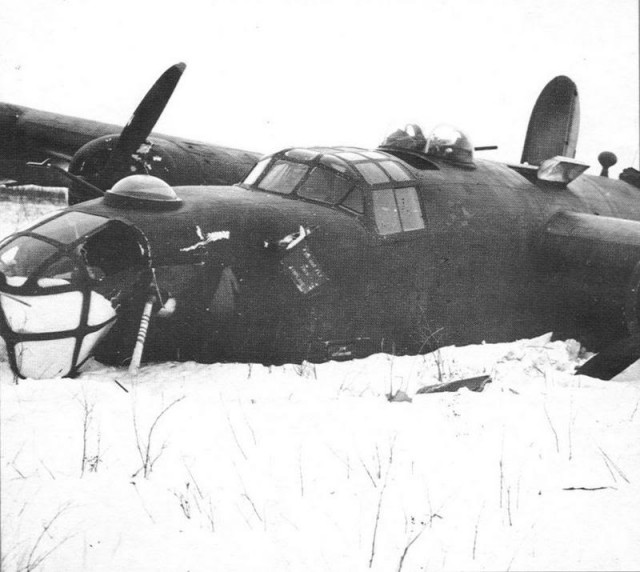 BA2 #14 41-23858 GREMLIN'S DELIGHT aka FRIGID FRANCES of 28CG. Crash landed 30 miles south of Ladd Field AK; flew for 3 hours observing and photographing a solar eclipse when the B-24 suffered the loss of engines No. 1 and No. 2. The inability to feather the props compounded problems and ultimately led to the aircraft crashing. All 14 aboard survived. [Via]