M*A*S*H (1972-83) centers around the Mobile Army Surgical Hospitals during the Korean War. Although the television show is based on fictional characters, a lot of the elements featured in it are real – and there are two actors who can attest to that. Prior to starring in the hit series, Alan Alda and Jamie Farr were deployed to Korea with the US Army.
Alan Alda had to overcome a difficult childhood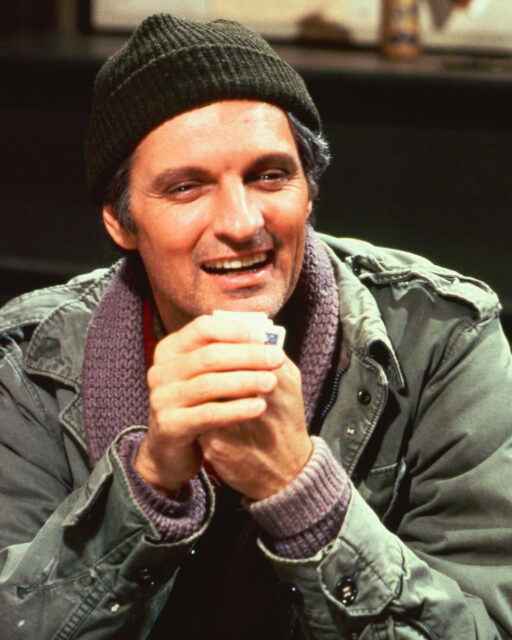 Alan Alda was born into a family already immersed in show business. His father, Robert, worked in burlesque and traveled across the United States. The elder Alda eventually became a film and theater actor, and later appeared in two episodes of M*A*S*H.
Following in his father's footsteps, Alda began his career by working in several improv groups, before breaking out as a TV and film actor. However, he had a difficult childhood to overcome. His mother was a schizophrenic, while he suffered with a bout of polio.
Alda was often ill, and his parents put him through a painful and controversial treatment system developed by Sister Elizabeth Kenny, whose approach later became the foundation for physical therapy. It included applying hot compresses, typically in the form of woollen blankets, onto his limbs, followed by movement and stretching of the muscles.
The future actor's affliction often kept him away from school, but he was still able to complete his education. He later attended Fordham University on a Reserve Officers' Training Corps (ROTC) scholarship, earning his Bachelor of Arts in English in 1956.
Jamie Farr discovered his knack for acting at an early age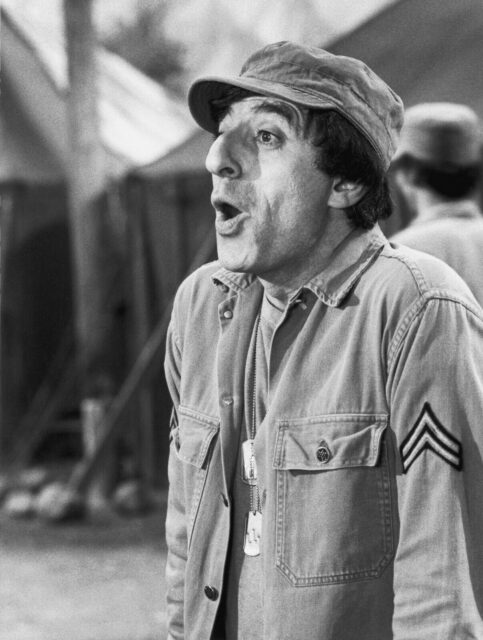 Jamie Farr was also exposed to acting at an early age, first trying his hand at performing by entering an acting contest at the age of 11. He'd clearly found his calling, as he won the $2.00 prize.
After attending high school, Farr was encouraged by his mentor, American actor Danny Thomas, to move to California, where he visited the Pasadena Playhouse. There, he was recruited by MGM to play the role of Santini in 1955's Blackboard Jungle.
Following this, Farr earned the role of Snorkel on Red Skelton's popular television show. After meeting Skelton himself, the two developed a strong friendship, and Farr was made a regular for two seasons of The Red Skelton Show (1951-71).
It was a dream come true, with Farr explaining to the Toronto Star that, on his way to first meet Skelton, "I was actually shaking. We were driving through the big iron gates to meet my hero. The guy I'd been listening to since I was a kid."
Alan Alda was an artillery gunnery officer in Korea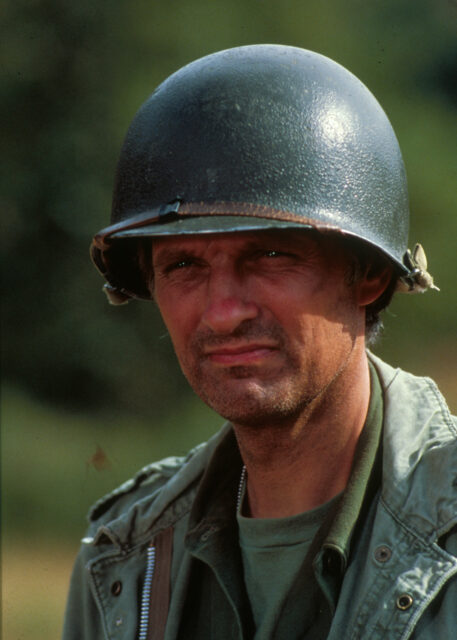 As aforementioned, Alan Alda and Jamie Farr were deployed to Korea prior to their time on M*A*S*H, both a few years after the armistice was signed.
After completing his schooling, Alda was commissioned in the US Army Reserve and stationed out of Fort Benning, Georgia as an artillery gunnery officer. After serving for over a year, he was deployed to South Korea, where he taught his fellow soldiers on how to effectively use mortars.
Alda often jokes about his military service, explaining that he'd not directly experienced fighting in Korea, nor Vietnam, and has even said he was actually just in charge of a mess tent.
"I was in the Reserves," he once explained to NPR. "I don't know if you call that being in the military. They put me in charge of a mess hall at one point, and we had to feed 200 people three meals a day. And I had six guys who sort of stared blankly at the wall and played with the liver. They were – I don't know how we fed those people. But I wouldn't call that being in the military."
In 1958, after two years of service, Alda was honorably discharged.
Jamie Farr continued to perform while in the US Army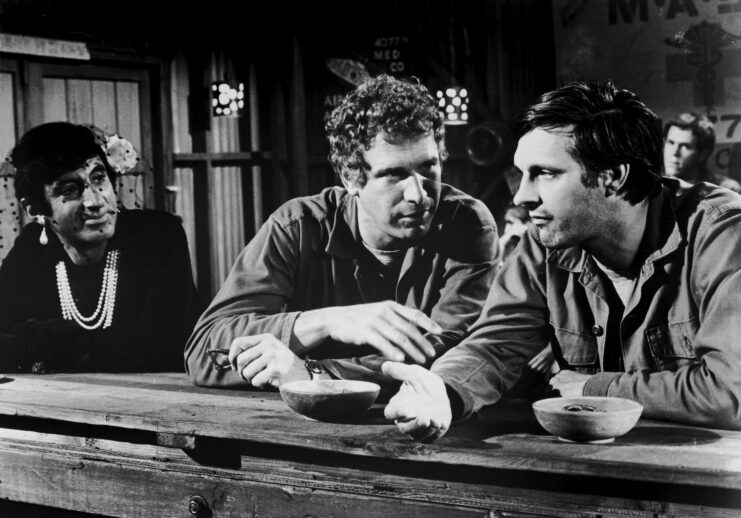 Jamie Farr was drafted into the US Army in 1957 and attended basic training with the 6th Infantry Division at Fort Ord, California. Following this, he was sent to New York to work on training films at the old Paramount Studios, which had been converted into the Army Pictorial Center. However, he didn't act – instead, Farr served as the script supervisor. After this, he was deployed to Camp Drake in Japan, where he worked with the Armed Forces Network (AFN).
At one point during his service, Farr received a letter from Skelton. His commanding officer saw the message and its sender and believed it to be a joke. Farr explained how he couldn't have sent the letter to himself, and even showed him the St. Christopher Medal previously gifted to him by Skelton.
After Skelton lost his son to Leukemia, he decided he wanted to tour Korea to entertain troops, and placed a formal request to have Farr join him. Skelton himself had previously served in the Second World War.
Thanks to this connection, Farr was quickly shipped out to join his friend in Korea. "He just wanted to go out and entertain, and go to these small encampments throughout Korea," Farr told FoundationINTERVIEWS. They flew all around Korea, with Farr describing it by saying, "We entertained all the way up to the 38th parallel."
At the end of the tour, the two said goodbye, with Skelton returning to the US and Farr rejoining his station in Japan. In 1959, the latter left the Army. When he returned from Japan, his father died, and he was prepared to step away from acting to support his mother. When Farr tried to say goodbye to Skelton, however, his friend refused to allow him to abandon his calling.
"He took one look at me and said 'Oh, my God, you're not leaving! You have a little bag that says Doctor of Comedy on it. You're employed by me,'" Farr later explained. Skelton then proceeded to hand him several hundred-dollar bills and said, "'Here, send that home to your mom, and from now on, you're working for me.'"
How Alan Alda and Jamie Farr's time in Korea shaped M*A*S*H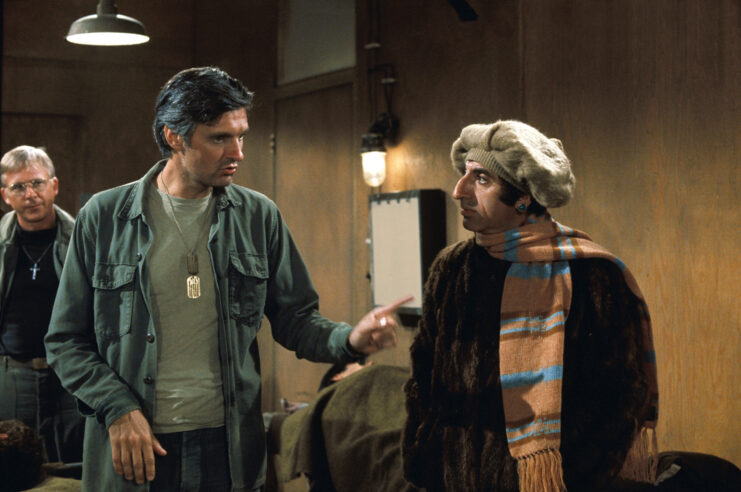 Although Alan Alda rarely discusses his service with the US Army, he used his experience and those of fellow his soldiers to help shape M*A*S*H and his iconic character, Capt. Benjamin Franklin "Hawkeye" Pierce. In doing so, he brought authenticity to the show, creating playful and humorous banter while also showing the realistic traumatic experiences soldiers were exposed to.
As the actor explained to NPR, "That was one of my jobs, to teach people how to kill the greatest number of people with a mortar shell. And I would keep them interested and, you know, I wanted to be a good teacher."
He continued, "The interesting thing about it is, I understood just from doing that that when you're in a war, it's real. It's the real thing. People are going to get killed or lose their arms and legs. When we did M*A*S*H, I wanted to make sure that at least that understanding that I had came out – that that's what we dealt with, and that we didn't gloss over that."
Farr struggled to get any kind of substantial roles upon his return to Hollywood. However, in 1972, he signed on to appear in an episode of M*A*S*H as Maxwell Q. Klinger, a corporal who dresses as a women, so he can be discharged from the Army. The character became an audience favorite. For the first three seasons, Farr was invited back to play Klinger as a recurring part. By season four, he was a permanent fixture on the show.
More from us: Before He Was Britain's Most Popular Leading Man, Kenneth More Served with the Royal Navy
Supposedly, Farr wore his actual dog tags during the show. When reflecting on his time on M*A*S*H, he said, "The rest is history, right? Came on for one day; stayed for 11 years."