We have collected some of the best images we could find of Warbirds over the Pacific. Hellcats, Wildcats, Catalina's, Kingfishers, Corsairs, Aircraft Carriers and many more!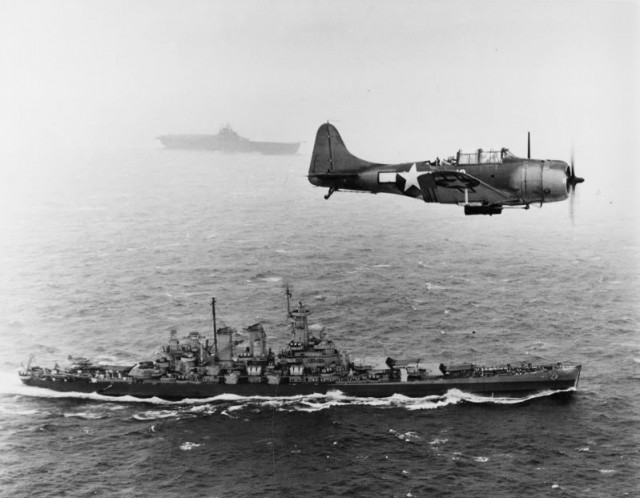 A U.S. Navy Douglas SBD-5 Dauntless of bombing squadron VB-16 flies an antisubmarine patrol low over the battleship USS Washington (BB-56) en route to the invasion of the Gilbert Islands, 12 November 1943. The ship in the background is USS Lexington (CV-16), the aircraft's home carrier.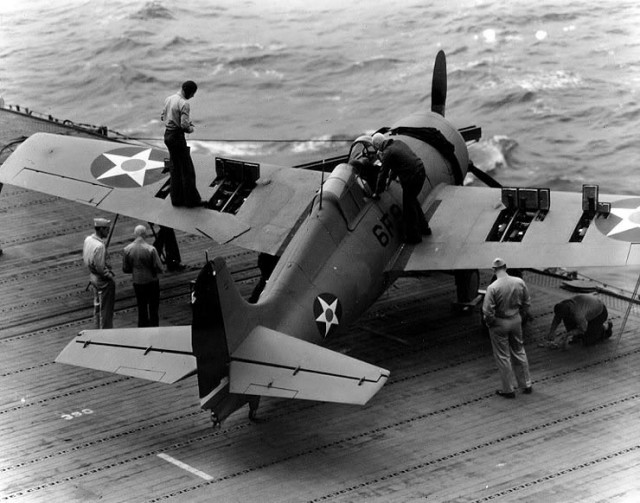 Grumman F4F-4 "Wildcat" fighter, of Fighting Squadron Six (VF-6) has its six .50 caliber machine guns tested on the flight deck of USS Enterprise (CV-6), 10 April 1942. Note open gun bays in the plane's wings and markings below the cockpit ("6F9" with no dashes between letters and numerals).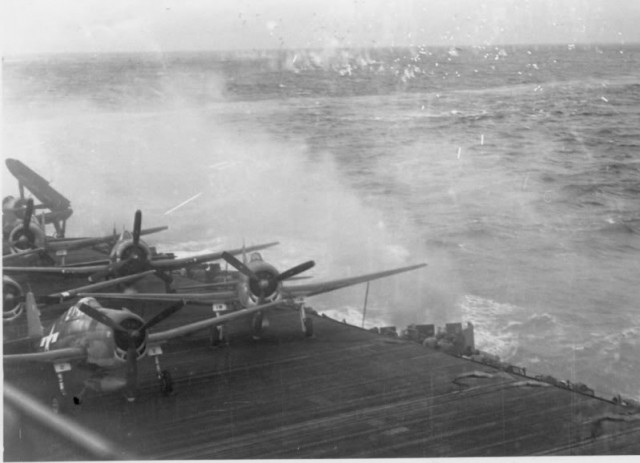 Grumman F6F-5 Hellcats of fighter squadron VF-19 Bulldogs and a Curtiss SB2C Helldiver of bombing squadron VB-19 on the deck of the aircraft carrier USS Lexington (CV-16) during an attack in November 1944.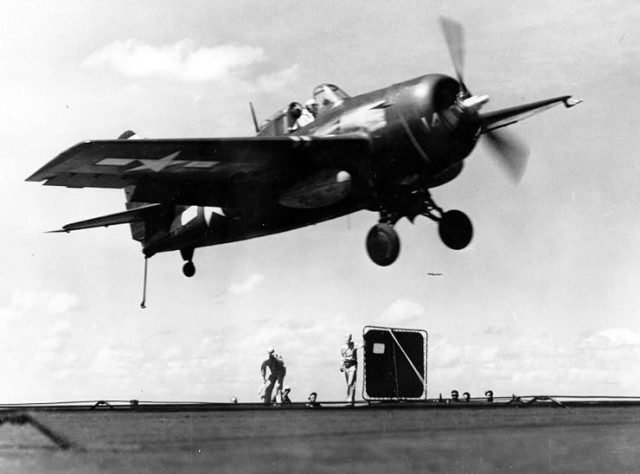 A U.S. Navy Grumman FM-2 Wildcat fighter gets a "wave-off" from the Landing Signal Officer while attempting to land on the escort carrier USS Makin Island (CVE-93), about 1944/45.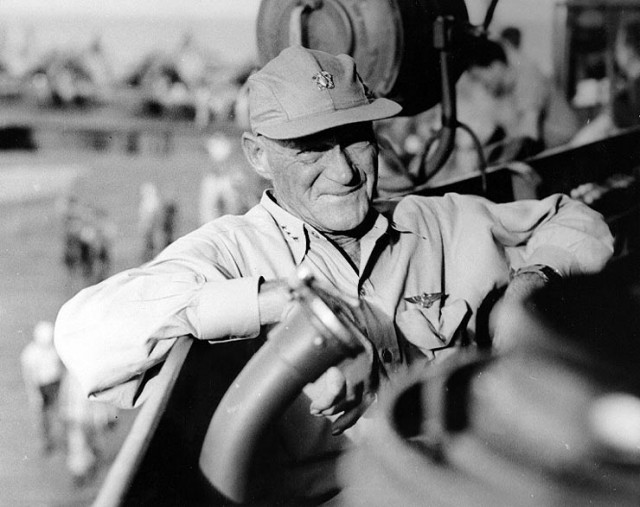 Vice Admiral Marc A. Mitscher on board USS Lexington (CV-16), at the time of the Marianas campaign, June 1944.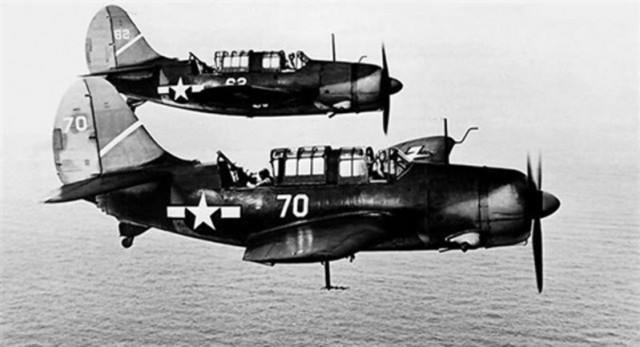 Curtiss SB2C Helldiver dive bombers in flight in 1943.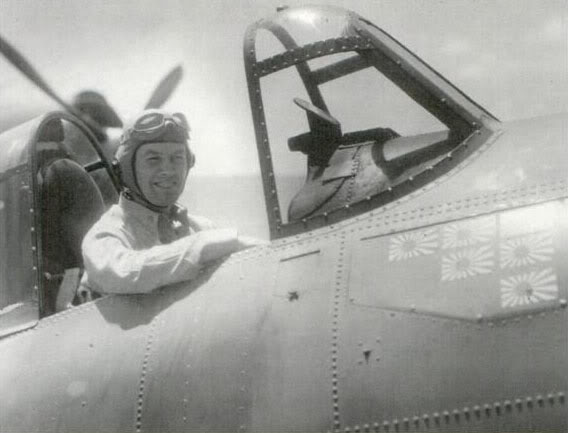 Jimmy Flatley sits in his F4F-4 Wildcat—decorated with his victories at Coral Sea, Santa Cruz, Guadalcanal, and Rennell Island—aboard the USS Enterprise's deck. 1943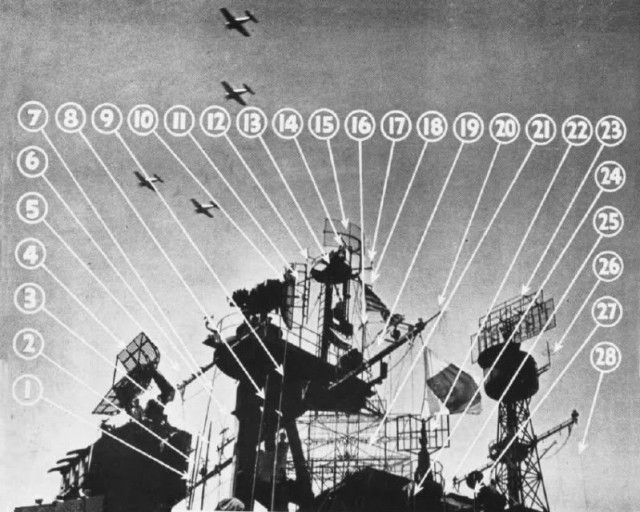 A picture of the antenna arrangement on the U.S. aircraft carrier USS Lexington (CV-16) in 1944/45. Following antennae can be identified:
1-3 , 5-9, 11, 14, 16-20, 24, 25, 28, 29: various radio communication aerials
4: Mk 4 fire control radar on Mk 37 director; 10: SM radar; 11: SO IFF antenna on the SM radar;
12: CPN-6 radar beacon;
13: SG surface-search radar;
15: YE homing beacon;
21: SK-1 air-search radar with BT-5 IFF;
22: homing beacon;
23: SC radar with BT-5 IFF;
26: ABK-7 identification radar.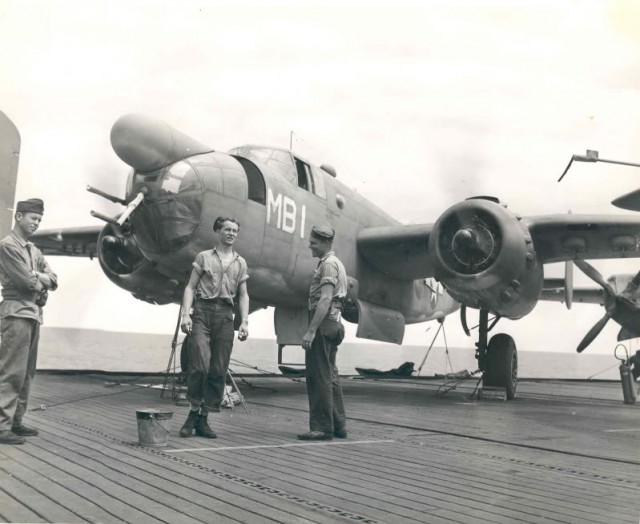 A North American PBJ-1D Mitchell bomber of U.S. Marine Corps bombing squadron VMB-611 spotted on the deck of the escort carrier USS Manila Bay (CVE-61) during transport of the squadron's flight echelon to its operating area in the Pacific, August 1944.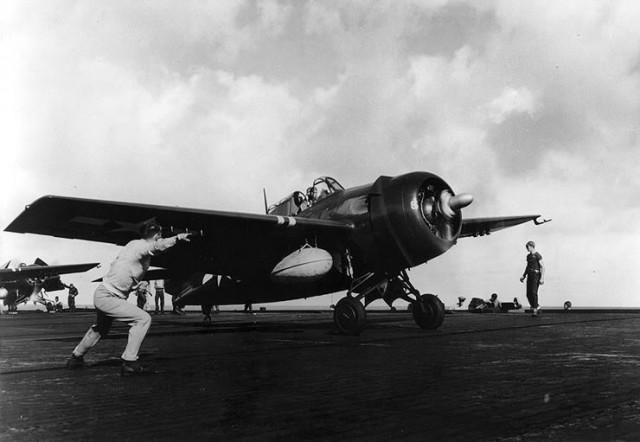 A U.S. Navy Grumman FM-2 Wildcat fighter of composite squadron VC-84 launching from the escort carrier USS Makin Island (CVE-93) in the Pacific in 1945.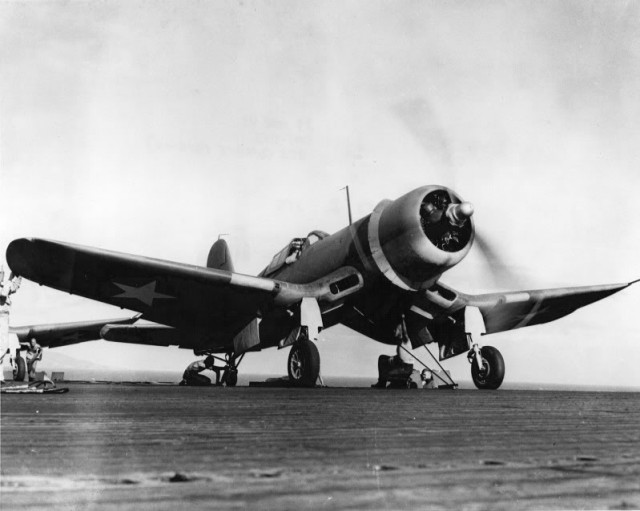 A U.S. Marine Corps Vought F4U-1 Corsair of Marine fighter squadron VMF-213 heck Hawks is warming up for fight from the flight deck of the escort carrier USS Copahee (ACV-12), on 29 March 1943.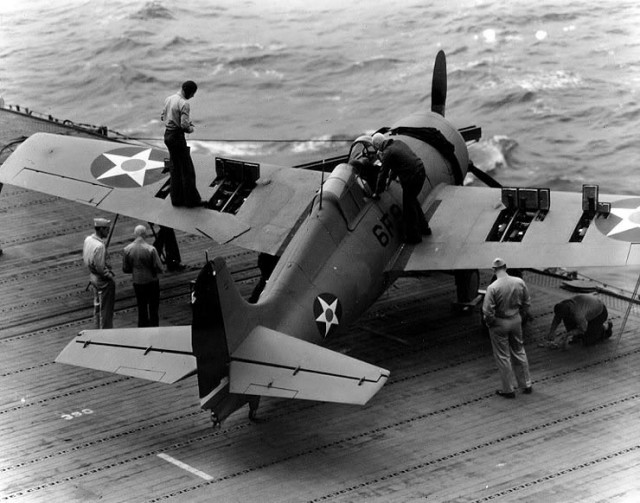 U.S. Navy pilots pleased over their victories during the Marshall Islands attack, grin across the tail of a Grumman F6F-3 Hellcat on board the USS Lexington (CV-16), after shooting down 17 out of 20 Japanese planes heading for Tarawa, in November 1943.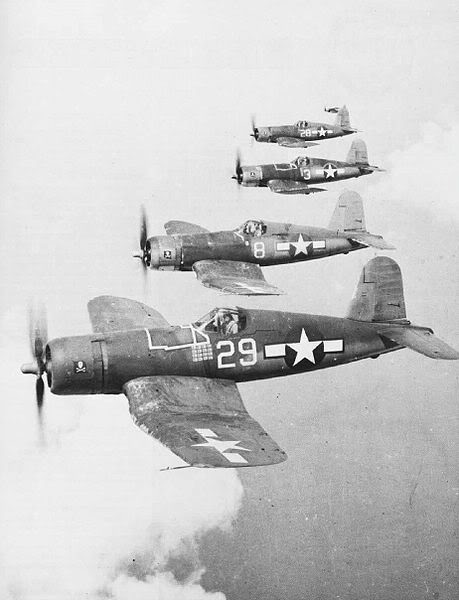 A Vought F4U-1A Corsairs of U.S. Navy fighter squadron VF-17 Jolly Rogers in 1944 in the Southwest Pacific.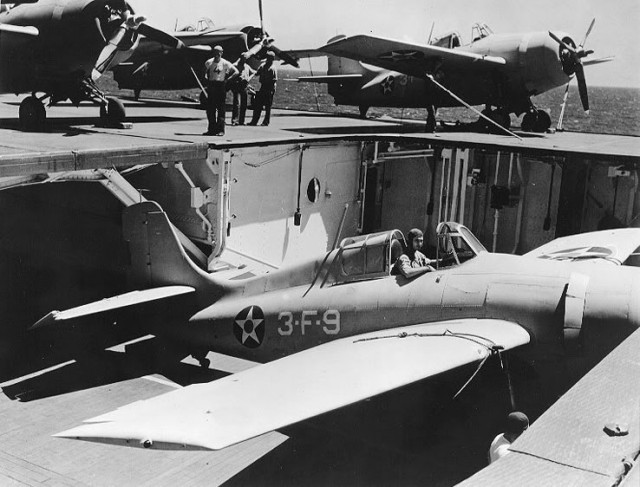 Grumman F4F-3 Wildcats of fighter squadron VF-3 on the U.S. aircraft carrier USS Saratoga (CV-3) in October 1941. The plane on the aircraft elevator is 3-F-9 (BuNo 3982), piloted by Ensign Gayle Hermann. This plane was in service with VF-6 in December 1941 and hit by "friendly" fire near Ford Island, Pearl Harbor, Hawaii (USA), on the night of 7 December 1941 while trying to land after a combat air patrol. It was badly damaged but the pilot could land the plane and luckily was uninjured.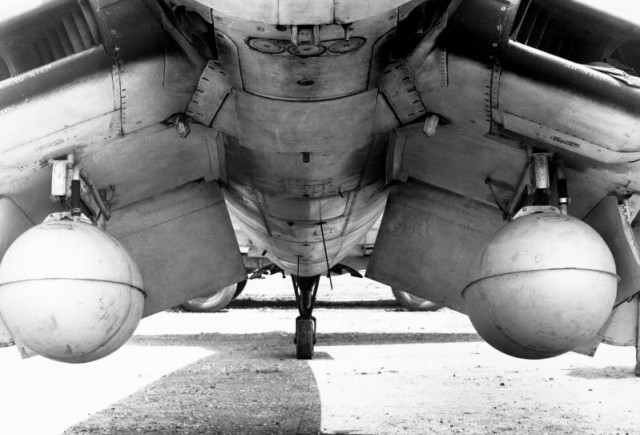 Closeup of a U.S. Marine Corps Vought F4U-1 Corsair at an Aircraft Repair Unit (ARU) on Guadalcanal, Solomon Islands, in September 1944.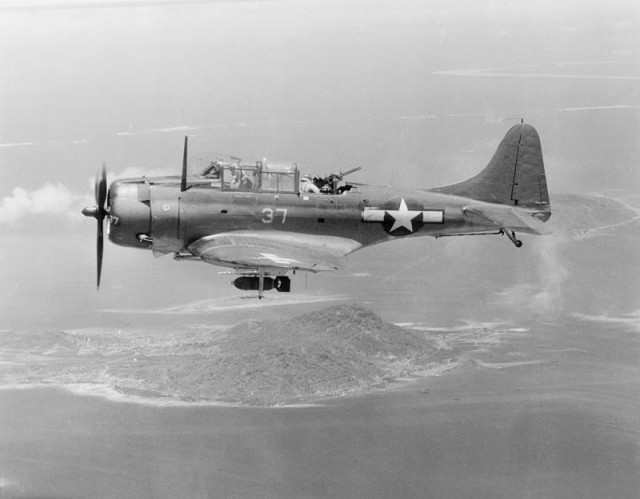 A U.S. Navy Douglas SBD-5 Dauntless of bombing squadron VB-16 off the aircraft carrier USS Lexington (CV-16) pictured over Dublon/Eaton Island en route to strike Japanese installations at Truk, 17/18 February 1944. VB-16 operated from Lexington during the period September 1943-June 1944, and was for a time one of only two Dauntless squadrons assigned to Pacific fleet carriers. The squadron participated in the famous attack against the Japanese Fleet during the Battle of the Philippine Sea in June 1944.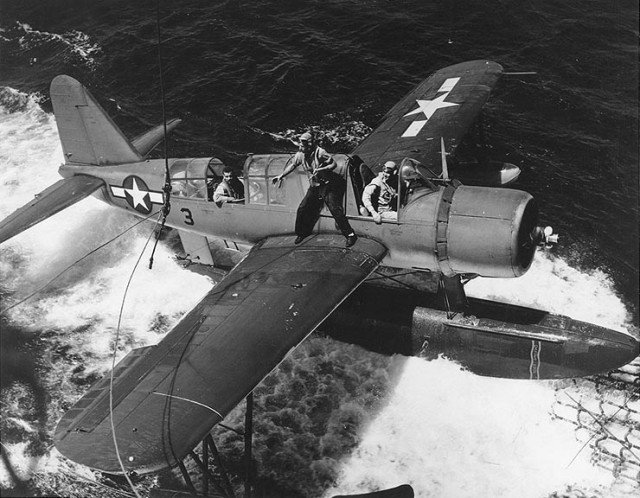 Vought OS2U-3 "Kingfisher" is recovered by USS Baltimore (CA-68) after she had rescued Lieutenant George M. Blair from Truk Lagoon, 18 February 1944. Plane's pilot is Lieutenant Denver F. Baxter. His radioman, ARMC Reuben F. Hickman, is on the wing, preparing to attach the plane so it can be hoisted on board. Blair's F6F "Hellcat", of Fighting Squadron Nine from en:USS Essex (CV-9), had been shot down during the dawn fighter sweep over Truk.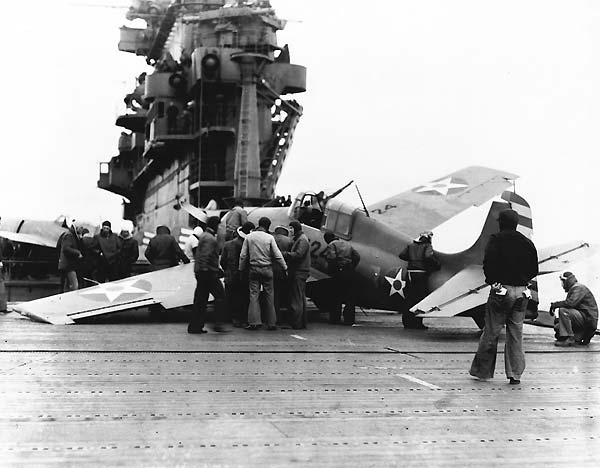 Hard landing of APC Howard Packard's F4F Wildcat 6-F-24 on USS Enterprise (CV-6). Left landing gear collapsed but Packard was uninjured.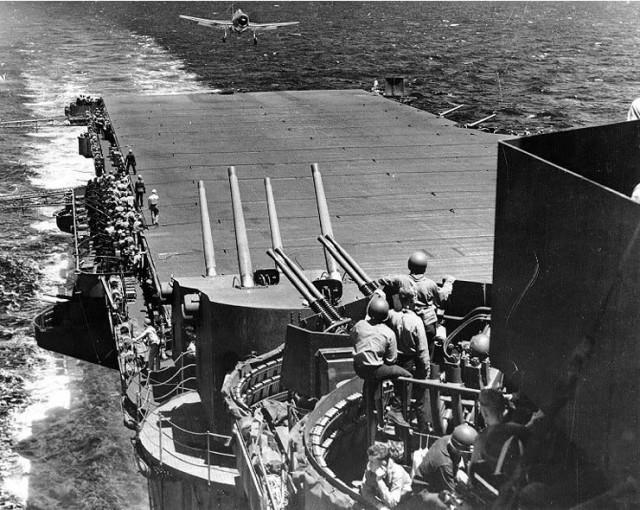 An F6F-3 "Hellcat" fighter lands aboard USS Lexington (CV-16) during the "Marianas Turkey Shoot" phase of the battle, 19 June 1944. Note manned 40mm guns in the foreground, and 20mm guns along the starboard side of the flight deck.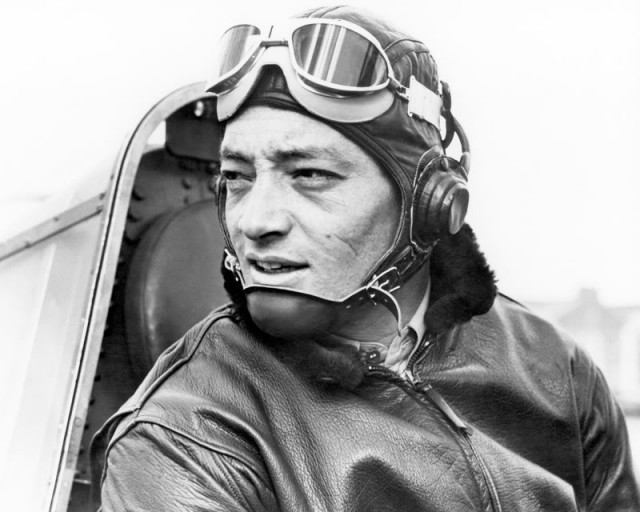 World War II (WWII) area photograph of US Marine Corps (USMC) Major (MAJ), John L. Smith, taken February 1943. MAJ Smith was awarded the Medal of Honor and is an Ace Pilot credited with 19 kills.
U.S. Marine Corps Major Edmund F. Overend in the cockpit of a Grumman F4F/Eastern Aircraft FM Wildcat fighter (not an F4U) at San Diego, California (USA), in 1945. Maj. Overend was commanding officer of Marine fighter squadron VMF-321 in the Solomons from October 1943 to October 1944 (flying the Vought F4U-1 Corsair). He shot down three Japanese aircraft during that time. He had shot down the others as a pilot of the "American Volunteer Group" (the "Flying Tigers") in China.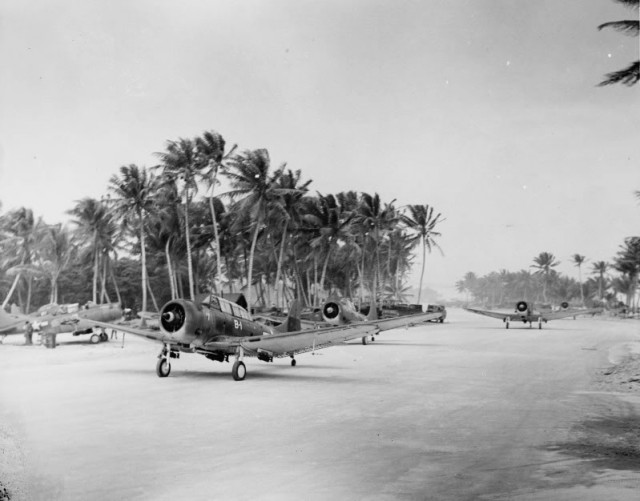 U.S. Marine Corps Douglas SBD-5 Dauntless dive bombers of Marine scout-bombing squadron VMSB-231 taxi on the airstrip at Majouro, Marshall Islands, prior to launching on attack against Japanese installations on Mili Atoll (6°7'60N 171°55'0E). Mili was bombed for eighteen months by US aircraft. All supply lines were cut off, and of the originally 5,100 strong Japanese garrison only 2,500 survived, dying mainly from starvation. It was the first Pacific island to surrender on 22 August 1945. Redesignated from Marine Scouting Squadron Two (VMS-2) in July 1941, VMSB-231 aircraft flew to Midway in December 1941, and in March 1942 some elements returned to Hawaii. The remaining personnel formed the nucleus of a new squadron, VMSB-241, which fought during the Battle of Midway in June 1942. Following the battle, the survivors returned to VMSB-231. The squadron arrived at Guadalcanal on 30 August 1942, and remained there until November. Subsequently, the squadron served in the Marshalls, where for a brief time it flew F4U Corsairs under the designation VMBF-231. The squadron was redesignated VMTB-231 in August 1945.