Vietnam War service earns local veteran two Purple Heart medals
By Jeremy P. Amick
A son often follows in the footsteps of his father, whether it be intentional or coincidental. But as veteran Richard "Dick" Woods explained, his father's receipt of a Purple Heart medal for wounds received during World War II was not a legacy he envisioned carrying forward.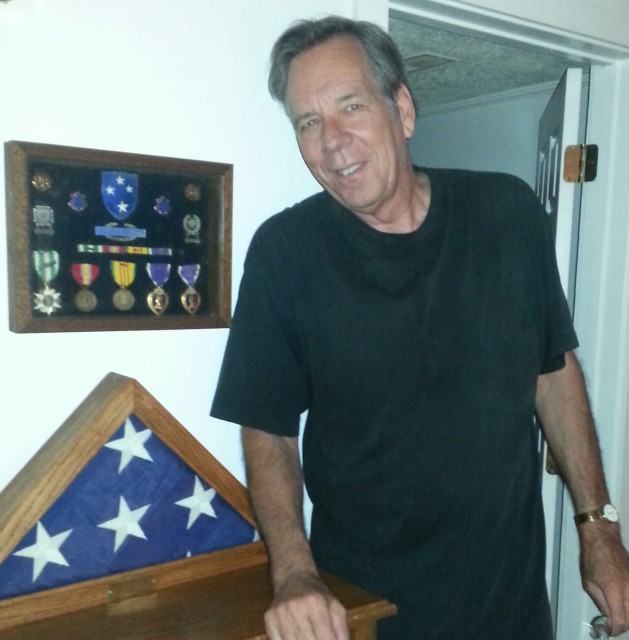 Born and raised in Jefferson City, Mo., Woods first began to follow his father's path shortly after graduating from Jefferson City High School in 1967.
"I went on to college," said Woods, 65, "and completed two years, wanting to become an engineer. I guess this was because my father worked 37 years in the bridge division at the highway department."
Shortly after graduating from college in May 1969, Woods received his draft notice and reported to Jefferson Barracks, Mo. (in south St. Louis), where he was inducted into the Army.
The young recruit then went to Ft. Leonard Wood for eight weeks of basic training. From there, he was sent to Fort Ord, Calif., for eight weeks of additional instruction in advanced infantry training.
At the conclusion of his training, Woods was granted two weeks of leave. He then traveled to his departure site of Ft. Lewis, Wash., having received orders for overseas deployment to Vietnam.
When the newly-trained soldier stepped off of the airplane in Cam Rahn Bay,Vietnam on December 11, 1969, he recalls, "It was early morning—maybe 5 a.m.—and you could just feel the heat hit you right away."
Assigned with the "Americal Division," Woods joined hundreds of other soldiers responsible for patrolling for enemy activity in an area west of Chu Lai.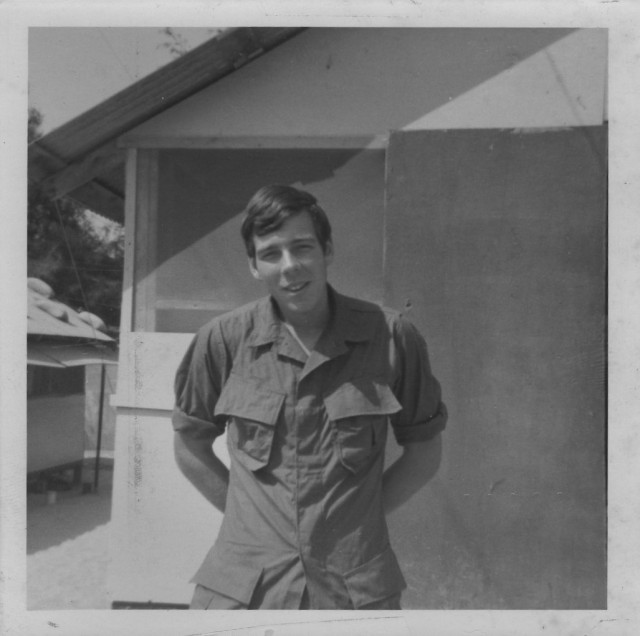 "Upon arriving, we were given about a week of jungle training where they tried to teach us things like what it was like to be on a patrol, setting up ambushes, recognizing booby traps and how to react in a firefight," Woods said.
Soon he was spending three-week intervals in the jungle on patrol for enemy activity, then returning to a LZ (landing zone) for a one-week cycle of perimeter security for the artillery units located there.
"We thought we had it good on the LZs," Woods grinned, "because most of the LZs had a mess hall and we could get two hot meals a day instead of rations."
Woods quickly learned of the perils associated with combat service when, on March 24, 1970, he was struck in the leg by a bullet after his patrol was attacked by North Vietnamese forces.
Spending three weeks in the hospital and earning a Purple Heart for the injury, Woods returned to his company only to receive a more serious injury; one permanently removing him from the combat zone.
On May 1, 1970, Woods and members of his patrol were trapped in a creek bed by sniper fire, resulting in a firefight lasting more than 24 hours. The next morning, Woods was wounded when an enemy soldier threw a grenade toward his position, with the resulting explosion causing wounds to his leg and abdomen.
He was evacuated to 91st Evac Hospital in Chu Lai, then transported to a military hospital in Japan, where he remained for the next month to undergo abdominal surgery.
"Then they stuck about … oh, I'd guess 100 of us … on a plane and flew us to Ft. Leonard Wood," Woods said. "We were on gurneys and they had us stacked like cord wood on both sides of the plane."
The wounded soldier underwent further surgical procedures during the next several weeks. He was then granted 30 days of convalescing leave and upon his return to the post, was assigned to a desk job, which granted him the opportunity to recuperate and to finish out the remainder of his active duty obligation.
"Except for some scarring , the wounds healed up pretty good," Woods said, although, the veteran added, he still experiences occasional abdominal complications because of the injury.
Discharged in July 1971, he was later hired to work in the engineering section of the Missouri Department of Conservation, retiring in 2000.
A member of the Military Order of the Purple Heart ,Veterans of Foreign Wars, and Disabled American Veterans, the two-time Purple Heart recipient affirms that although he is proud of his service to the nation, there remain facets of his military experience better left unanswered.
"Sometimes I'll run into people (of the younger generation) who see my Purple Heart license plate and want to ask me what the Purple Heart stands for … and I just tell them it's a military medal," he said.
"I really don't want to explain it because it can lead to questions that I don't want to discuss, like 'Do you think the United States should have even been there (in Vietnam) to begin with?'"
He added: "That's not my call. I got a draft letter in the mail and I went over and did what I was supposed to do.
"And you hear of so many stories of those of us (Vietnam) vets who returned to harsh words and disrespect, but that never happened to me here in Jefferson City. It was an honor for me to have been able to serve and I want to thank the people of Jefferson City for their kindess when I came home."
Jeremy P. Ämick writes on behalf of the Silver Star Families of America.
Jeremy P. Ämick
Public Affairs Officer
Silver Star Families of America
www.silverstarfamilies.org
Cell: (573) 230-7456