Mark Barnes describes a day exploring the Atlantic Wall with WHO colleague Joris Nieuwint and other friends back in December.

Batterie Waldam. Winter may be the best time to do this sort of trip before the bracken gets totally out of hand. Good for blackberries. Rubbish for exploration!
One day out of the weeks leading up to Christmas has been traditionally set-aside for spending time on the history trail with my mates. We decided this year to follow up on the stuff we began in 2013 by exploring German Atlantic Wall fortifications between Calais and Dunkirk. There is quite a lot to see. Doing this sort of stuff in early December takes planning because at this time of year daylight is at a premium so we always work things out to do the bulk of our travelling before sunrise and get the whole thing done by around sunset so we can finish up with a decent meal in our favourite restaurant in Calais before heading home.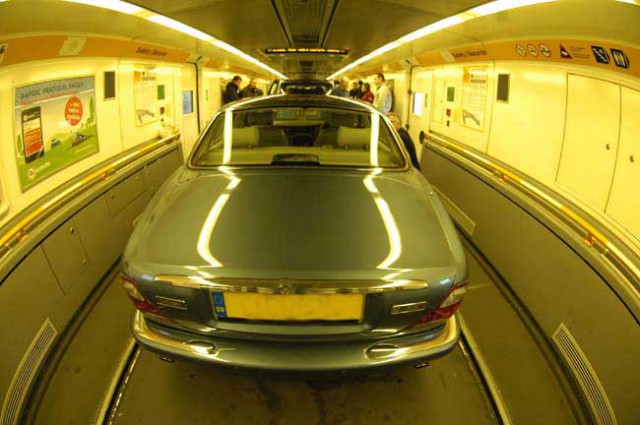 All aboard the Channel Tunnel. Battlefield touring in a Jag is a bit different from the motors we usually use!
As with last year my friend and colleague Joris elected to join us, bringing along our good mate Paul once again. For him this meant travelling from the 101st Airborne's Market-Garden drop zones to the Channel coast while we had the boring drive from our bit of Essex to the Chunnel terminal near Folkestone to endure. Since the Channel Tunnel opened we have rarely used the ferries. It is all a matter of time and convenience even though the ferries are usually cheaper. Having two full cars travelling from England meant the cost of the tunnel and gasoline can be shared easily. There are no tolls on the sections of road network we used for this trip but Joris had to negotiate the Antwerp road system and this bravery always deserves a medal in my experience.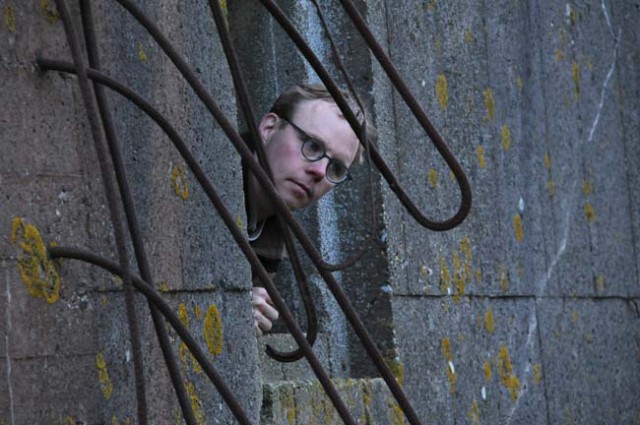 WHO man Joris does his best to look wide awake at the start of a long day exploring a lot of concrete.
It was a cold but bright day and we were all fairly sensible with our choice of clothing but I do remember seeing that Joris stuck with a set of old KLM overalls for much of the day. The first job of the day was to get cakes and much prized tins of roast duck – confit de canard – which are just every day supermarket stuff to a lot of Frenchmen but considered pretty neat by us Essex boys. Cakes – "Gooeys" – have been traditional fayre on these trips since the happy days racing to Mons or Ypres we used to go for in times past.  This time the crew was on the Dirty Dozen side of things with myself, my son James, his mate Alex, the usual suspects – John, Lance, Steve and Geoff; in addition to John's son Ed, our mates Phil and Ted and the two crazy Dutchmen. That's a lot of cake!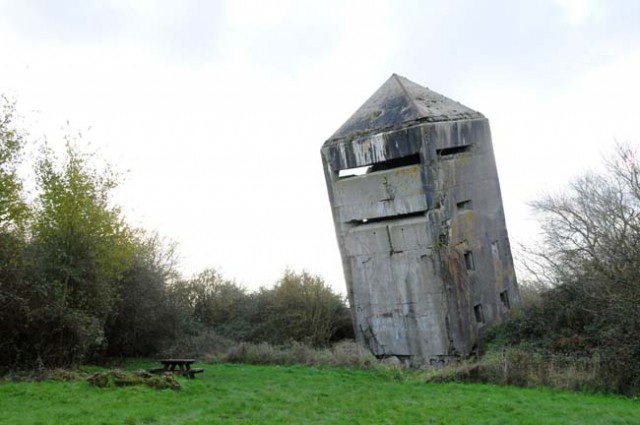 The leaning tower of Oyez Plage was intended to resemble a church. German attempts to demolish it were clearly unsuccessful.
We headed off to check out the impressive fire-control tower behind the beach at Oyez Plage. The huge concrete structure leans precariously because the Germans attempted to demolish it when this part of the coast was liberated by the Canadians. The shape of it was meant to fool the Allies into thinking it was a church tower. Getting inside the thing didn't prove too difficult but I'll admit on-going problems with a broken foot from last summer made life difficult for me and I didn't go right inside. While we were there an agitated hunter did his best to warn us not to venture into the hinterland behind the tower where his mates were blatting away at anything wrapped in fur or feathers. We were content to oblige. A fair sized blockhouse stands adjacent to the tower and Joris, at least, managed to get inside.  We could make out some of the casemates or bunkers the tower supported further out on parkland behind the beach itself; but we had other plans and continued on our way.
We drove on to the huge expanse of Batterie Waldam just outside Calais, part of an interconnected series of fortifications that would have made landing on otherwise attractive beaches virtually impossible. If you have been to Normandy or at least seen photos you will possibly think the fortifications encountered there were serious enough, but a walk around Waldam offers up the vista of something even nastier. Rommel's vision of the Atlantic Wall seems to be at it's most malevolent here.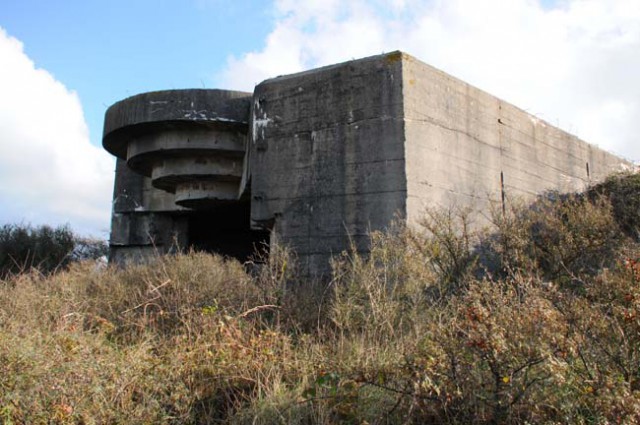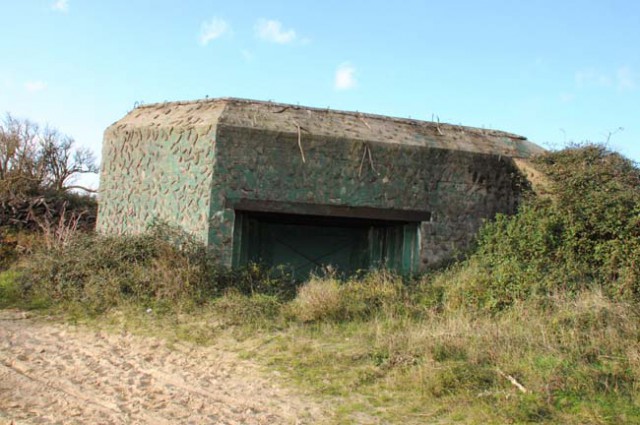 Just two of the huge number of structures at Batterie Waldam.
This is a huge site with over a mile of bunkers, casemates and obstacles to get along. Tank traps and other defensive measures are everywhere.  The land is now a park cum nature reserve, but flooded bomb and shell craters and man made lakes popular with seabirds and ducks have become the target of hunters who spend hours lodged in former German bunkers or in newly built hides with avian murder on their minds. The birds tend to come in the early morning or late afternoon and I was, at first, confused by so many realistic lures on the waters. But we had a couple of hunters of our own in our party who were happy to explain the mechanics of shooting game in places like this. We made for a noisy bunch traversing through the firing line and I don't think our explorations impressed the local marksmen, or their dogs, a good deal, but the land has plenty of pathways and once we were away from the water features we really had the place to ourselves.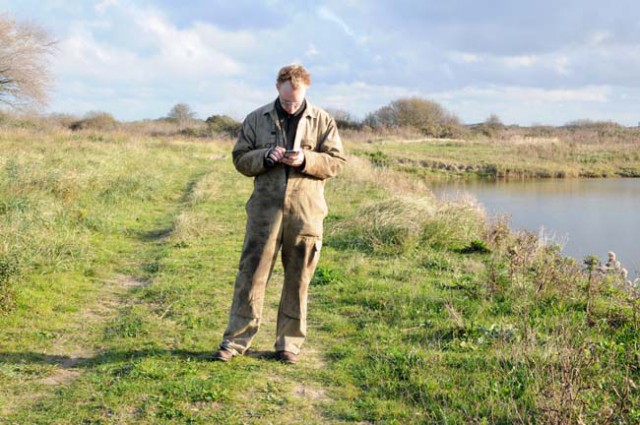 Joris finds time to check WHO is running safely without him.
There are so many structures to explore and the overgrown condition of the place gives the impression of some sort of post-dystopian wilderness. If it had been warmer it would have looked a little like something out that classically cheesy version of the Time Machine starring the late Rod Taylor. The decay and the futility of the place was not lost on us.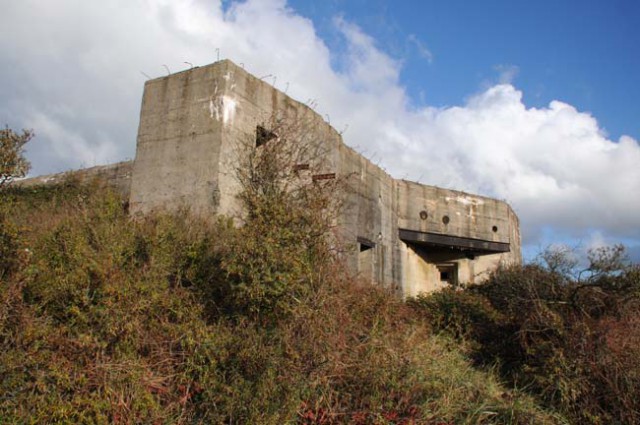 Some pretty huge stuff looms up out of the dense undergrowth. Good boots and a head-torch are essential.
Exploring these places needs a degree a care but you pays your money and takes your chances and the thing to do is make the most of the opportunity to get in and look around some genuinely impressive structures.  The variety can be a little bewildering and I am grateful for having a copy of the superb The Atlantic Wall History and Guide to explain a few things. All the same I still find the array of bunkers and casemates bewildering. Here at Waldam the Germans devised an interlocking range of buildings designed to destroy Allied forces over various distances. There were casemates mounting a number of different calibre artillery pieces and places for machine guns, mortars and flamethrowers. Some of these fortifications point inland to defend their neighbours and the clear aim was to create a killing ground no man could hope to cross.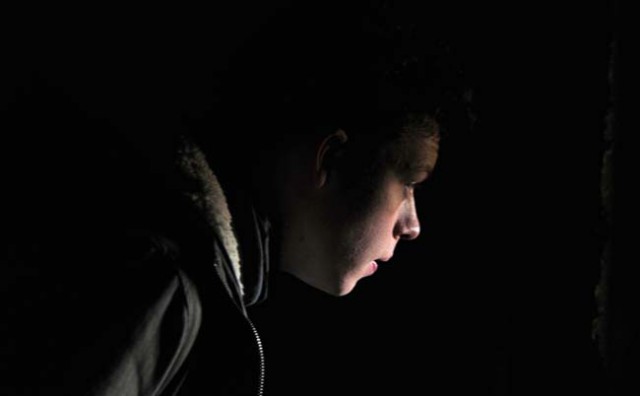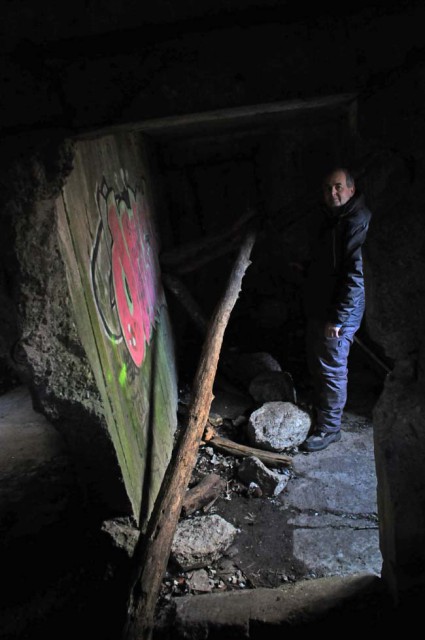 It's a gloomy world inside these buildings. James and Steve find a little bit of natural light.
It is easy to see why the Overlord planners never gave this part of the coast serious consideration as an invasion point, even though much of the beachhead would have been in range of big guns firing from across the English Channel in and it is all well within the range of massed Allied air forces and naval gunnery. The casualties here would have been horrendous.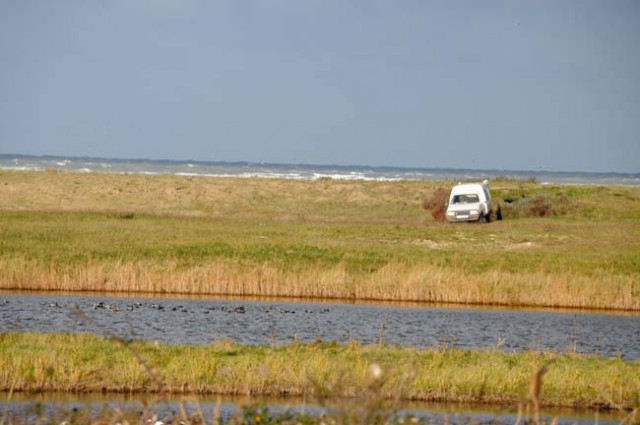 The sea isn't very far away. The traditional small vans used by duck hunters are everywhere.
Although almost all the fixtures and fittings have long since been stripped out, there are plenty of things to see inside these bunkers including signage and, quite often, original graffiti and artwork.  In many places modern graffiti artists, or vandals, depending on your proclivities; have painted over original stuff and while this is a shame it is important to remember these buildings were constructed by an occupying dictatorship using slave labour. Although they are often too solid to demolish, some have been removed and in the case of the huge Batterie Lindermann the big gun casemates (the largest of their type, I believe) have been buried under spoil from the Channel Tunnel. I actually quite like a lot of the new graffiti art, it is usually humorous and inventive in the French irreverent tradition.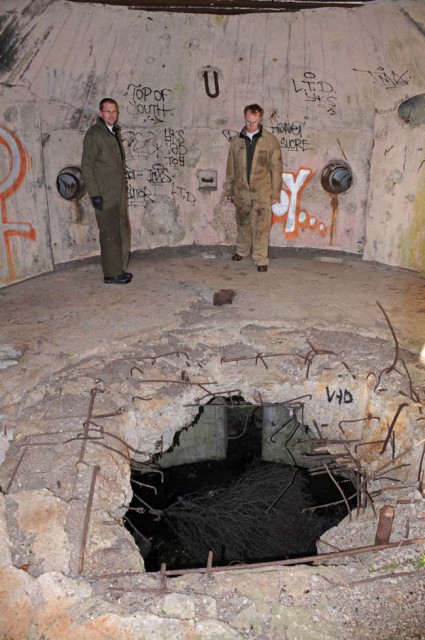 At Waldam we were particularly keen to see a unique 150mm gun casemate sited there. The rotating design came too late to be used universally along the Atlantic Wall and other than the prototype this is the only one put in place in 1944. We were able to get inside and have a look at parts of the running gear that allowed what might be described as a huge concrete turret, but it is a casemate, to rotate. How much this all weighs I do not know, but it is hugely impressive. Just next door is a building that retains its original concrete nameplate for the Bunker Rosemarie. Several people have clearly attempted to remove it. After this we had a mad half hour while some of the chaps attempted to climb up an observation tower using a folding ladder. The group photo I took there gives a good impression of the difficulties involved. They are all bonkers, but I guess you have to be to engage in this sort of nonsense.
We walked round another lake and headed back to our cars for a picnic lunch.  Somehow a group of us got separated and it took a while to link up again but we hadn't really lost a great deal of daylight.  We drove on towards Calais planning to make a repeat visit to the imposing Batterie Oldenburg in the better light conditions.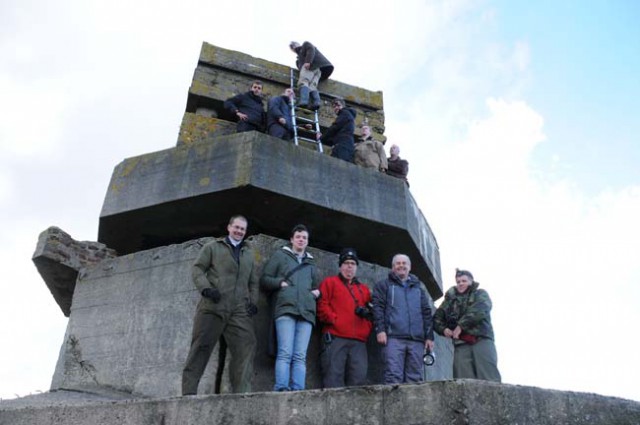 The Crazy Gang scaling the observation tower at Waldam. Some seem more keen than others.
When you drive into Calais the modern spectre of large numbers of people hoping to stow away on trucks into Britain is really evident and I noted more police around the port area than I have seen on any previous visits. The Batterie Oldenburg is made up of two huge big gun casemates and a large accommodation block that includes a medical wing. We got inside quite a lot of it a year ago to photograph the remains of a beach scene mural made by German gunners. Because of my injury I didn't go in this time and I found the atmosphere quite threatening mooching about by myself especially when the others told me that a number of prospective immigrants had clearly been living in the casemates. There is a fair degree of tension around the port area of Calais and there I was blundering about with my camera. Maybe I am just being daft, but I was glad when the two Dutchmen appeared and we made our way over the dunes to the beach to take in the vista of ferries sailing in and out of the port.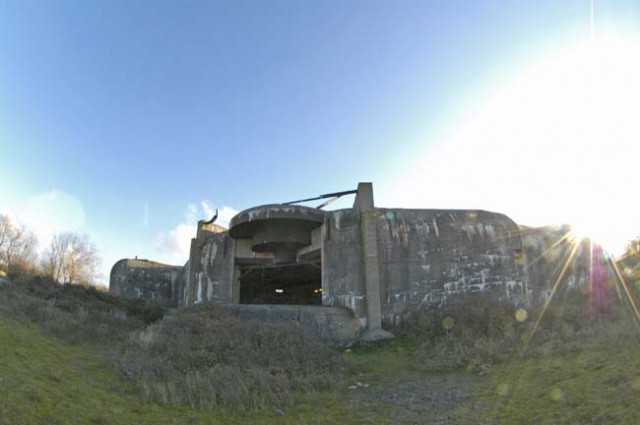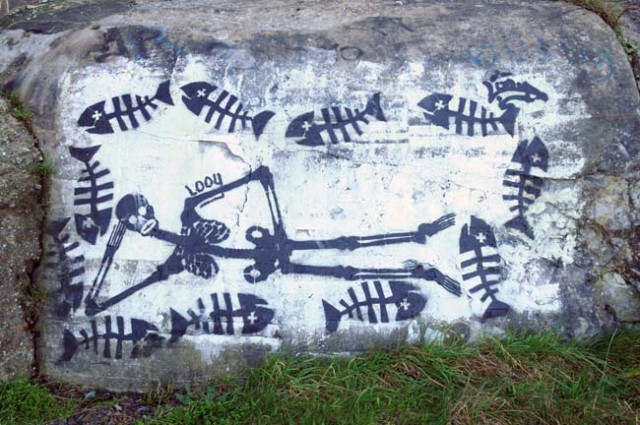 Batterie Oldenburg is a stunning place – but modern realities make it a little forbidding to be walking about by yourself at times!
By this time the sun was sinking and it was the right moment to get out of the cold and head into town to get something to eat.  We make a point of going to the
Café de Paris where I really like the flammekueche and the beer is always decent.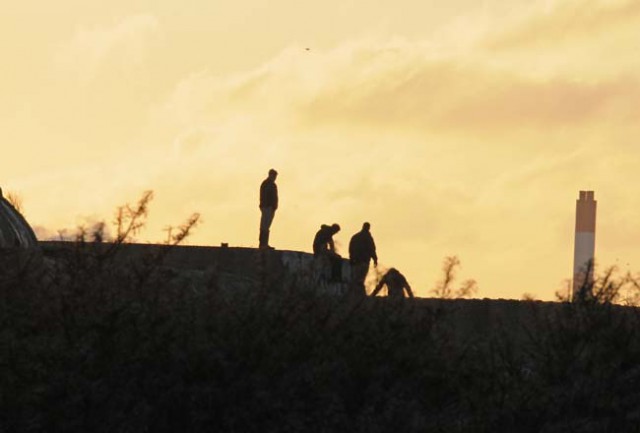 Some of the lads emerge out through the roof of a bunker as the sun sets on our day in France.
So, what has been the point of this feature? A bit of a repeat of what I wrote after our 2013 jolly. This is all about visiting accessible history. There are no admission fees and virtually no restrictions. All you have to be is responsible for yourself and look out for your mates. You can have a reasonably cheap day out and get a lot of variety visiting bunkers, war cemeteries and shipwrecks along the beaches of the Pas de Calais and up into Belgium.  There are museums, including one in the huge German telephone exchange in the park opposite the Hotel de Ville in Calais and the well known Batterie Todt (but remember you can also visit the other abandoned casemates for free). So it's all good. You just have to take things carefully and don't be a Muppet.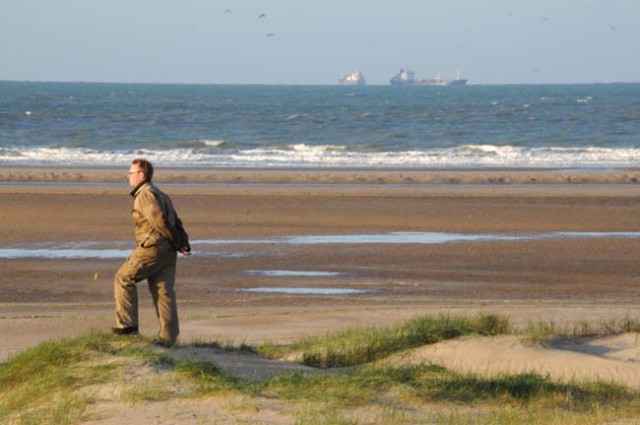 Joris contemplates the drive home while he looks out on the English Channel.
Battlefield touring must be fun first and foremost, but it also has a very serious side and combining all the elements, including the simple pleasure of being out on the road means the world to me. I appreciate a lot of people reading this won't have the luxury of living so close to all this history, but wherever you happen to live there will be things to go and see, not just from the world wars, and it's all good stuff. Go to it.