The Boeing B-17 Flying Fortress holds the distinction of being the third-most produced bomber of all time, with 12,731 built from 1936-45. The aircraft first saw use with the Royal Air Force (RAF) in Europe and the American forces in the Pacific Theater, and later went on to become one of the go-to bombers in the Allied arsenal. Among the most famous was Memphis Belle, a B-17F that flew 25 combat missions over enemy targets in France and Germany.
Memphis Belle, under the command of Robert K. Morgan of the 324th Bombardment Squadron, 91st Bombardment Group, Eighth Air Force was named for the captain's girlfriend, who lived in Memphis, Tennessee. Artist George Petty provided the bomber's famous pin-up, which had appeared in the April 1941 issue of Esquire magazine.
The B-17 conducted its first combat sortie over Brest, France on November 7, 1942, which was followed by an additional two raids over St. Nazaire.
As aforementioned, the Memphis Belle flew 25 combat missions over Europe, becoming one of the first heavy bombers within the Eighth Air Force to do so – the B-17 Hell's Angels had accomplished the feat one week prior. These sorties proved fruitful, with the former's crew taking out a total of eight German aircraft in the process. For their efforts, they were awarded the Air Medal and the Distinguished Flying Cross.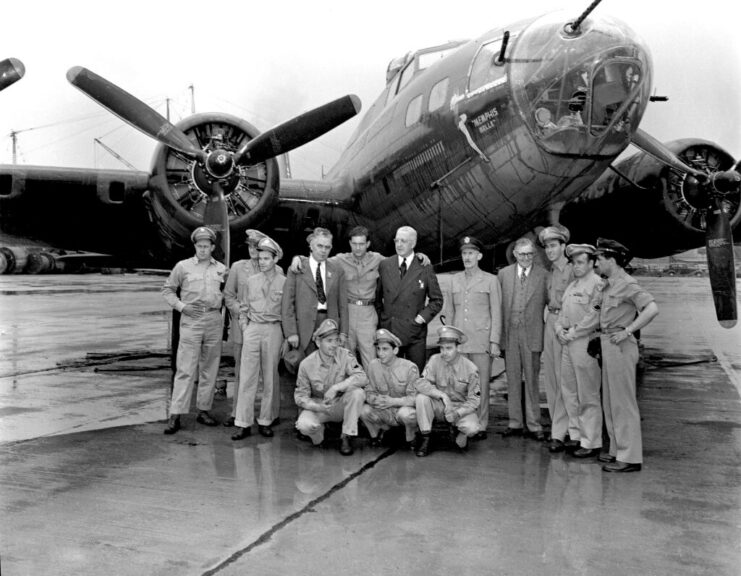 Upon Memphis Belle's return to the United States in 1943, the aircraft and Morgan embarked on a 31-city tour to promote the sale of war bonds. The bomber was then sent to MacDill Field, Florida, where it served as a training aircraft until the end of the Second World War.
Following the conflict, the B-17 was purchased by the city of Memphis and put on display at the National Guard armory. It also appeared in two films: The Memphis Belle: A Story of a Flying Fortress (1944) and Memphis Belle (1990). The latter features Matthew Modine and Harry Connick Jr.
Memphis Belle was donated back to the US Air Force in the early 1970s, with the service allowing it to remain in Memphis, so long as the aircraft underwent regular maintenance. As the decades went on, the bomber was disassembled and moved to the National Museum of the US Air Force at Wright-Patterson Air Force Base, Ohio.
More from us: A Gloster Meteor Once Deflected A V-1 Flying Bomb With Its Wing
After undergoing restoration efforts, Memphis Belle was unveiled at the museum in May 2018.