Typically, an aircraft landing on a highway would indicate a serious problem, perhaps a mechanical issue or medical emergency with one of the pilots… That is, unless said highway was one of many built to act as a takeoff and landing strip. Many were, and still are, located in Europe and Asia, waiting to be needed in wartime.
These types of roadways are called "highways strips." They are usually a long, straight section of the highway where there are either removable or no central reservation, so they can be converted into functional runways. The surface is made with a strong enough base to withstand the weight of an aircraft. Most of them don't include lights or barriers, but those that do can have the features easily moved by a crew.
Reichsautobahn 
The Reichsautobahn is one of the earliest examples of a highway strip. It was a series of highways built to provide a large, connected transportation system throughout Germany. The project was started in 1933 and was one many put in place by the government to make travel accessible to everyone. Citizens could drive their new Volkswagens on the expansive highway system.
This major project was also promoted as a way to reduce large unemployment numbers throughout Germany.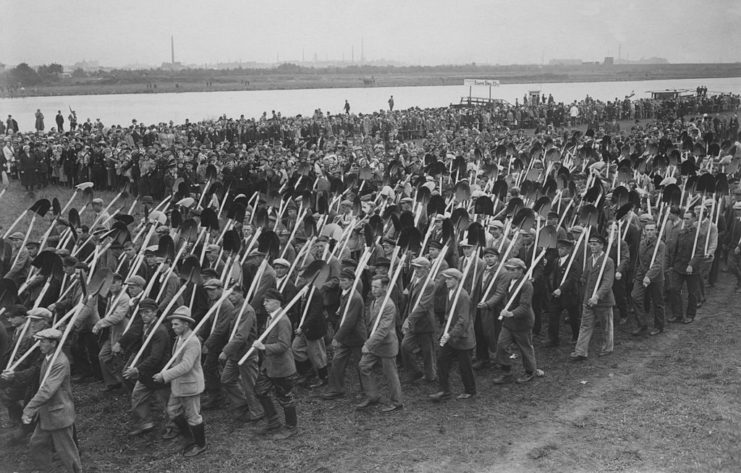 Roads were build from 1933-41, when the Second World War escalated. With German airbases under constant attack, the highway strip sections of the Reichsautobahn were a useful backup. It was later in the conflict when Germany started using these roads as runways for warplanes. They were also used, in one instance, for test flights of Messerschmitt Me 262s after their factories were bombed.
Modifications during the Cold War
It wasn't until the Cold War that German highways were more readily modified for air traffic. Highway strips were used on both sides of the Iron Curtain. The Germans modified a number of existing highways, such as a segment near Ahlhorn, Germany, where NATO conducted the Highway 84 exercise.
These highway strips were usually located near existing airstrips, which meant aircraft could still land if their initially destination was bombed.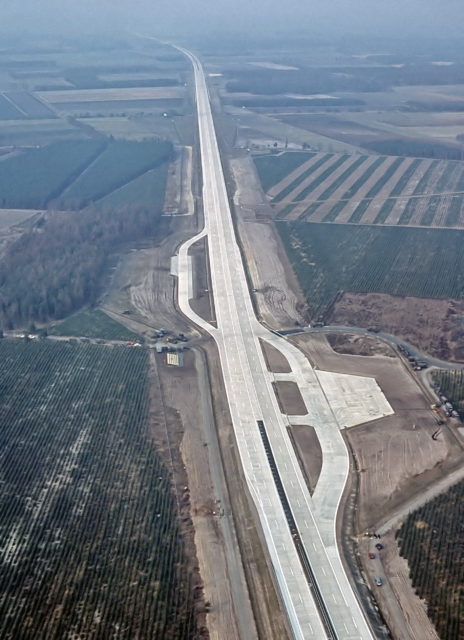 In West Germany in 1984, NATO commandeered a section of the Autobahn to practice landing skills. In the typical highway strip design, a moveable air traffic control tower was brought in. The drills were conducted to prepare pilots in case the Soviets bombed existing NATO airstrips.
NATO tested Fairchild Republic A-10 Thunderbolt IIs, Lockheed C-130 Hercules, McDonnell Douglas F-15 Eagles and General Dynamics F-16 Fighting Falcons over the course of roughly three weeks.
Other highway strips
Although most German highway strips were dismantled at the end of the Cold War, there are a shockingly high number that still exist in other countries. Poland, Singapore, Switzerland, Finland, Taiwan and Australia, among many others, all have highways that can be turned into landing strips at a moment's notice.
Most of these are for military use, ensuring military aircraft are able to takeoff and land, even if their bases are taken out. The only exception is Australia, which does not use its highways for military purposes.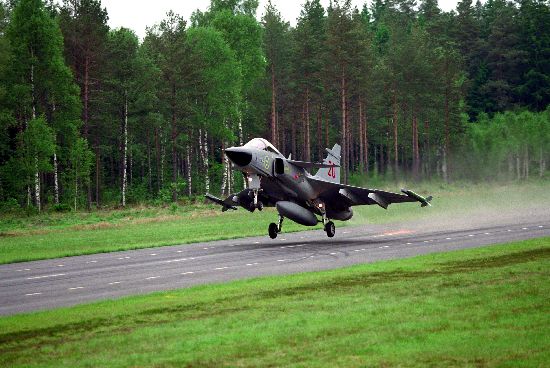 More from us: Atomic Annie: The Cold War-Era Cannon Capable of Firing a Nuclear Warhead
Australian highways, located in the Outback, are used as emergency runways for the Royal Flying Doctor Service. Having these emergency runways allows those living remotely to access medical care much quicker than they were able to before. Not only are these roads used for aircraft when needed, they are also fully utilized by cars.
If time allows, local police will drive to the highway strip to block off traffic – and animals – while the plane lands, but that is not always possible. If an aircraft has to land at night, locals will light toilet paper rolls on fire and lay them out like runway lights to guide it.