The flight test community experienced a major loss with the loss of the Northrop YB-49 some 67 years ago. The jet-powered flying wing broke apart mid-air five miles from Edwards Air Force Base over the Mojave Desert. The wing's five crew members were killed. Among those who died in the crash was Capt. Glen Edwards, who was flying co-pilot with Maj. Daniel Forbes Jr. He was flying at the request of Maj. General Boyd. On Dec. 8, 1949, they renamed Muroc Air Force Base to Edwards Air Force Base in honour and memory of the heroism and sacrifice made by the California native.
Retired Brig. Gen. Robert Cardenas served as the chief test pilot on the YB-49 program. He said that Jack Northrop's vision for the flying wing was revolutionary, but too advanced for the technology of the 1940s. Cardenas appeared before Northrop and the General Officer's Board to give his perspective regarding the program in November 1948.
He said he told the board that Northrop's wing would give the military one of the most effective weapons that they had, but it exceeded the human response and sensory capabilities because humans act reactively. He said that the plane needed a proactive system, but he had no recommendations. The YB-49 superseded the YB-35 and XB-35, which were two heavy bomber aircraft that were experimental. They were developed by Northrop Corporation for the US Army Air Forces during World War II and after the war's conclusion.
The plane used efficient design in the flying wing shape, which was also radical. The plane's fuselage and tail section are both non-existent, and all payload is hauled within the thick wing design. The plane was only built in pre-production and prototype form despite interest remaining to warrant additional development of the design as a jet bomber, which was known as the YB-49. The crash of the YB-49 occurred when Capt. Glen Edwards sent the plane into a low-speed stall at a high angle while testing it. The flight testing of the UB-49 #1 went on until March 1950 when the nose wheel tire failed during a high-speed test. The YRB-49A was tested a while longer.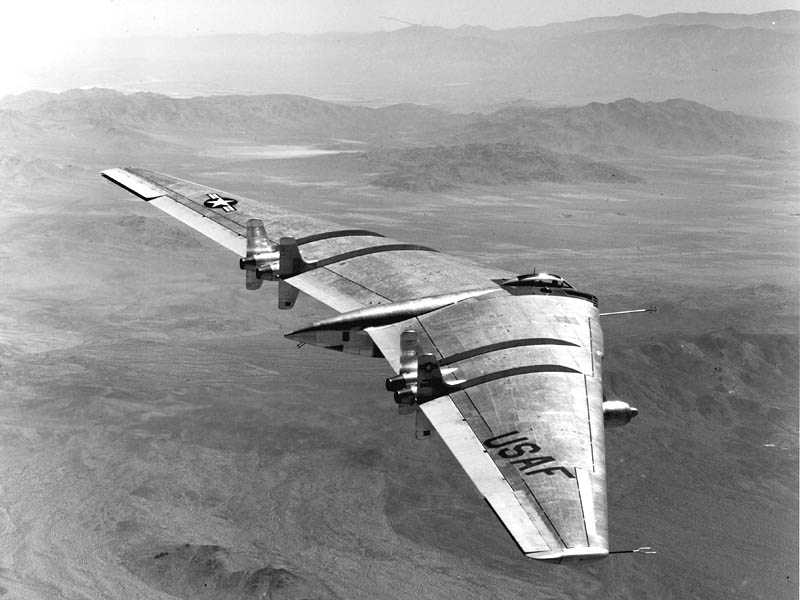 The YRB-49A was a strategic reconnaissance version of the flying wing, created from YB-35B #42-102376. Photographic equipment was installed in the tail cone bay. Its first flight was on 5/4/1950.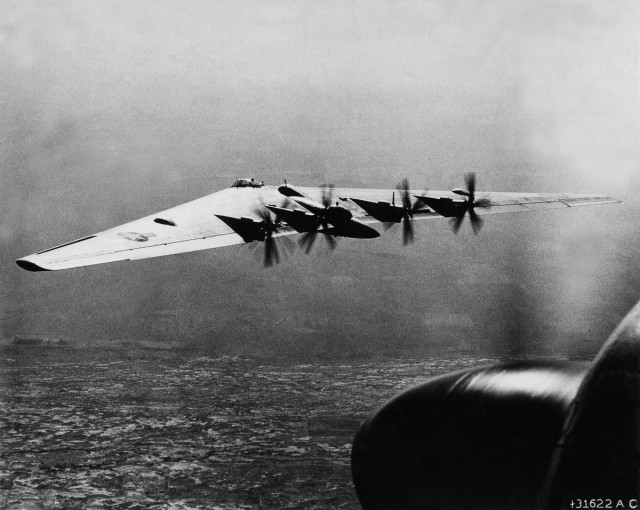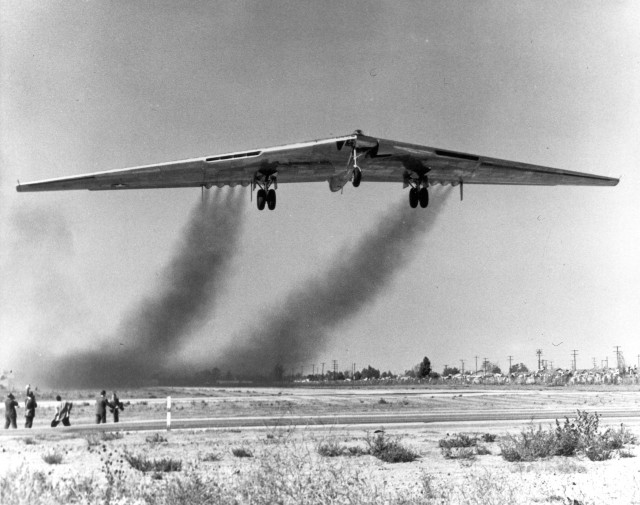 The YB-49 lifts off from Northrop Field for its first flight. Northrop's chief test pilot Max Stanley flew the ship the short distance to Muroc AFB, where it would begin its testing.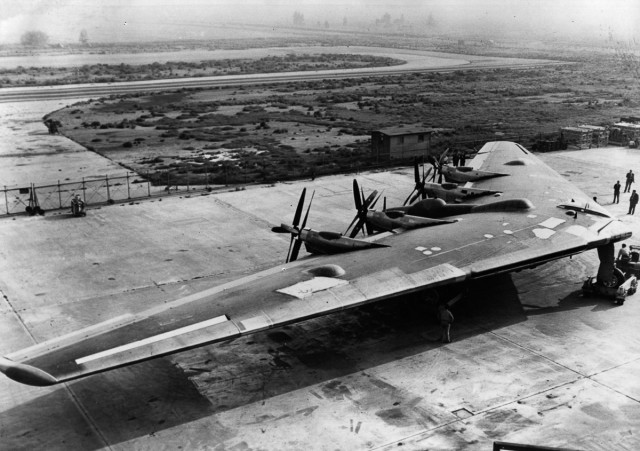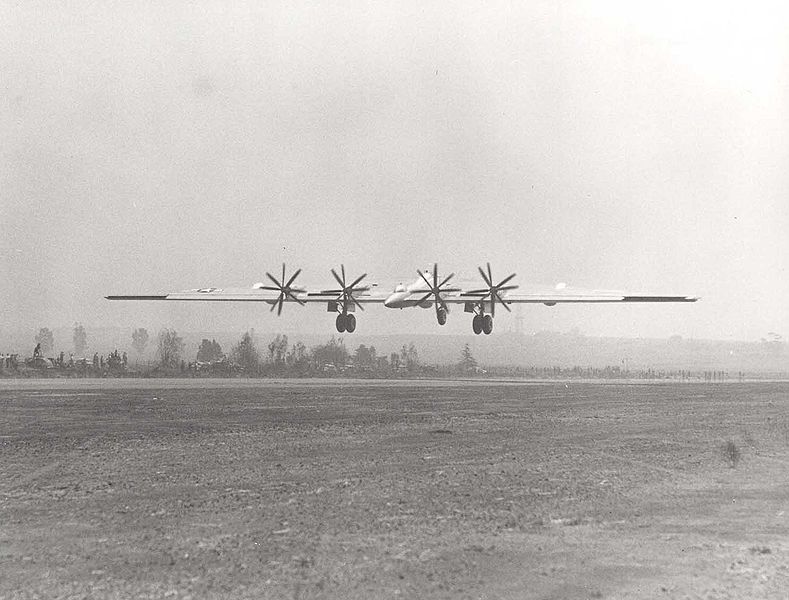 Northrop XB-35 Flying wing, a heavy bomber prototype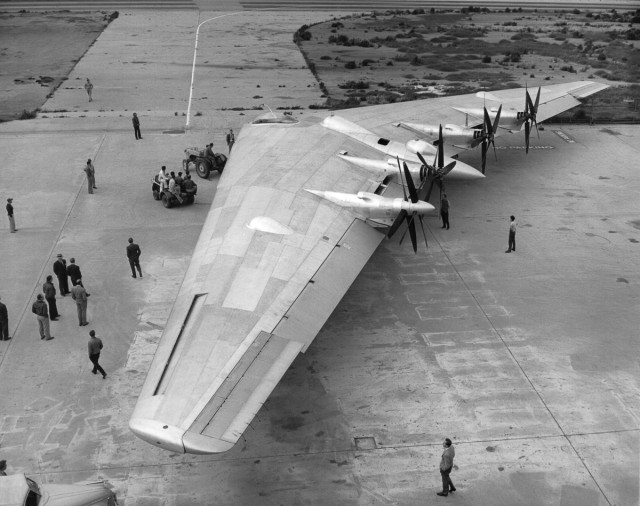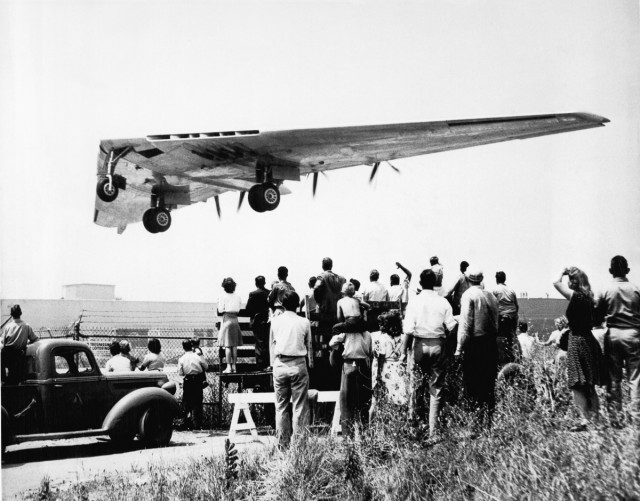 Northrop's Flying Wing Bomber, XB-35, takes off on its maiden flight, Hawthorne, California, June 26, 1946.