At the age of 83, World War II veteran Ted Gundy went viral after demonstrating the incredible marksmanship skills he'd gained during his service. Despite not acting as a sniper since the conflict ended, he hit a target at 1,000 yards. However, there's so much more to Gundy's story than his impressive shooting ability. Discover his wartime service and how he received one of the US Army Marksmanship Unit's coveted black hats.
Ted Gundy's early life
Ted Gundy was born on April 12, 1925, in Memphis, Missouri, to parents Charles and Vernal Gundy, and was raised by Ruby and Vance Vaught. As a teenager, he worked many different jobs, including at a Pepsi plant, a movie theater and at a chick hatchery.
Gundy graduated from high school in 1944, while WWII was well underway. It wasn't long after that he enlisted in the US Army and was assigned to the 99th Infantry Division. During basic training, he received the highest rifle qualification score, a rather impressive accomplishment that would set the tone for his wartime service.
Ted Gundy's service during World War II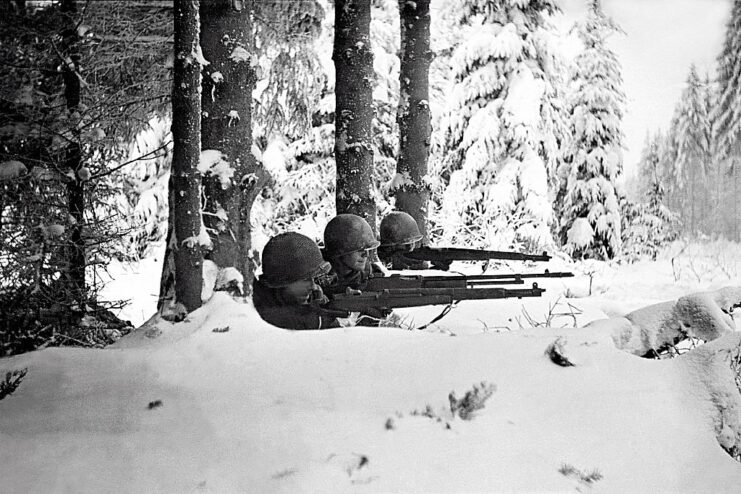 When Ted Gundy and his comrades arrived in Belgium as replacement troops, he was assigned to be his unit's sniper.
While with the 99th Infantry Division, Gundy saw action in many major engagements, including at Cologne Plains and Remagen Bridge. Most notable was the Battle of the Bulge, fought in the horrific winter of 1944-45. While Gundy remembered wondering if he'd wake up when he lay down to sleep, he survived the fight.
Only two weeks later, he was wounded while on patrol in Germany on March 15, 1945. During an enemy attack, the lower part of his right leg was shredded by heavy machine gun fire, severing an artery. It was only thanks to the help of his close friend, Charles Jones, that he survived.
When a medic was finally able to come and assist, he informed the men that the remainder of their unit was dead. That was the last part of the war Gundy served in. He was sent back Stateside and lost his leg just below the knee. He remained close to his friend right up until Jones' death.
Making a special request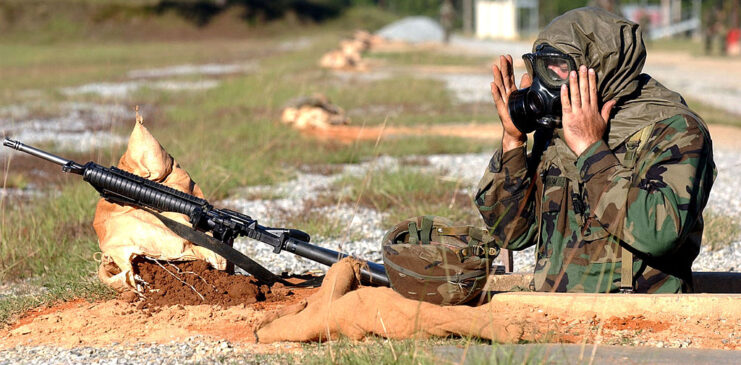 The story of Ted Gundy's fame all began with an innocent message. He reached out to Shooting USA about how astounding it was that modern snipers could make shots from 1,000 yards away, as he couldn't have accomplished such a feat with the weapons given to him during the Battle of the Bulge. This sparked the interest of Jim Scoutten, who went out of his way to arrange a trip for the veteran to the shooting range at Fort Benning (now Fort Moore), Georgia.
Not only were they able to set this up, they also added some extra surprises along the way.
It all started when Gundy was presented with a custom replica of the M1903 Springfield A4 sniper rifle he would have used during the Second World War. He was given the opportunity to warm up with this before moving on to take a longer shot. Although he hadn't used the Springfield in over 60 years, he hit all three shots from 300 yards.
Ted Gundy scores a legendary shot
Although he was excited about this, it wasn't what he'd come for. Ted Gundy was there to make a 1,000-yard shot of his own. He was coached through it by two US Army snipers, who showed him how they used two-man teams – one sniper and one spotter – to hit targets so far away. He was given a US Army Marksmanship Unit custom Remington Model 700 to work with, which is widely considered to be one of the best sniper rifles on the market.
Having never shot anything like this before, Gundy showed just how good he really was. Not only did he land all three attempts, but they were all headshots. He said after, "I couldn't believe I could have hit anything that far away." This earned him a special ceremony of his own, where he was presented with the Marksmanship Unit's black hat, only the eighth to ever be presented to a non-member.
In addition to this recent accolade, Gundy was also awarded the Purple Heart and Bronze Star for his service during WWII.
More from us: Audie Murphy: The Most Decorated Soldier In US History
On October 12, 2015, at the age of 90, Ted Gundy passed away.