The Cheshire Military Museum is home to over 20,000 artifacts covering over 300 years of history of soldiers from the County of Cheshire who have fought in conflicts around the globe. Of our extensive collection, the most historically significant are the priceless Percival Pens. General Percival was in charge of forces in Malaysia which fell to the Japanese in 1942.
Percival himself was briefly held prisoner in Changi Prison, where "the defeated GOC could be seen sitting head in hands, outside the married quarters he now shared with seven brigadiers, a colonel, his ADC, and cook-sergeant. He discussed feelings with few, spent hours walking around the extensive compound, ruminating on the reverse and what might have been". In the belief that it would improve discipline, he reconstituted a Malaya Command, complete with staff appointments, and helped occupy his fellow prisoners with lectures on the Battle of France.
Along with the other senior British captives above the rank of colonel, Percival was removed from Singapore in August 1942. First, he was imprisoned in Formosa and then sent on to Manchuria, where he was held with several dozen other VIP captives, including the American General Jonathan Wainwright, in a prisoner-of-war camp near Hsian, about 100 miles (160 km) to the northeast of Mukden.
As the war drew to an end, an OSS team removed the prisoners from Hsian. Percival was then taken, along with Wainwright, to stand immediately behind General Douglas MacArthur as he confirmed the terms of the Japanese surrender aboard USS Missouri (BB-63) in Tokyo Bay on September 2nd, 1945. Afterward, MacArthur gave Percival a pen he had used to sign the treaty.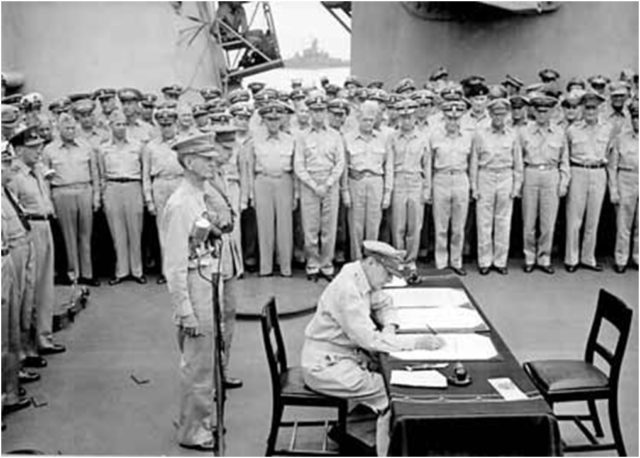 Percival and Wainwright then returned together to the Philippines to witness the surrender of the Japanese army there, which in a twist of fate was commanded by General Yamashita. Yamashita was momentarily surprised to see his former captive at the ceremony; on this occasion, Percival refused to shake Yamashita's hand, angered by the mistreatment of POWs in Singapore.
The flag carried by Percival's party on the way to Bukit Timah was also a witness to this reversal of fortunes, being flown when the Japanese formally surrendered Singapore back to Lord Louis Mountbatten.
By Cheshire Military Museum for War History Online
For more amazing artifacts, visit the Cheshire Military Museum
Video
See the pen being used in the footage from the surrender ceremony: