William "Bill" Overstreet Jr. was used to doing loop the loops around and over the Golden Gate Bridge, sometimes buzzing farmers and sunbathers while in pilot training.
But on that fateful day in the spring of 1944, Captain Overstreet would push his P-51B Mustang to the max. He would fly under the Eiffel Tower to chase and ultimately shoot down an enemy Bf-109 in World War II, earning him France's highest military award.
Early Period
Overstreet was born in Clifton Forge, Virginia, on April 10, 1921. When the attack on Pearl Harbor occurred, Overstreet enlisted with the US Army, intending to become a pilot. He was a quiet man, but a daredevil at heart, and his dreams came true when he was selected for pilot training in California as well as follow-on training at Luke Field in Arizona.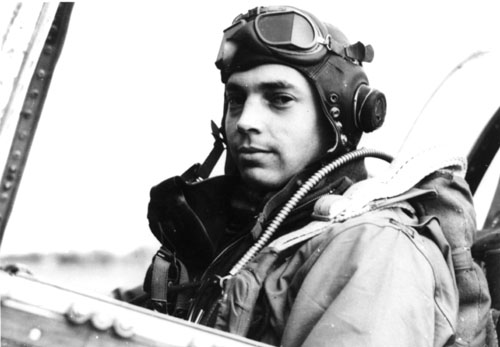 Overstreet would accumulate hours in the BT-13 Valiant, T-6 Texan, and P-40 Warhawk before graduating and being assigned to the 357th Fighter Group (363rd Fighter Squadron). There, he flew with experienced aviators, including his squadron mate, Chuck Yeager, who would go on to be the first pilot to break the sound barrier.
When speaking about his wingman, Hub, Bill is quoted as saying:
'Hub' also liked to take a flight of four to the Golden Gate Bridge and do loops around it. You know we were having fun! Complaints came in and charges were placed. Jack Meyers, our legal officer, told me years later that he was able to hold up action on bushels of charges, and took most home with him after the war. We liked to buzz farmers, sunbathers or anything. Years later, I asked Don Graham why we got by with so much. He replied, "If you were picking pilots for combat, who would you pick? The fellows who flew straight and level or the ones who pushed the envelope and tested the limits of their planes?'"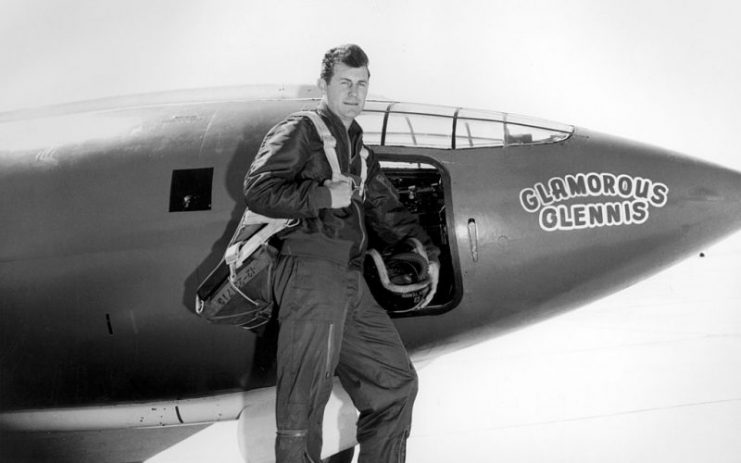 World War II
Overstreet was declared combat ready and crossed the Atlantic onboard the RMS Queen Elizabeth. He was assigned to the Ninth Air Force which was about to receive brand new P-51 Mustangs. He and his unit, the 357th Fighter Group, routinely flew bomber escort missions into Germany, leading him later to name his P-51 Mustang the "Berlin Express."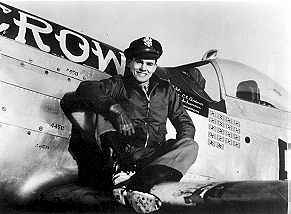 The pilots in the 357th Fighter Group were recognized for their meritorious efforts in the war and keeping the skies clear of Luftwaffe aircraft. During their bomber escort missions, they destroyed 20 Nazi fighters and strafed a large enemy airfield in Germany, damaging various German aircraft and killing 15-20 armed personnel. Here's an excerpt of their citation:
"Some of the P-51s left their formations to engage enemy fighters below the bomber level in order to prevent them from reforming for further attacks. Though fighting under the most difficult conditions and subjected to constant anti-aircraft and enemy aircraft fire, so skillfully and aggressively were their attacks on the enemy fighters carried out that not a single aircraft of the 357th Group was lost."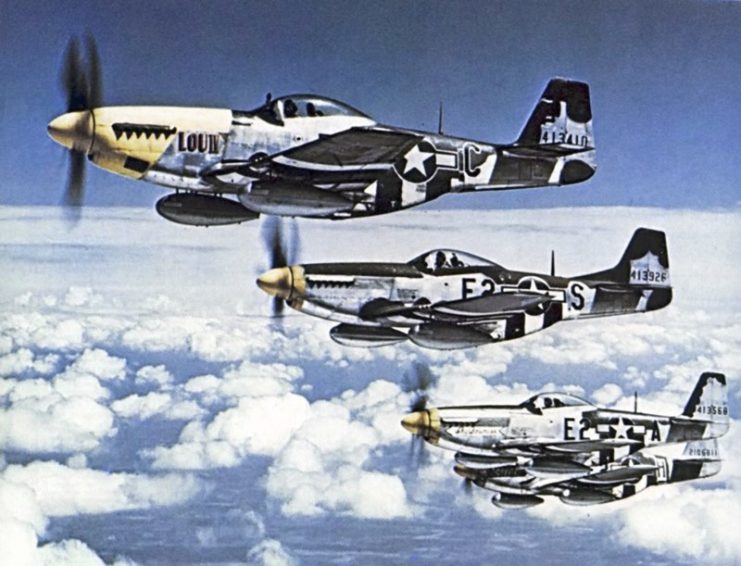 That Fateful Day
Overstreet and others were near Paris on escort duty when they were attacked by enemy Messerschmitt Bf-109 aircraft. Even though some of the German fighters broke off their attack, Overstreet and an enemy Bf-109 were already engaged in a dogfight.
The Bf-109 attempted to fly over Paris in the hopes of shaking Overstreet in his superior P-51 Mustang with help from anti-aircraft artillery (AAA) fire that was surrounding the city. However, Overstreet and his "Berlin Express" landed key hits on the Bf-109's engine and frame, even though Overstreet's P-51 was in the face of enemy ground fire as well.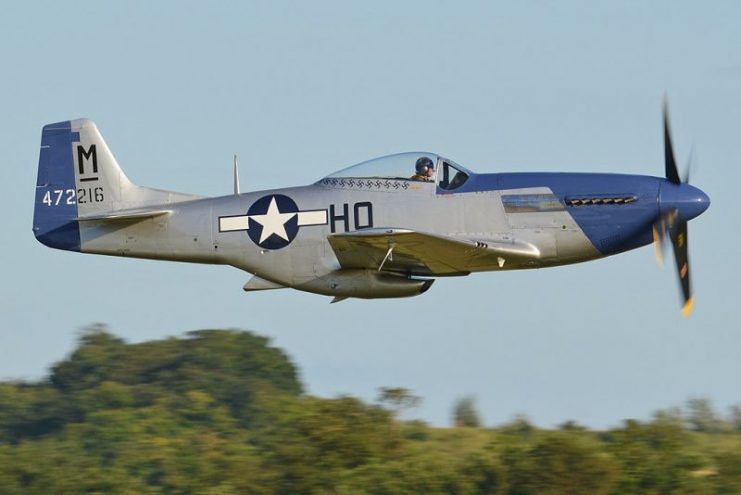 In a last attempt to shake the P-51, the German Luftwaffe pilot flew his plane towards the Eiffel Tower — then beneath it. Overstreet was not about to let the German get away, so he took his P-51 Mustang under the Eiffel Tower as well. He then proceeded to score several more hits on the Bf-109, causing it to crash.
Going full throttle, Overstreet managed to escape additional flak and ground fire, after which he was able to clear the city's surface-to-air defenses.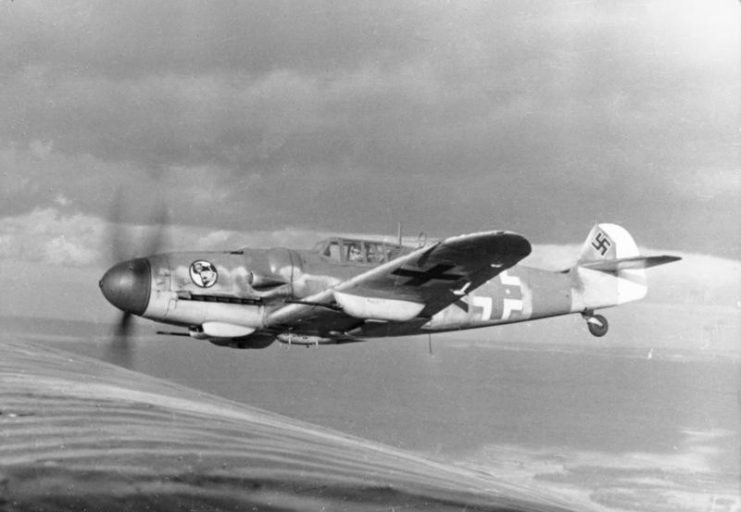 "I had followed this 109 from the bombers when most of the German fighters left. We had a running dogfight and I got some hits about 1,500 feet. He then led me over Paris, where many guns were aimed at me. He figured I'd get around and he'd have time to get away.

He was wrong. I was right behind him, right under the Eiffel Tower with him. And when he pulled up, I did get him. But, listen, that's a huge space… As soon as he was disabled, I ducked down just over the river, a smaller target for the Germans, and I followed the river until I was away from Paris."
World War II
Like most pilots during the time, Overstreet had a few other exciting moments during his service. On another bomber escort mission, he was hit by AAA. He lost his oxygen supply at around 25,000 feet and ended up falling, semi-conscious, for almost 90 minutes.
Through sheer muscle memory, he was able to pilot the plane during that time and landed at Leiston, where he was met by two servicemen who, ironically, were from his hometown of Clifton Forge.
Overstreet would continue to fly bomber and cargo aircraft escort missions for the remainder of the war. He and his group flew eight missions on D-Day, supporting the Normandy invasion on June 6, 1944.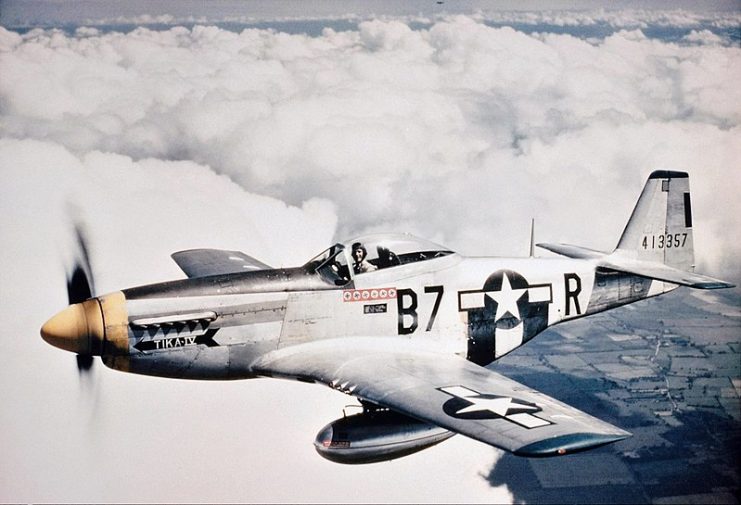 Read another story from us: The Famous Messerschmitt Bf109 – Facts You May Not Know
After the War
Overstreet returned to the US and taught military students in Florida before becoming a certified public accountant. On June 6, 2009, at the National D-Day Memorial in Bedford, Virginia, he was awarded France's highest military award: the Ordre national de la Légion d'honneur.
This was presented to him by the French Ambassador for his bravery in Paris and the inspiration it had on French citizens and the resistance.