Like the Red Baron a generation before him, Michael Wittmann was a master of his machine. A skilled commander and gifted fighter, he destroyed 117 enemy vehicles on the Russian front in WWII. Then he fought the Americans, British, and Canadians. The Red Baron had dazzled in the air, but Wittmann did so on the ground.
Michael Wittmann was a panzer ace.
The Making of an Ace
In 1934, the 20-year-old Michael Wittmann joined the German infantry. He left two years later and entered the SS, where he served in Hitler's elite guard, the Leibstandarte SS Adolf Hitler (LSSAH).
In 1937, Wittmann began working with military vehicles. He showed a high aptitude for it and commanded armored cars during the first two European campaigns of WWII, in Poland and the West.
When the LSSAH expanded to include self-propelled artillery, Wittmann was given command of one of those guns. He served with distinction in the Balkans, earning the Iron Cross Second Class.
Into Russia
Wittmann did well again during the invasion of Russia, where he destroyed six enemy tanks in a single engagement through fast maneuver and careful use of ground. When his unit was expanded to include Tigers (the heavy Panzer VI tanks) Wittman was given command of one.
Returning to Russia in the winter of 1942-3, Wittmann commanded a small platoon of five Tigers. They achieved tactical victories in the retreat from Kharkov, then formed part of the spearhead that smashed Russian defenses to retake the city.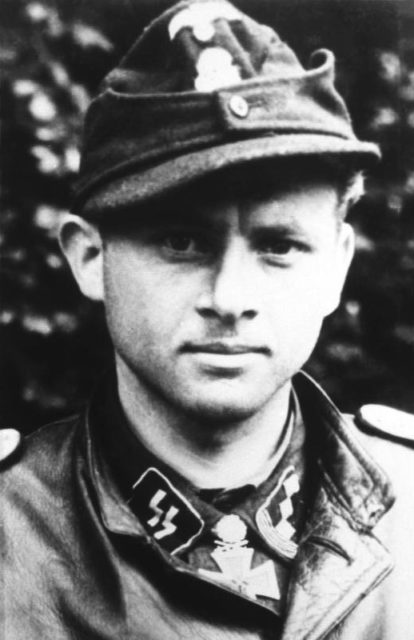 Operation Citadel
In the summer of 1943, German forces launched Operation Citadel. Occurring in the Kursk area, that attack became the last great German offensive on the Eastern front.
Wittmann led his Tigers in a series of deadly engagements, punching through Russian lines and breaking enemy counter-attacks. On at least one occasion, they pushed so aggressively that they ended up behind the enemy, attacking Soviet T-34 tanks from the rear.
As part of the LSSAH, Wittmann joined in assaults on the most toughly defended part of the Kursk salient. His tank was hit several times, but he continued to prove his cool under fire. However, despite tactical successes, Citadel was a strategic failure.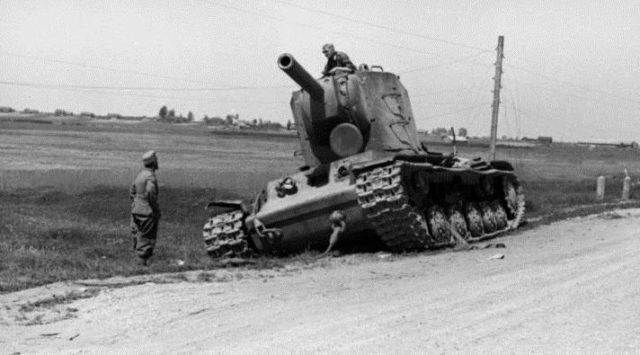 Toward Brusilov
After a brief break from the front, Wittmann returned in November in time to take part in an offensive against the Russians. He was part of a counter-attack in which his Tiger company led the LSSAH toward their target of Brusilov.
The first day of the counter-attack saw an extraordinary performance from Wittmann. Following a captured map, he used carefully chosen terrain and a rapid advance to outflank Russian tanks. During a series of engagements, he and his tank crew destroyed 20 enemy tanks and 12 anti-tank guns.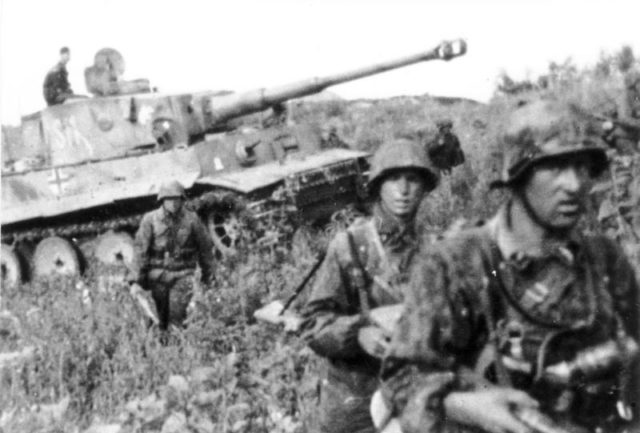 Earning the Knight's Cross
As the fighting continued through December and January, Wittmann fought with exceptional skill and ferocity. Again, he abandoned the obvious direct offensives preferring flanking maneuvers. He caught and destroyed an enemy force as it tried to retreat, driving the length of the convoy and shooting each lorry in turn. He destroyed not only the standard Soviet T-34s but also super-heavy SP guns.
On January 13, 1944, he was awarded the Knight's Cross of the Iron Cross for his achievements.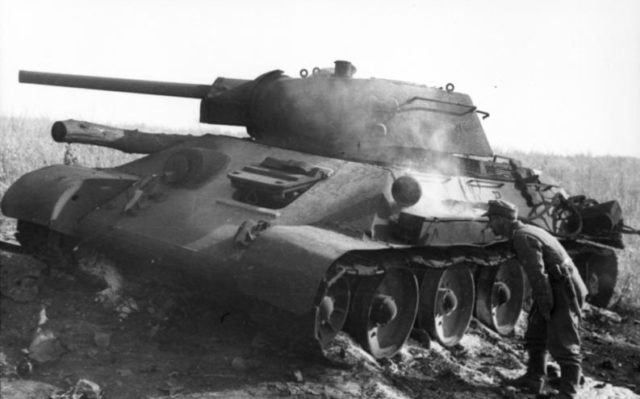 Beyond Brusilov
Wittmann was becoming a legend among German tank crews. He had 88 tank kills to his name. On January 20, 1944, he was promoted to 1st lieutenant for bravery in the field.
On February 6, the LSSAH was given the task of rescuing a Corps encircled near Cherkassy. The Tiger Company suffered losses. The commander of the Heavy Panzer Company was wounded, leaving Wittmann to take over temporary command. Despite the setbacks, they succeeded in their mission.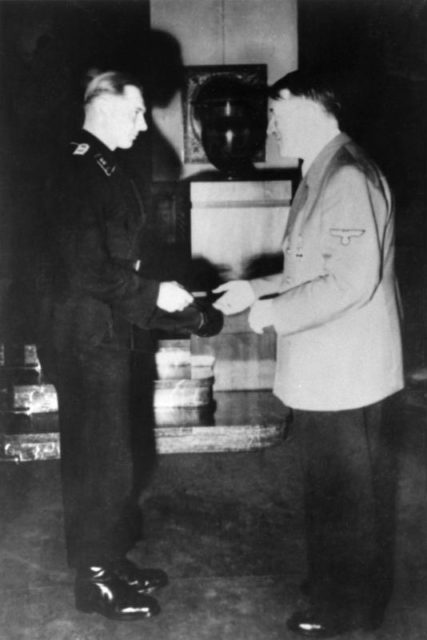 Going West
The battered division was taken from the eastern front and moved to Belgium. In April, Wittmann was given command of No. 2 Company of the 101st Heavy Panzer Battalion.
When the Allied invasion of Normandy came, the 101st were billeted in Beauvais in France. To get to the fighting, they had a long march via Paris. As they traveled, they were hit by an air raid and several vehicles were badly damaged, adding to their delay.
By the time they reached the new front in northern France, six days had passed.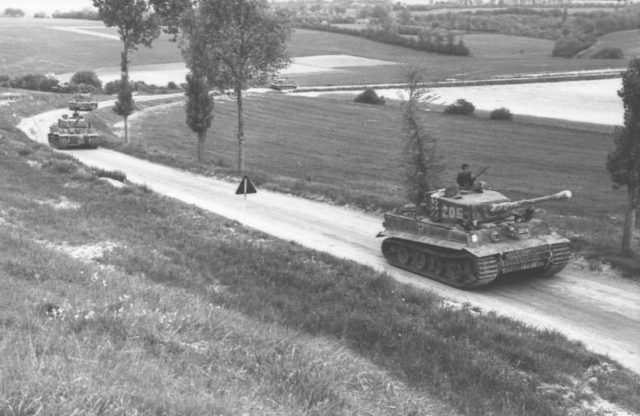 Villers-Bocage
The 101st were positioned near Villers-Bocage, on the road to Caen. Early on June 13, Wittmann set out to investigate rumors of a British flanking maneuver in the area. At 0630, he was watching from cover as a British division marched into and through Villers-Bocage.
Bursting from cover, Wittmann caught the British by surprise and took out three Cromwell tanks. Carrying on into the village, the shells of British tanks bounced off his tank's thick front armor. He had confirmed the position was strongly held and that it would need an attack in force to retake it. He told his driver to pull back so they could report.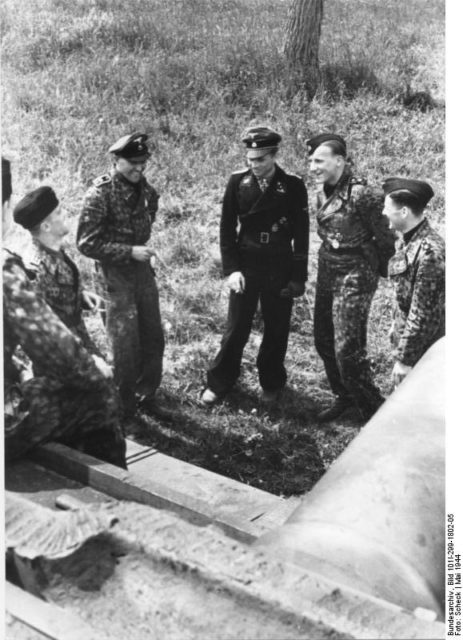 A fourth Cromwell emerged from behind Wittmann and hit his tank twice without destroying it. Wittmann returned fire, killing the tank and its crew. Running low on fuel and ammunition, Wittmann raced out of Villers-Bocage. Finding a row of parked British tanks, he rolled up the line, destroying them one at a time. In only five minutes, he destroyed 27 tanks and tracked vehicles.
Having taken on fuel and ammunition, Wittmann led his company back toward Villers-Bocage. They were ambushed, and Wittman's tank was disabled. He and his crew marched 15 kilometers to rejoin German forces; then returned to the fighting.
Villers-Bocage was retaken.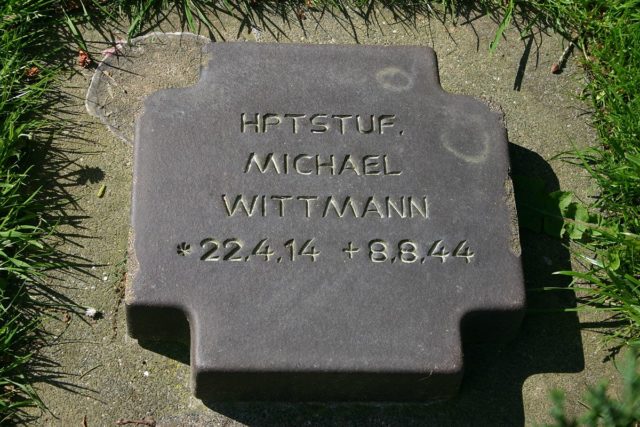 Falaise
Wittman's final fight was on August 8. Leading his men in an advance near Falaise, he raced through an Allied barrage in characteristic style. Charging to close range against enemy tanks, his Tiger was hit and destroyed, killing everyone on board.
He had an extraordinary career, with 117 tank kills on the eastern front alone. He died as he had lived – fighting with boldness and cool under fire.
Source:
James Lucas (1996), Hitler's Enforcers: Leaders of the German War Machine 1939-1945