On Sunday, April 3rd, 2016, Dr Joe Medicine Crow, the last of the Montana war chiefs, has passed away at age of 102. He was a veteran, a scholar, an educator and an activist fighting for the rights of his people. Medicine Crow was known for documenting the history of Montana tribes, for which he received a Presidental Medal of Freedom from President Barack Obama in 2009.
During WWII, he fought as a US Marine, proudly wearing his war paint beneath his uniform. He became well known for his approach to battle and for the fulfillment of the tasks that made him a war chief in the eyes of the Crow tribesmen.
According to the Crow Nation, a man has to do four things in order to become a war chief:
Touch an enemy without killing them – which is called "counting coup,"
Take an enemy's weapon,
Lead a successful war party and survive it
Steal an enemy's horse. Even though this sounds like a scenery for a John Wayne movie, it happened in occupied Europe, during the war.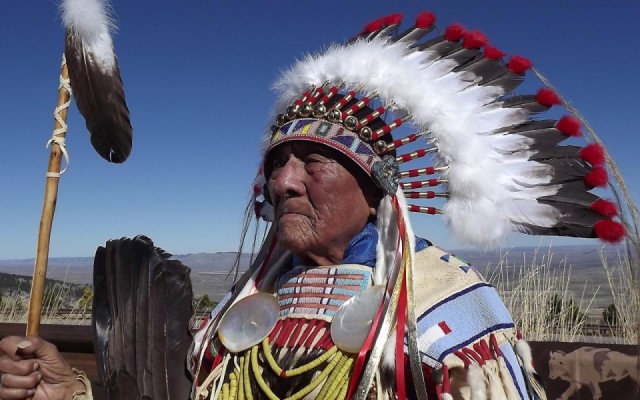 Joe Medicine Crow was a member of the Apsalooke (Crow) tribe. He was born on October, 27th 1913, in Montana, where he grew up in a Crow Reservation, near Lodge Grass. He was a proud descendent of Plains warriors. His paternal grandfather, White Man Runs Him, was a scout for General George Armstrong Custer and witnessed the Battle of Little Bighorn first-hand in 1876.
Medicine Crow grew up during a time when most of his fellow tribesmen children were taken away by the state in a process of "Americanization". His was a different fate.
He was named after his maternal grandmother, Chief Medicine Crow, who invested herself in educating the young about the Crow Nation culture so that it wouldn't be consumed in a historical turmoil of assimilation.
Joe grew up with a traditional Crow upbringing: learning to ride horses bareback, running barefoot through the snow, hunting animals on his own, tracking, and fighting. He was also taught the history and traditions of his people.
In 1928, Medicine Crow was sent by his elders to Bacone College in Muskegee, Oklahoma, which was an English speaking, Baptist school. The elders managed to preserve his sense of belonging to the tribe, even though he went through a Christian school which had little respect for the history of his people.
He acquired his bachelor's degree in 1938 from Linfield College in McMinnville, Oregon making him the first in the Crow nation to receive higher education. He then went on to the University of Southern California where he got a master's degree in anthropology in 1939.
Joe Medicine Crow was the first in the Crow tribe to receive a master's degree. His thesis, The Effects of European Culture Contact upon the Economic, Social, and Religious Life of the Crow Indians, represents an important testament of the Crow Nation – especially since it has undergone massive changes since the thesis was submitted. UNESCO deemed the Crow language endangered in 2012 since living speakers are few.

When the war broke out in 1941, Medicine Crow was working on an another anthropology thesis. He was drafted in a newly formed 103rd in 1942, and spent two years training. His hour came in 1944 when he disembarked on the shores of Southern France during Operation Dragoon with his unit. Medicine Crow used war paint and a feather to keep him from harm in battle.
After France, the 103rd dealt with heavy fighting on the Siegfried Line. After they had realized that they are not going to push through by force, they sent Medicine Crow and his war party of seven, packed with explosives to blow up the strategic points along the line.
When a section of the Siegfried line was neutralized, Joe Medicine Crow was to lead the charge that brought the battle into German territory. Several other times he proved his bravery by fighting and sparing his enemy in bare hands combat and saved some horses from bombardment.
War History online published an article in March this year which depicts his war adventures in detail.
He gave his contribution to the American war effort, as he gave it to American culture. Historian, Ken Burns told Medicine Crow story in a 2007 documentary film titled simply – The War.
Montana Senator, John Tester, who nominated Joe for the Medal of Freedom, summed up his rich and colorful life by saying:
"Joe Medicine Crow was a soldier and a scholar, but above all he was a fierce advocate for Native American families. When you spoke to Joe Medicine Crow, it was impossible not to be inspired. I know his legacy will motivate generations of Montanans to follow in its footsteps and live a life dedicated to serving other."
Video
President Obama honors the 2009 recipients of the Presidential Medal of Freedom, Americas highest medal awarded to civilians, during a reception at the White House. Honorees include Dr. Joseph Medicine Crow.