James "Jimmy" Stewart is among the most recognizable stars from the era of Vintage Hollywood. Starring in the likes of Vertigo (1958), It's a Wonderful Life (1946) and The Philadelphia Story (1940), he was involved a number of classic films. Despite being in the midst of growing his acting career, Stewart opted to serve with the US military during World War II, and participated in a number of bombing missions over Germany.
James Stewart wanted to be an aviator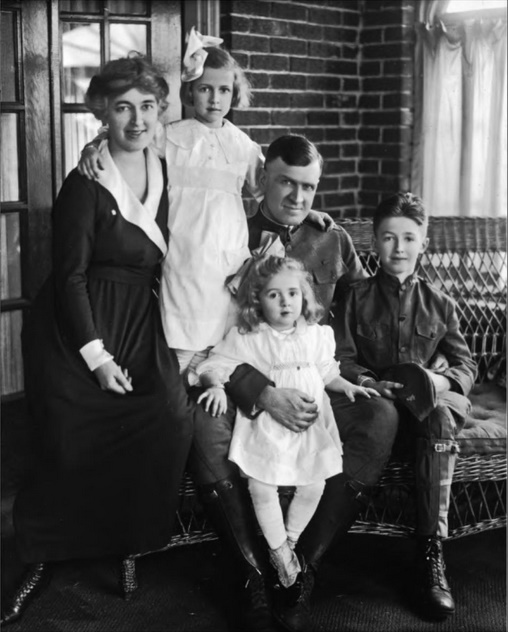 Born on May 20, 1908, James Stewart was a shy child who took an interest in all things aviation. Rather than spend time playing with other kids in his neighborhood, he spent hours in the basement of his family's home, building model aircraft, learning about chemistry and creating mechanical drawings. Given this interest, it was a dream come true when the young Stewart was able to take to the skies with a barnstormer immediately following the First World War.
While the future actor hoped to attend the US Naval Academy and become a naval aviator, his father had other plans. He wanted Stewart to attend his alma mater, Princeton, and thus enrolled him in Mercersburg Academy to improve his grades. It was at the school that he first became involved in acting, appearing on-stage in a 1928 production of The Wolves.
Stewart enrolled in Princeton in 1928 to study architecture. While there, he joined a number music and drama clubs, which led him to turn down graduate school to perform with the University Players in West Falmouth, Massachusetts, alongside Henry Fonda, who fast became a close friend and confident.
Entry into Hollywood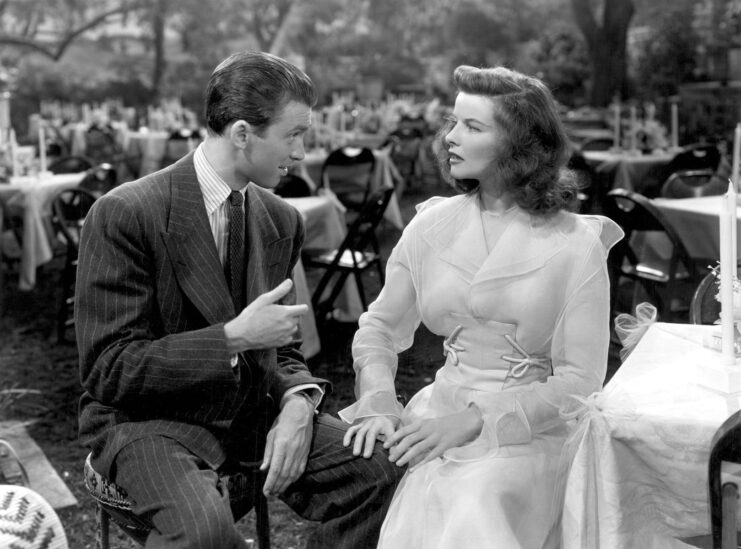 Before landing in Hollywood, James Stewart appeared in a handful of Broadway productions. After being given an uncredited role in the 1934 film, Art Trouble, he signed a multi-year contract with Metro-Goldwyn-Mayer (MGM). This afforded him both minor and co-starring roles, the most popular of which were Next Time We Love (1936), alongside Margaret Sullivan, and Navy Blue and Gold (1937).
Despite his growing success and popularity, MGM was nervous to give Stewart any leading roles, and often refused to lend him out to other studios. He was eventually given permission to star in the 1938 Columbia Pictures feature, You Can't Take It With You, which thrust him into the spotlight. The following year, he starred in Mr. Smith Goes to Washington, for which he earned a nomination for the Academy Award for Best Actor.
Stewart's success only continued, as, in 1940, he appeared in two popular films: The Mortal Storm, alongside Sullivan, and The Philadelphia Story, in which Katharine Hepburn was his co-star.
James Stewart enlists in the US Army Air Corps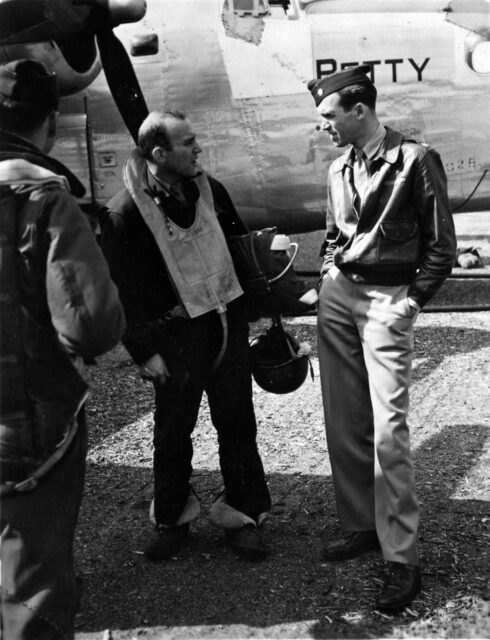 While making a name for himself in Hollywood, James Stewart continued to pursue his interest in aviation. He'd obtained his commercial pilot's license and private pilot's certificate, and had amassed over 400 flight hours by the time he enlisted with the US Army Air Corps. He also owned his own aircraft – a Stinson Voyager – and was an investor in Thunderbird Field, which had been contracted to train military pilots.
Military service was in Stewart's blood, as both his grandfathers had fought in the American Civil War. His father had also served during the Spanish-American War and World War I. He first tried to enlist in November 1940, but was rejected after not meeting the necessary weight requirements. He tried again the following February and was accepted, becoming the first major American movie star to join the US Army during WWII.
When later asked why he opted to put his acting career on hold to serve, he said, "This country's conscience is bigger than all the studios in Hollywood put together, and the time will come when we'll have to fight."
As he was 33 years old at the time, Stewart applied for a commission on the basis of his private piloting experience and the fact he was a university graduate. He was subsequently made a second lieutenant and underwent basic training at Moffett Field, in Santa Clara County, California. Before long, he was teaching aspiring pilots how to fly the Beechcraft AT-6 Wolverine, the Model 18 and the Boeing B-17 Flying Fortress.
During this time, Stewart, still under contract with MGM, made no new commercial films. Instead, he did public appearances for the US Army Air Forces, which, by then, had replaced the Air Corps.
Combat in the European Theater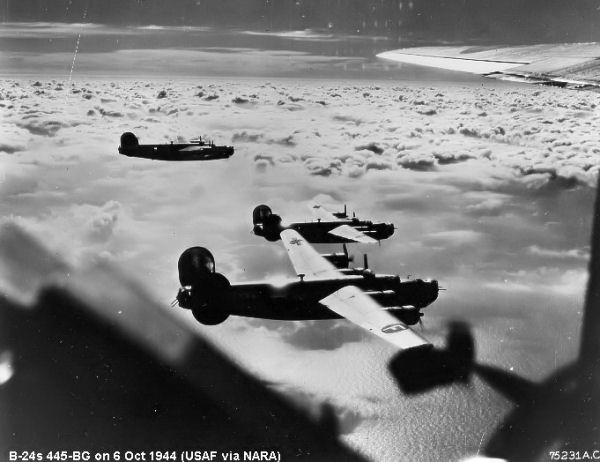 The US Army was hesitant to allow someone as well-known as James Stewart to engage in combat, despite the actor wanting to see action in the European Theater. After stints at airfields across the United States, he was given the opportunity with the 703rd Bomb Squadron, 445th Bombardment Group, of whom he was the commander. Upon arriving in England, they were based at RAF Tibenham and assigned to the 2nd Combat Wing, before being transferred to RAF Old Buckenham.
The 445th flew their first combat mission on December 13, 1943, attacking a U-boat pen in Kiel, Germany. Stewart was in charge of the high squadron, and flew as the lead pilot on a mission to Bremen just three days later. On Christmas Eve, he, again, led the group, this time on a mission against German rocket-launch sites in Pas-de-Calais, France. This wound up being the largest raid by the US Eighth Air Force up to that date, with 2,000 aircraft involved.
On January 7, 1944, Stewart was promoted for his actions during a raid over the German city of Ludwigshafen. Upon departing the target area, the bombardment group accompanying the the 445th flew 40 degrees off course. When Stewart informed the group lead of this, he was told he was the who was mistaken. Despite knowing the truth and the danger the other group would face, he followed them and helped many survive an attack by 60 Luftwaffe aircraft.
Changing roles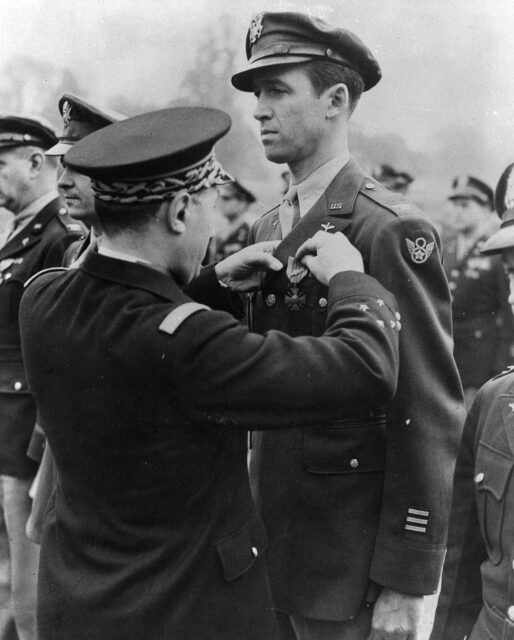 During the early months of his time in Europe, James Stewart developed a favorable reputation among his men and superiors. He was named the operations officer of the 453rd Bombardment Group on March 31, 1944, after which he became the chief of staff of the 2nd Combat Wing, 2nd Air Division, Eighth Air Force.
In early 1945, Stewart was, again, promoted, this time to colonel, putting him one of a small list of American service members to rise to the rank in only four years. He was also the recipient of a number of decorations, including the Air Medal with three oak clusters, the Distinguished Flying Cross and the Croix de Guerre with palm.
When the war in Europe began to wind down, Stewart was tasked with overseeing the demobilization of the 2nd Combat Wing, so its members could be transferred to the Pacific Theater.
James Stewart retired from the US Air Force after decades of service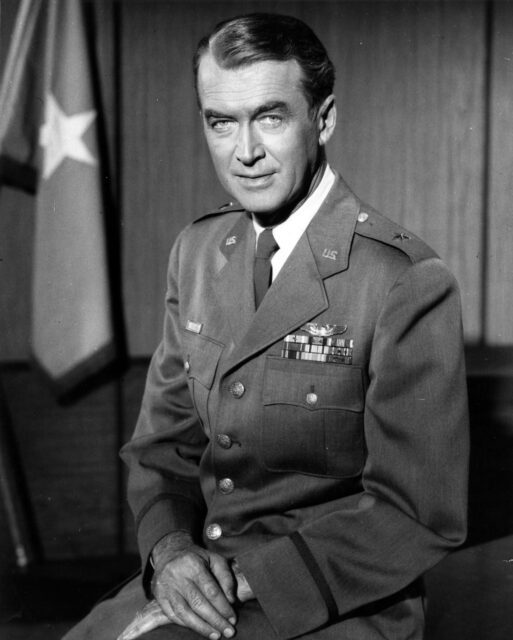 James Stewart returned to the US in mid-1945 and continued to serve for another two decades. He was placed in a reserve role with the US Army Air Forces and, later, the Air Force. When reinstated into active-duty, he served as the deputy director of operations with the Strategic Air Command, learning to fly the Boeing B-47 Stratojet and B-52 Stratofortress. After this, he was named the Air Force's officer of information at the Pentagon.
In 1957, Stewart was nominated for a promotion to brigadier general. While this was initially opposed, he was given the rank two years later, becoming the highest-ranking actor in the history of the US military.
Given his age and position in the Air Force, Stewart saw limited service during the Vietnam War. In February 1966, he flew as a non-duty observer on a B-52 as part of Operation Arc Light. Three years later, his son, US Marine Corps Lt. Ronald Stewart, was killed in action (KIA) while serving overseas.
On May 31, 1968, Stewart officially retired from the Air Force after 27 years of service. The reason: he'd reached the mandatory retirement age of 60. Both during and after, the actor rarely spoke about his service, with the only exception being an episode of the 1974 documentary series, The World At War. He also refused to star in any war-related movies, saying that film was "not the same" as real-life combat.
A turbulent return to Hollywood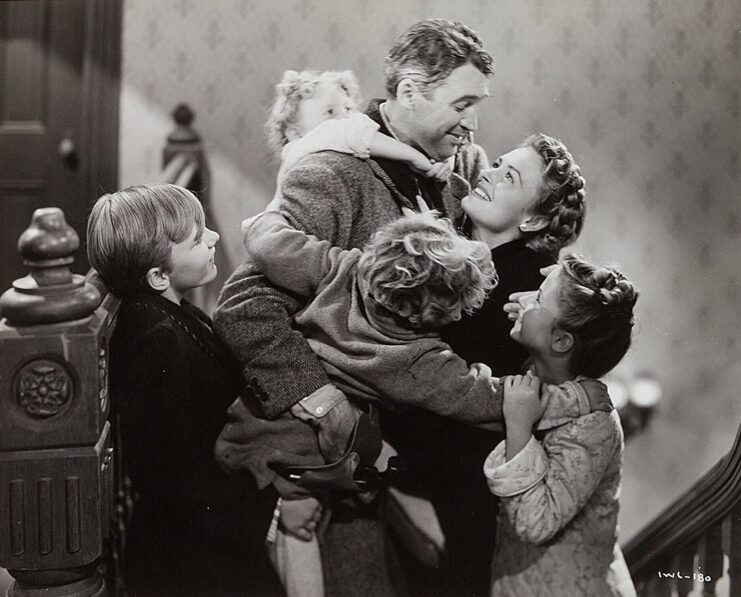 Following the Second World War, James Stewart made his return to Hollywood, despite his continued military service. However, he initially didn't believe it would happen, as he'd begun to question his acting abilities. His self-doubt was so great, in fact, that he considered returning home to run his family's store.
In 1946, It's a Wonderful Life hit theaters as Stewart's first post-war film. While viewed as a classic nowadays, the film received mixed reviews upon its release and was only moderately successful at the box office. Following this, he performed on radio and made a brief return to Broadway.
It wasn't until 1949 that Stewart, again, found film success, starring as baseball star Monty Stratton in The Stratton Story. He followed this up with numerous collaborations with Alfred Hitchcock – Vertigo, The Man Who Knew Too Much (1956), Rope (1948) and Rear Window (1954) – and Anthony Mann. He also starred in a number of Western films, with the roles affording him appearances alongside such actors as John Wayne and his old friend, Henry Fonda.
Stewart's final live-action film came in the form of 1980's The Green Horizon, which was panned by critics. He semi-retired after its release, with his official final role being An American Tail: Fievel Goes West (1991), in which he voiced the character of Sheriff Wylie Burp.
James Stewart's final years and death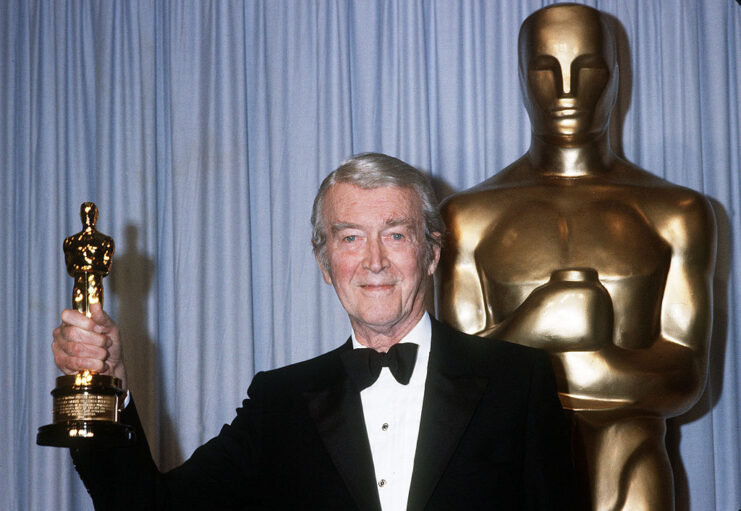 Despite largely retiring from acting in the later years of his life, James Stewart remained in the public eye. That being said, he was guarded about his personal life and rarely revealed details to the media. In February 1994, his wife, Gloria, passed away from lung cancer. He subsequently fell into a deep depression and became even more reclusive, only leaving his bedroom to see his children and eat.
In December 1996, the battery in Stewart's pacemaker was scheduled to be changed, but he refused to keep the appointment. This would have fatal consequences, with him being hospitalized the following February for an irregular heartbeat. He then developed thrombosis, and a week later suffered a pulmonary embolism, which led to a heart attack. He passed on July 2, 1997 surrounded by his children.
More from us: British Actors Who Served In the Military
Several high-profile stars were present at his funeral, including Carol Burnett, June Allyson and Robert Stack. In recognition of Stewart's decades-long service with the Air Force, he was given full military honors, complete with three volleys of musketry.