The Battle of Arnhem, Nijmegen and Eindhoven (Operation Market Garden) 17–25 September 1944.
On Sunday 17 September, 500 gliders and 1,500 aircraft flew over the men of XXX corps, whose job was to follow beneath them in their tanks and trucks. As the aircraft flew over, the Allied guns began a huge barrage to hit the Germans guarding the road ahead. The weather that day was beautiful, with a cloudless blue sky and a warming autumn sun.
(Colourisations by Johhny Sirlande, Lopatin V., Paul Reynolds, Royston Leonard and Doug) And check out their Facebook page
L/Cpl Paddy McGiven, Sapper Charles Grier and wounded Sapper Dick Robb all from B troop, 1 Para Squadron, Royal Engineers. This picture was taken at 1530hrs on Wednesday the 20th September 1944, in a builders yard near their last position held at the Van Limburg Stirum School in Arnhem.
Men of No 3 Platoon, R Company, 1st Parachute Battalion, 1st (British) Airborne Division armed with Bren gun and No. 4 rifles defend a large shell hole outside Arnhem, during Operation 'Market Garden', 17th September 1944.
Men of "E Squadron" Glider Pilot Regiment photographed at RAF Down Ampney shortly before 'Operation Market Garden' in September 1944.
The men pictured here piloted Horsa Gliders in to the operational area on the 17th & 18th of September 1944.
These troopers are South Staffordshires captured around the Museum in the failed attempt to break through to the Bridge on September 1944. They are standing in front of the Musis Sacrum in Arnhem, where they were filmed,
and then interrogated.
(Colourised by Royston Leonard)
Two British Airborne troopers dug in near Oosterbeek, Holland on 18th September 1944, showing the woodland fought in on the western side of the British perimeter.
(Colourised by Paul Reynolds)
1st Airborne Division soldiers use parachutes to signal to Allied supply aircraft from the grounds of 1st Airborne Division's HQ at the Hartenstein Hotel in Oosterbeek, 23rd September 1944.
(Colourised by Paul Reynolds)
Operation Market Garden'
Four men of the 156th Parachute Battalion moving through a shell-damaged house in Oosterbeek, near Arnhem, Netherlands.
23rd.September 1944.
(Colourised by Royston Leonard)
Brigadier General Gerald Higgins, assistant division commander for the 101st Airborne Division. The photo was taken in England just before the 101st dropped into Holland during Operation Market-Garden on September 17, 1944
British Paratroops at Arnhem 'Operation Market Garden'. 20th September 1944.
A 3-inch mortar team of Nº23 Mortar Platoon, Support Company, 1st (Airlanding) Battalion, Border Regiment, bombarding enemy positions from the edge of the woodland to the south of Van Lennepweg.
The team are (left to right) Privates Norman 'Jock' Knight, Ron 'Ginger' Tierney and Cpl. Jim McDowell. All three were safely evacuated from Arnhem though Knight was wounded.
© IWM (BU 1098)
This photograph shows a British Paratrooper taking aim with an American M1 carbine from the first floor balcony of the Hartenstein Hotel in Oosterbeek, near Arnhem in The Netherlands. September 1944.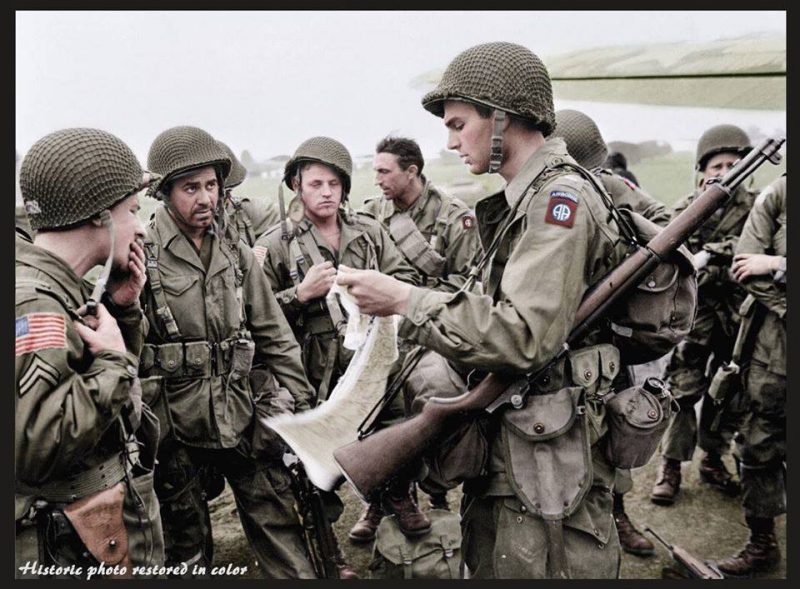 Paratroopers of 1st Allied Airborne Army receiving a final briefing before embarking on Operation Market Garden, 17 Sep 1944