One of the most highly decorated American soldier of World War II, Audie Leon Murphy, was born on the 20th June 1925. His life story was an incredible mix of heroism and acting – heroism because he was one of the bravest and most successful warriors the United States of America ever produced, and acting because, when his military career ended, he turned his attention to Hollywood and became an international celebrity in a film career that spanned 21 years.
1. Awards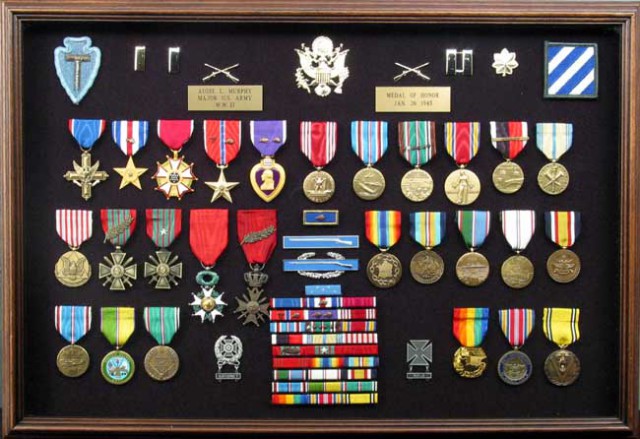 Murphy received a vast amount of awards and decorations both from his own country and from France and Belgium. These include the American Campaign Medal, the French Croix de Guerre with Silver Star, Campaign Medals for the Middle East, Africa and Europe, the French Legion of Honor, French Croix de Guerre with Palm, the World War II Victory Medal, the Army of Occupation Medal, the French Liberation Medal, the Belgian Croix de Guerre and the American Medal of Honor and Legion of Merit.
In total, Murphy received 33 awards and medals. Amongst these was the prestigious Medal of Honor.
2. Held Off A Company Of Germans
The Medal of Honor was awarded to Murphy after he single-handedly held off a company of German soldiers at the Colmar Pocket and then, incredibly, even after being wounded, led a counterattack.
The Germans scored a direct hit on an M10 tank destroyer, setting it alight, forcing the crew to abandon it. Murphy ordered his men to retreat to positions in the woods, remaining alone at his post, shooting his M1 carbine and directing artillery fire via his field telephone while the Germans aimed fire directly at his position.
Murphy mounted the abandoned, burning tank destroyer and began firing its .50 caliber machine gun at the advancing Germans, killing a squad crawling through a ditch towards him. For an hour, Murphy stood on the tank destroyer returning German fire from footsoldiers and advancing tanks, killing or wounding 50 Germans.
He sustained a leg wound during this stand and stopped only after he ran out of ammunition. Murphy then rejoined his men, disregarding his own wound, and led them back to repel the Germans. He insisted on remaining with his men while his wounds were treated. For his actions that day, he was awarded the Medal of Honor.
3. Suffered From PTSD
Like many returning war veterans. Audie Murphy suffered from Post-Traumatic Stress Disorder. The film actor, David Niven, recorded in his biography that not only would Murphy sleep with a loaded gun next to him, but would occasionally wake up startled fellow actors by firing off a round when he himself woke up.
4. Joined the Army at 16
Murphy lied about his age when he tried to enlist after the Japanese bombed Pearl Harbor, but the Army, Navy, and Marine Corps all turned him down for being underweight and underage. After his sister provided an affidavit falsifying his birth date by a year, he was accepted by the U.S. Army on 30 June 1942. He joined the 3rd Infantry Division in which he served the entire war.
Officially, he was 21 years old when the war in Europe ended but despite his youth, by VE day (Victory in Europe – 8th May, 1945) he had accounted for the loss of some 240 enemy soldiers.
5. Most Decorated Soldier
Murphy was believed to be the most decorated soldier of World War II, but his tally was surpassed by veteran soldier Matt Urban who, addition to his numerous awards, also received from President Carter a belated Medal of Honor award.
6. Difficult Childhood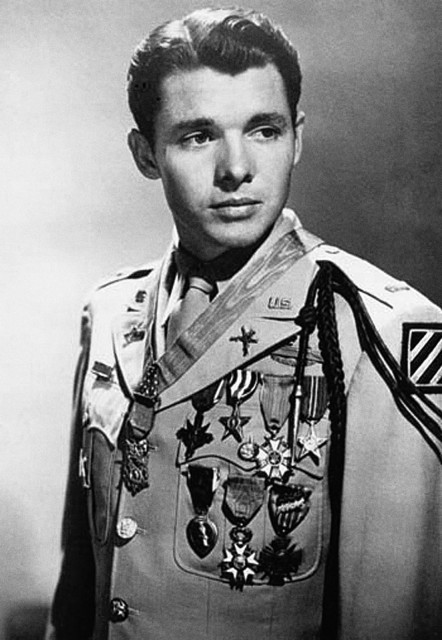 Murphy's childhood was one of hardship and difficulty. He was the 7th son of a family of 12 siblings. Murphy's father was an unreliable character and, after leaving his family and then returning unexpectedly, finally abandoned them altogether and was never heard of again. He was devoted to his mother and claimed that he never really got over her death.
7. Learned to Shoot While Hunting
Murphy's deadly accurate rifle shooting accounted for the demise of many enemy soldiers but it was not the United States army that taught Murphy to shoot. His skill with a rifle can be attributed rather to the fact that his family depended on his ability to hunt small game for the family pot.
8. Man Of The Year
In 1949, Audie Murphy was honored by the prestigious Time magazine, by being placed on its front cover and hailed as 'Man of the Year'.
9. Gambling
Despite his successful military and film career, Audie Murphy lost a large part of his fortune through gambling as well as participating in unsuccessful business ventures.
10. Acting Career
Murphy's acting and military careers found an amazing congruence when he played himself in the biographical film 'To Hell and Back'.
Death
On 28 May 1971, Murphy was killed when the private plane in which he was a passenger crashed into Brush Mountain, near Catawba, Virginia, 20 miles west of Roanoke in conditions of rain, clouds, fog and zero visibility. The pilot, who was also killed, had a private-pilot license and a reported 8,000 hours of flying time, but held no instrument rating.
On 7 June 1971, Murphy was buried with full military honors at Arlington National Cemetery. The headstones of Medal of Honor recipients buried at Arlington National Cemetery are normally decorated in gold leaf. Murphy previously requested that his stone remain plain and inconspicuous, like that of an ordinary soldier. The headstone contains the incorrect birth year 1924, based upon the falsified materials among his military records.
Some of the Action Scenes: