John Hamilton Nicholls was a Spitfire pilot in World War II. He destroyed or damaged ten enemy aircraft during the war and was awarded the Distinguished Flying Cross for his efforts. Now more than a hundred years old, the Welshman remembers an incident when he could have lost his life to the enemy, but was allowed to live.
Enemy pilots in WW2 often had a great deal of respect for each other, even though they were engaged in deadly combat. There was little opportunity for mercy in the air war, but there are instances of both German and Allied pilots acting gallantly.
While celebrating his 100th birthday, Nicholls described what happened when two pilots shot him down off the coast of North Africa.
Nicholls, from Ammanford, South Wales, lost consciousness at 36,000 feet after being hit by Messerschmitt pilots in 1942. He came to at 2,000 feet and was allowed to continue flying by his attackers.
He said: "I was caught across one wing, and the fuselage and one cannon shell exploded in the back of my seat. Fortunately, I had a radio backpack on which cushioned the explosion, but I momentarily lost consciousness and then spiralled out of control from 36,000 feet.
"The Messerschmitts followed me down. I regained consciousness and recovered control of a badly damaged aircraft at about 2,000 feet." The German planes had him at their mercy, but what they did was unexpected.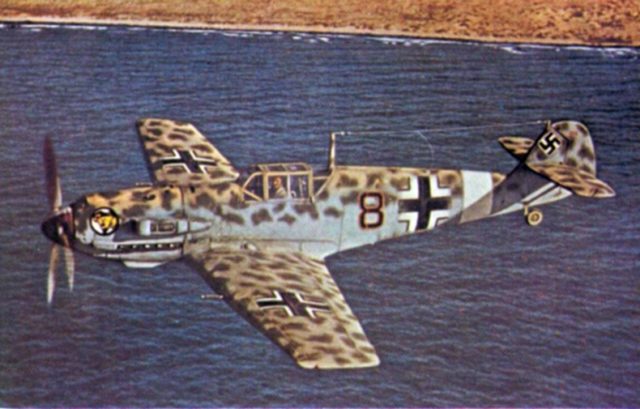 "The enemy aircraft flew alongside me, saluted and peeled away to leave me to my fate. I managed to limp home. But that experience taught me something about the honour of battle I have never forgotten."
Nicholls flew with the 601 Squadron. He shot down an Italian fighter and followed that by shooting down a German plane just ten days later.
He damaged as many as four more planes before being promoted to Flight Commander in March 1943. In Italy that year, he helped destroy a Dornier 217 and shot down a Junkers 190. Despite his bravery, the veteran remains very much a modest man.
Nicholls says that piloting was "as much skill as luck."
Shamila Yoganathan, the manager of the care home where Nicholls stays, says, "Jack is a popular resident, and we are honoured to have him in our care."