There are many British aviators who can boast that they contributed to the war effort by taking to the skies over Europe to defeat the Third Reich. And while many became fighter aces with great distinction, there is a handful of men who could not only say that they contributed to this effort but to the entire future of military aviation.
On February 21st 2016, Captain Eric "Winkle" Brown died aged 97.
Amongst these men, there is none greater thing Capt. Eric Brown of the Royal Navy. After serving in an operational role early on in the war, this man would go on to fly over 480 different types of aircraft before his career was over. He flew propeller planes, jet planes, and even rotary aircraft in the years after the war.
With his knowledge, the West was able to take quantum leaps in military aviation. Capt. Eric "Winkle" Brown is one of the most distinguished test pilots in modern aviation.
A Fascinating Start to War
Eric Brown was born in Edinburgh, Scotland in 1919. His father was an ex-member of the Royal flying Corps and through his stories gave Brown his first interest in flying. However, it would fascinatingly be a trip to Germany for the 1936 Olympics in Berlin that would peak his interest.
While in Germany, a young Brown met World War I German fighting ace Ernst Udet. Recognizing a mutual interest for flying, Udet offered to take Brown up into the sky in his two-seat Bucker Jungmann. After this experience, Brown was sold that his mission in life was to be a pilot.
After graduating high school, he studied at Edinburgh University where he would learn German as well as join the University's air unit to receive flying instruction. In 1938, Brown was actually invited back to visit Germany by Luftwaffe Major General Ernst Udet. As a result, Brown continued to develop a keen interest in Germany and was actually selected to take part in an exchange student program with a German school.
Brown would be a student in this program in September 1939 when he was awoken one morning to find out that his nation was at war with Germany. He was imprisoned for a few days but eventually driven to the Swiss border and released, perhaps thanks to his relationship with Udet.

Once back in the United Kingdom, he joined the Royal Navy as a Fleet air arm pilot and was stationed on the escort carrier HMS Audacity. While on the Audacity, he shot down two German maritime patrol aircraft as well as distinguish himself as one of the best carrier landing pilots in the fleet.
In December of 1941, HMS Audacity was torpedoed and sunk by a German U-boat. Brown was one of the few survivors from the squadron as he was on deck at the time of the torpedo attack and was able to swim to a safe distance before the Audacity went under. But before the sinking, the commanding officer for the Audacity had already relayed Brown's distinguished flying skills back to the command and the United Kingdom would find an essential role for Brown that would have repercussions in the field of aviation for decades.
Life as a Test Pilot
It is hard to say that life as a test pilot is as dangerous as flying missions against the Luftwaffe, but one would be mistaken to assume that safety was anything assured. Often flying planes on the cutting edge of technology, if something wasn't working the Air Force would find out when men like Brown crashed to the ground. Known initially for his skill at deck landings, he was given the opportunity to test the Seahurricane and Seafire naval planes.
By the time 1943 had rolled around, he had performed approximately 1,500 deck landings on 22 different carriers. By the time his career was over, he would perform more deck landings than any human in history. In 1945, he became the first pilot to land a jet aircraft on an aircraft carrier.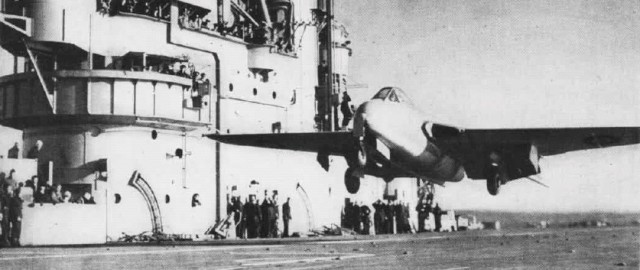 It is reported that an American pilot after the war was tasked with breaking Brown's record for deck landings, but had a nervous breakdown a little over halfway through as Brown finished with a remarkable 2,407 landings. And while Brown did serve another brief period as an operational pilot in the war, his impact would clearly be as a test pilot.
For not only was he tasked with testing the cutting edge of Western technology, but he was given the opportunity to fly whatever captured aircraft the West was able to secure from the Germans. As a result, Brown would be one of the first British pilots to get behind the controls of the German jet aircraft.
Brown remarked that of all the aircraft he flew, it was the German jet aircraft that terrified him most at the thought of German mass production. He stated it was such a quantum leap in speed over what the West had there was simply no way of catching it. Were it not for a lack of pilots and production capacity, the aircraft he was testing would exact a heavy toll on Allied air forces.
When the war ended, Brown would continue to rack up an enormous amount of flight hours in experimental aircraft.
Rotary Aircraft because Why Not
In the years after the war, Brown would be one of the key figures in testing and co-opting German jet technology which was still far ahead of anything the West had to date. In later years, Brown would now have the honor of not only testing innovation in jet power but he would be asked to take to the skies in rotary aircraft as well.
Testing for both the British and the Americans, Brown's influence and reports from flying early helicopters would prove vital to their use in subsequent wars to include Korea and Vietnam.
He would retire from service with the Royal Navy in 1970 as one of the most accomplished test pilots in history. And while he might not be celebrated like many of the flying aces of the war, his skill in the sky would produce the necessary information to win victories in the sky decades later. His impact was beyond that of just the war and stretched into the history of aviation itself.
No other man on earth can claim that they can fly more different types of aircraft that Eric Brown and despite the fact that he is still alive today at the age of 96, something tells me that if you get him in the cockpit today he can fly whatever you throw in front of him.