British actor Donald Pleasence became one of the most popular antagonists in television and film, and is probably best known for portraying a prisoner of war (POW) in The Great Escape (1963). He brought his own real-life experiences to the role, as he was actually held as a POW during the Second World War.
Donald Pleasence began acting at an early age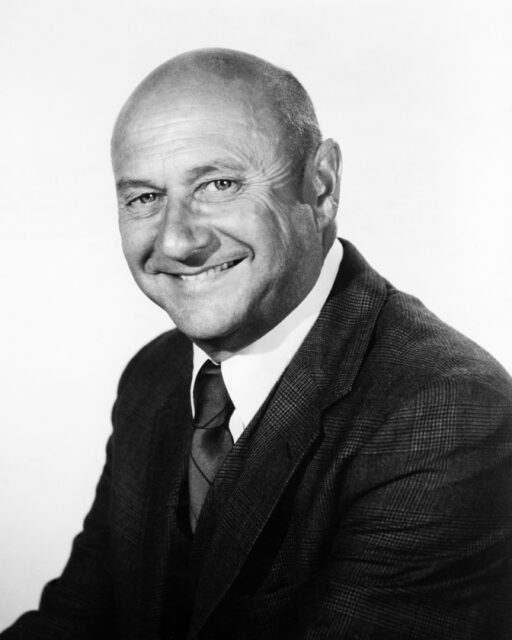 Donald Pleasence was born on October 5, 1919 in Worksop, Nottinghamshire. Raised in Grimoldby, Lincolnshire, he received an education at Crosby Junior School and Ecclesfield Grammar School.
Pleasence initially followed in his father's footsteps and became the clerk-in-charge at a small railway station in Swinton. After some time, he decided it wasn't the profession for him and that he, instead, wanted to pursue a career in acting.
He applied to the Royal Academy of Dramatic Arts, but was denied entry. Pleasence then joined a repertory theater company in Jersey in 1939, with his first role being a small part in Wuthering Heights.
Donald Pleasence was a POW during the Second World War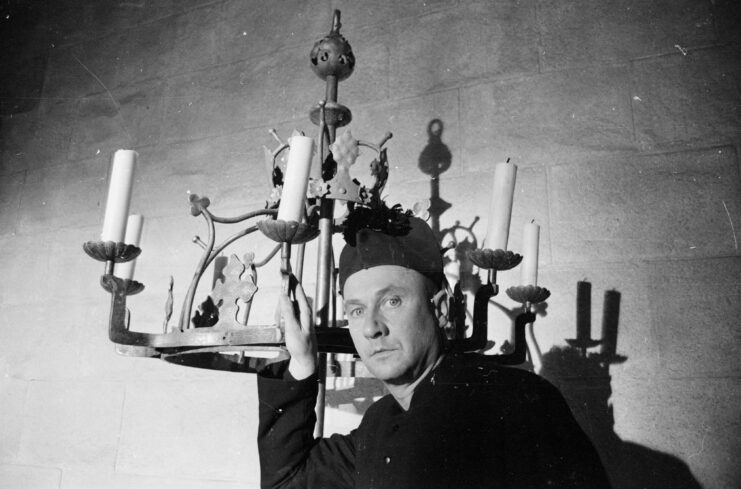 When the Second World War began, Donald Pleasence was, at first, a pacifist and conscientious objector who fought back against conscription. However, following the Blitz, he changed his stance and volunteered for the British Armed Forces.
Pleasence became an aircraft wireless operator and gunner for the Royal Air Force (RAF), flying in Vickers Wellingtons and Avro Lancasters with No. 166 Squadron RAF. He was involved in nearly 60 raids over Europe, later saying, "As an aviator, I was rather successful, right up to the point I was shot down."
It was on August 31, 1944, that Pleasence's Lancaster NE112 was shot down over Agenville, France. He'd managed a relatively safe landing, but was quickly surrounded by German soldiers. Apparently, when they searched him, they discovered his pockets were filled with condoms. He explained these were used to protect his aircrew's microphones from condensation. One of the enemy troops simply told him, "You [will] not be needing [these]."
From then on, Donald Presence was held as a POW at Stalag Luft I, with approximately 9,000 other Allied troops. While imprisoned, he used his acting skills to keep his fellow prisoners entertained, producing and acting in plays.
Appearing in several television shows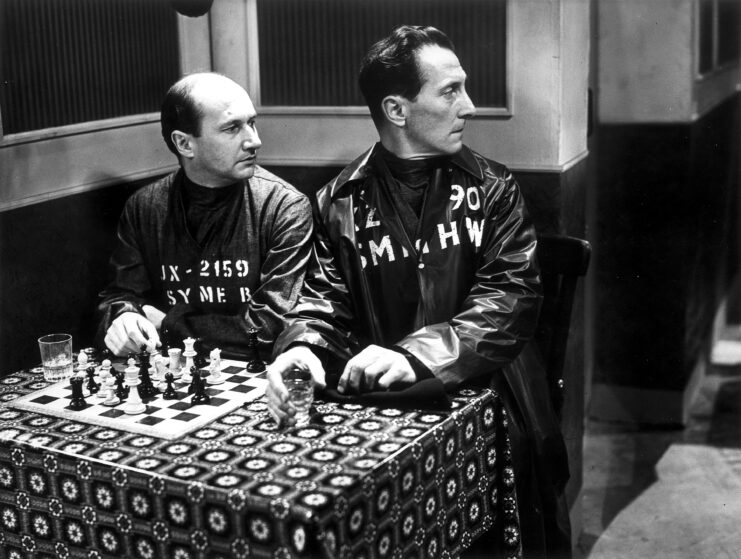 Donald Pleasence wouldn't be released from the POW camp until the close of the war. When he was, he returned to Britain, where he spent six months hospitalized for malnourishment. He was ultimately discharged from the RAF in 1946, and happily returned to the stage, picking up acting jobs at repertory companies in Birmingham and Bristol.
Along with his return to the stage, Pleasence explored the world of television, making his debut in I Want to Be a Doctor in 1946. He later starred as Syme in the BBC version of Nineteen Eighty-Four (1954), as well as in The Adventures of Robin Hood (1955-59) and two episodes of Danger Man (1960-68). Between 1960-65, he also hosted Armchair Mystery Theatre, which aired weekly on British television.
Pleasence made his American TV debut in an episode of The Twilight Zone (1959-64). He also starred in episodes of The Outer Limits (1963-65) and The Fugitive (1963-67). Throughout the 1970s, he made several other TV appearances, and even hosted a Halloween special of Saturday Night Live (1975-present).
Donald Pleasence portrayed a POW in The Great Escape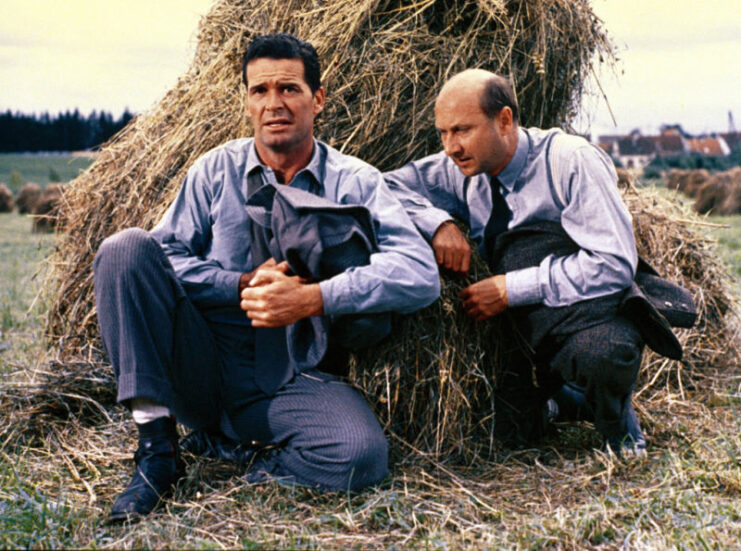 It's no surprise that, with his success on stage and TV, Donald Pleasence would also see a successful career on the big screen. His first film was 1954's The Beachcomber, and the rest of the decade saw him appearing in such features as Barnacle Bill (1957), The Wind Cannot Read (1958) and Look Back in Anger (1959).
It was in 1959 that he also starred in his first horror movie, The Flesh and the Fiends. Pleasence soon become an icon of the genre, effortlessly portraying the deranged and diabolical. His bald head, piercing blue eyes and steady voice made him perfect for such roles. He illustrated such evil in Dr. Crippen (1962), Watch Out, We're Mad! (1974) and The Eagle Has Landed (1976). He also portrayed iconic James Bond villain Ernst Stavro Blofeld in You Only Live Twice (1967).
For decades, Pleasence was type-cast into roles that saw him portray maniacal characters. During an interview with the Los Angeles Times, he said he could be asked anything, "as long as you don't want to know why I always play psychopathic villains and sadistic monsters all the time."
In 1963, uncharacteristic of his career but characteristic of his life, Donald Pleasence was cast as Flight Lt. Colin "The Forger" Blythe, a good-natured POW who discovers he's doing blind, in The Great Escape (1963). All the same, Blythe participates in the mass breakout, only to be shot by German soldiers due to his lack of eyesight.
Pleasence was commended by critics for providing the most moving character of the film. On set, he'd offered director John Sturges some advice, given his experience, to which he was asked to keep his "opinions" to himself. When Sturges found out the actor had direct experience in a real POW camp, he changed his tune and requested his input, to try and make The Great Escape as historically accurate as possible.
Halloween franchise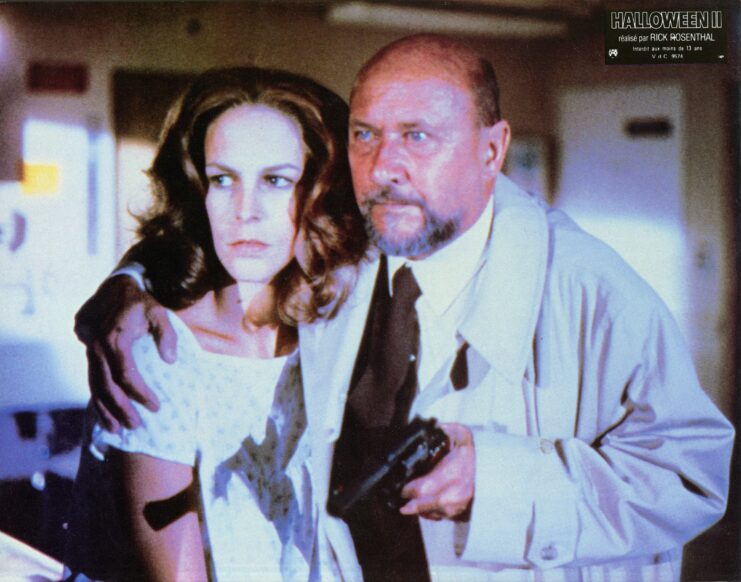 Although his role as Bond's arch-nemesis is iconic in its own right, especially following the Dr. Evil parody of the character in the Austin Powers franchise, it's Donald Pleasence's role as Samuel Loomis in the Halloween franchise that he's best remembered for.
Pleasence first starred as Loomis in the original film in 1978, directed by John Carpenter. When it was released, the horror flick earned $70 million at the box office, making it one of the most successful independent movies of all time. The franchise went on to release another 12 films, with Pleasence reprising his role as Loomis in four of them.
Pleasence died on February 2, 1995 from complications of heart failure. His legacy continued in the Halloween franchise, as his character wasn't killed off following his death. Instead, several voice actors imitated him to continue the role, and one even played Loomis on-screen, wearing prosthetic makeup to make him look like the late actor.
More from us: 'Perry Mason' Star William Hopper Received the Bronze Star During World War II
His career was impressive, with the actor becoming one of the biggest stars of the stage, television and big screen. In 1994, he was recognized for his achievements and appointed an Officer of the Most Excellent Order of the British Empire for his services to the acting profession by Queen Elizabeth II.