The image above features Mary from Burma and Kieri from Ceylon, elephants who were brought to the Hamburg Zoo to train for the circus. At 25 and 35, respectively, they were no young ladies, but still worked hard to help with the reconstruction effort after the Allied bombings during World War II.
Elephants are incredibly strong, which made them perfect for this difficult task. While it may not look like much, the wrecked car they're pulling was full of bricks and used as a barricade during the bombings of Hamburg. This photo was captured in November 1945, and the two animals pulled the vehicle onto a truck bed, so it could be taken away.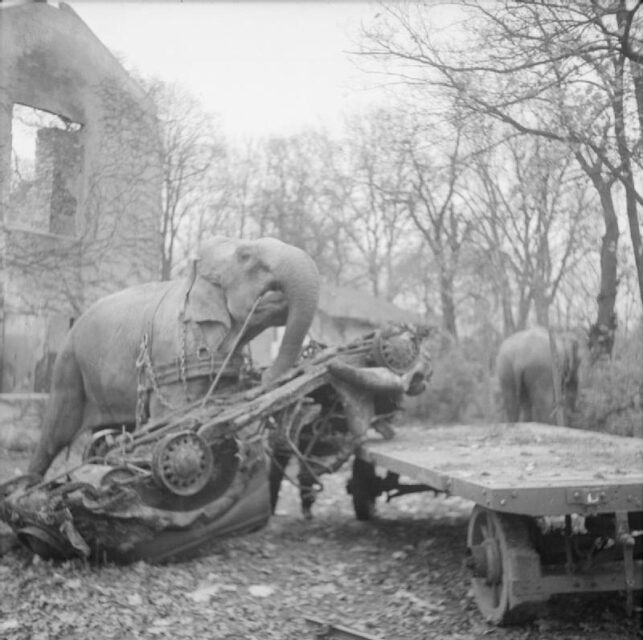 As can be seen above, Kieri got to work on this strenuous task, while Mary moved on to other things. Supposedly, they were given more food in exchange for their hard work.
Despite being an odd sight, this wasn't the first time elephants were used as part of the war effort – they had a purpose in Europe and the United Kingdom during the First World War. Farmers were forced to give up their equines, which were sent to fight on the Western Front. Still needing to plow their fields and work their farms, some replaced these livestock with elephants.
More from us: These Nurses Had a Front Row Seat to the Battle of Monte Cassino
In both world wars, elephants were also used for pulling and moving things, such as artillery, logs and, just like Mary and Kieri, rubble. Their ability to carry these large and heavy loads made them extremely useful, especially because they could often move through terrain that man-made vehicles couldn't.