Victory in Europe – what happens next?
After victory had been declared in Europe and the Second World War had come to an end with the surrender of Japan there remained the enormous task of bringing home the thousands of military personnel scattered across the globe.
Under the codename Operation Magic Carpet, the efforts to repatriate the newly demobbed soldiers involved as much military planning as many of the battles of the preceding war years.
In December 1945, at the start of the operation, almost 8 million Allied military personnel were waiting to begin their journey back home. During the 14-months of Operation Magic Carpet, an average of 435,000 military personnel were being transported back every month.  The record for a single ship was set by the aircraft carrier Saratoga which repatriated a total of 29,204 soldiers.
Among the British aircraft carriers, HMS Glory made one of the longest voyages including one from Manila in the Philippines to Vancouver, British Columbia, Canada, a journey of more than 6,000 miles.
The operation was launched in June 1945, but planning began well beforehand.  The War Shipping Administration was in charge and had started planning as far back as 1943. It understood the scale and complexity of the task and the need to bring servicemen and women home as quickly as possible.  The operation also involved returning German and Italian POWs to Europe. Around half a million POWs were repatriated in the course of Operation Magic Carpet.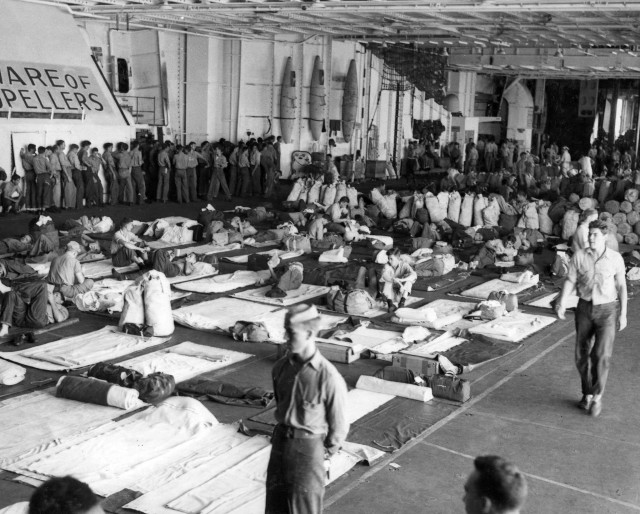 In September 1945, the Pacific phase of the operation began to bring back those who were stationed in South East Asia and territories in the Pacific Ocean.  Four battleships accompanied by two aircraft carriers set out from Tokyo Bay for Okinawa to collect the soldiers of the U.S. Tenth Army and ferry them back home across the Pacific
Mass Mobilisation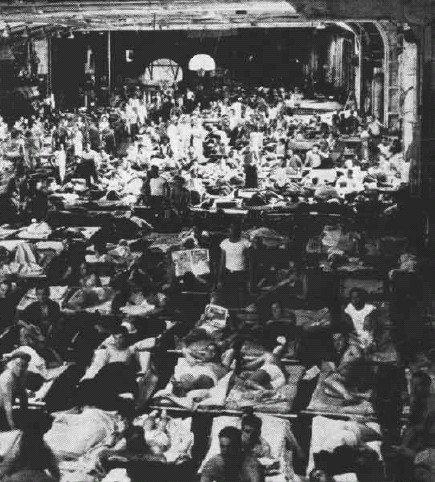 In total around 370 vessels were involved in Operation Magic Carpet. These included aircraft carriers, battleships, and destroyers. Even Luxury passenger ships were drafted in to help with the effort. The Queen Elizabeth and Queen Mary, which had been called into service at the beginning of WWII, and had swapped their usual bold colours for drab grey camouflage. This caused the Queen Mary to be referred to as the "Grey Ghost". These massive ships made several voyages across the Atlantic to bring the troops home.
Warships, especially those which had been designed primarily as destroyers and aircraft carriers, had to be adapted to make them more suitable for the task of carrying a large number of passengers.  Conditions were certainly not luxurious with soldiers packed into bunks, some as many as five tiers high in order to get as many home as quickly as possible.
Get them Home for Christmas!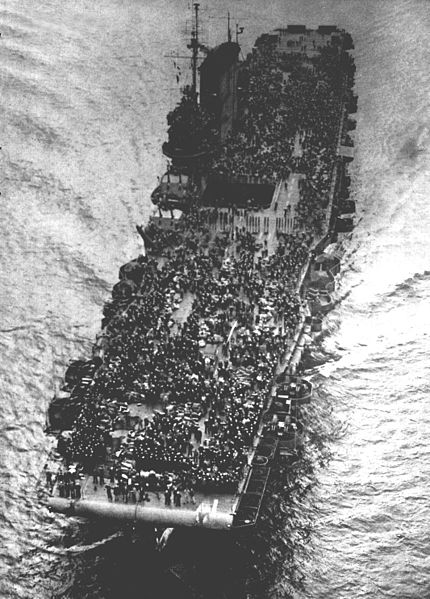 In September 1945 there were 2,000,000 American army personnel eligible to be relieved of their wartime duties and waiting to be returned home.  As the year wore on hopes were raised of getting the troops home in time to spend Christmas with their families. The task (sometimes referred to as Operation Santa Clause) was never going to be easy and was hindered further by heavy storms which delayed travel by sea.
Once the American troops returned to their homeland they faced further delays crossing the continent to reach their homes. Their initial destination was one of the many repatriation centres along the West Coast.  Although not "home" these centres provided temporary accommodation while officials ensured that all the paperwork to release the service men and women from their duties was processed correctly.  While it must have been hard to be so close to home yet still so far away, many were just glad to be back on American soil.
To make matters worse, there were traffic jams across the country as well as train delays of between 6 and 12 hours.  In addition to the delays, there were simply not enough trains to accommodate all the soldiers trying to make their way back home.
On 24th December 1945 almost all the passengers (94%) travelling in trains from the west coast were recently released veterans. Those who did not make it back to their own homes were offered hospitality by locals living near the repatriation centres.  
Kindness of strangers
The soldiers were touched by the generosity of strangers who opened their homes to them, sharing their Christmas dinner. Others ate the Christmas dinner provided in the separation centres while others celebrated the holiday still on board the ships that had brought them, now docked in the harbour.  Although they were still not back with their families, in the words of one returning soldier, just being back on American soil was the best Christmas present he could ask for.
Those attempting the journey home were also overwhelmed by the generosity and support shown to them by their fellow countrymen.  There were impromptu parties thrown for them in towns where the trains had to make a stopover. There were stories of civilians giving up their own places on the trains so that the returning veterans could travel in their place.
Because trains were overcrowded and many soldiers were unable to get tickets, local truckers and taxi drivers stepped in, volunteering to take servicemen and women home even although it meant they would miss spending time with their own families at Christmas.  A taxi driver from Los Angeles took a group of six veterans all the way to their home in Chicago – a journey of 2,000 miles – while another transported his passengers from LA to The Bronx and Manhattan.
Both drivers accepted only the cost of the gas they had used for the journey as payment.
The Final Phase
In total, there were over 8 million Allied soldiers waiting to be brought home from their stations in the European Asian and Pacific Areas and the operation to return them all took eighteen months to complete. The European phase of Operation was completed by February 1946, but it took until September 1946 to complete the final Pacific phase.
As a whole, it was a massive operation made possible by a great deal of careful planning and helped by the goodwill of civilians who appreciated the sacrifices the returning troops had made on their behalf.
Author's note: Operation Magic Carpet is also used to refer to an operation between June 1949 and September 1950 that brought 49,000 Yemenite Jews to the new state of Israel. This was an entirely separate operation.
We hope you enjoy our content. We think it's important to keep war history alive. If you do too, please consider becoming a supporter. Thanks.
Become a Supporter