Among the heroes to emerge on D-Day was one man known not for his ferocious fighting, but for his astounding ability to play music through the worst of the engagement. "Piper Bill" Millin played his bagpipes on the beaches of Normandy, blocking out the chaos and carnage with melodies that uplifted the spirits of the troops around him, even if it meant putting his own life at risk.
Bill Millin's early life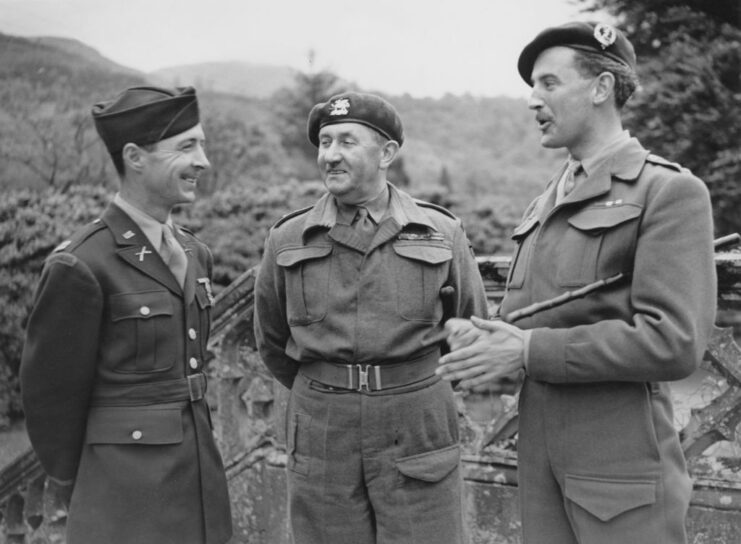 Bill Millin was born on July 14, 1922 in Regina, Saskatchewan, Canada. His family was originally from Scotland, and they moved back there when he was three years old. When he was old enough, Millin enlisted in the Territorial Army (TA). Proficient in the bagpipes, he played in the bands of the Highland Light Infantry (HLI) and the Queen's Own Cameron Highlanders.
When the Second World War broke out, Millin volunteered to train as a Commando, which is how he crossed paths with Simon Fraser, 15th Lord Lovat. He attended training with the latter in Achnacarry. Lovat was impressed with his musical abilities and assigned him to be his own personal piper.
Millin couldn't have known that this seemingly small decision would go on to make him one of the most famous men from D-Day. When Lovat was appointed commander of the 1st Special Service Brigade (1st SSB), the piper was transferred right alongside him.
Scottish rules in the British military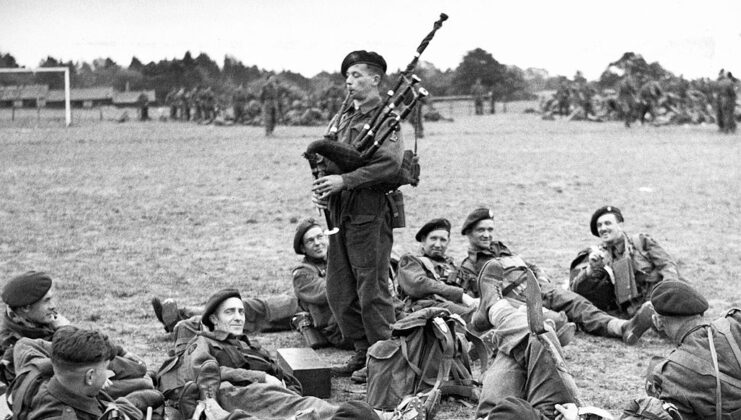 Bagpipes had been used for centuries, but the War Office had placed a ban on their use on the frontlines during World War II as it was thought (rightfully so) that they'd attract enemy fire.
Bill Millin recalled a discussion he'd had with Lord Lovat in advance of the Normandy landings, where his commander said, "This was going to be the greatest invasion in the history of warfare, and he wanted the bagpipes leading it." The piper objected, citing regulations. Lovat responded, "Ah, but that's the English War Office. You and I are both Scottish, and that doesn't apply."
Sure enough, on the landing craft out of the United Kingdom, Lovat reiterated that the 21-year-old piper "was to play and he would worry about the consequences later." Not only was Millin the only piper to land on D-Day, he was also the only man to wear a kilt – the same one his father had worn in the First World War.
In keeping with the uniform, the piper's only weapon was the skene-dhu in his sock.
A soundtrack for the landing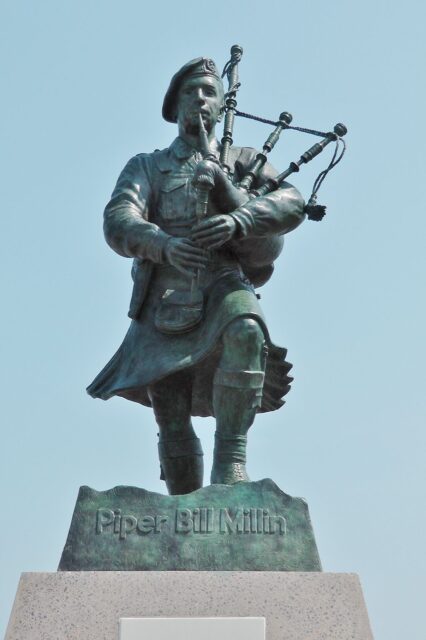 Bill Millin landed at Sword Beach alongside Lord Lovat and the rest of the 1st Special Service Brigade. He disembarked from the landing craft, beginning the song "Hielan' Laddie" while his comrades fell around him. Although he was also being shot at, Millin recalls that he didn't really notice in the moment, as he was so focused on playing.
What the piper did notice was that "the water was freezing. The next thing I remember is my kilt floating in the water, like a ballerina." Somehow, he waded ashore while the rifle-wielding, cane-carrying Lovat briefly turned to give him a thumbs up.
By the time they'd regrouped in the middle of the beach, the tune was done, but that wasn't enough for the commanding officer. Lovat turned to Millin and said, "Would you mind giving us another tune, Millin? How about 'The Road to the Isles'?" The piper jokingly responded, "Now, would you also want me to walk up and down, Sir?"
In a serious tone, Lovat responded, "Aye, Millin, that would be nice. Aye, walk up and down." Following orders, Millin walked the length of Sword Beach three times under heavy fire. Many who heard him cheered, but one sergeant yelled, "Get down, you mad bugger! You're attracting attention to us."
His legacy as the "Mad Piper" was born.
1st Special Service Brigade at Pegasus Bridge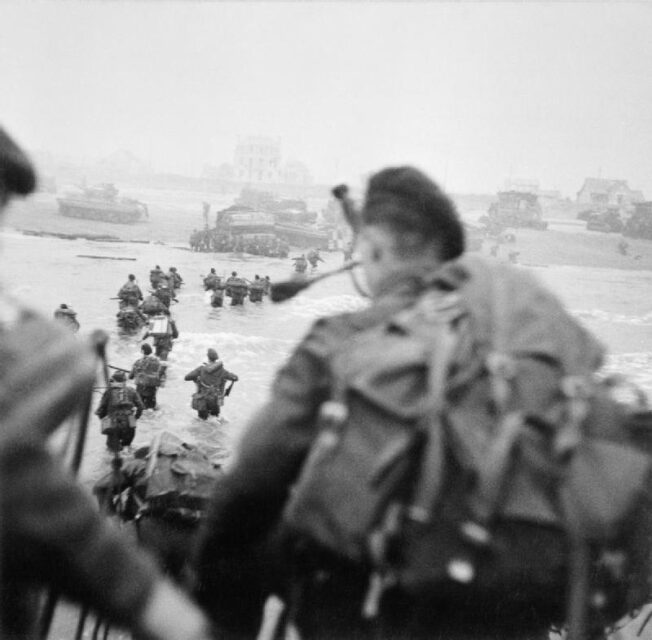 Their day was far from done. The 1st Special Service Brigade were to support the 2nd Battalion, Oxfordshire & Buckinghamshire Light Infantry, who'd landed in the early hours of June 6, 1944 and had a tentative hold on Pegasus Bridge.
Lord Lovat and his men, escorted by their piper, marched from Sword Beach to their rendezvous point. Along the way, they encountered a lone German sniper who started shooting at them. They dropped for cover, but it took Bill Millin some time to notice. Eventually, Lovat was able to kill the enemy soldier. Turning to Millin, he said, "Right, piper, start the pipes again."
Just outside of Bénouville, they came under enemy fire yet again. Col. Derek Mills-Roberts of No. 6 Commando asked if Millin could play them down the street to the bridge at a run. The piper refused, saying he'd only do it walking.
Despite the attacks, Millin led them into the French village and to the bridge where they could relieve the battalion. Their late arrival, combined with their musical accompaniment, made an entrance. German snipers had set up positions to target those crossing the expanse. Twelve Commandos were shot through the head in the process, forcing the remainder to cross in small groups, protected by helmets.
Millin, however, stood tall and marched across Pegasus Bridge, piping his final song of the day, "Blue Bonnets Over the Border."
'Dummkopf'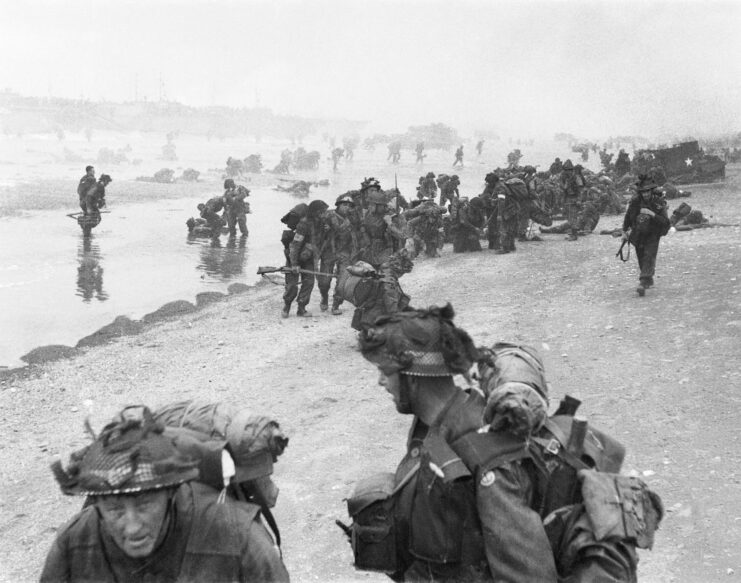 How was Bill Millin able to march up and down Sword Beach with no cover or weapons and not get shot? He got his answer 40 years later, when he met a German commander at a reunion of troops who'd fought on D-Day.
According to Millin, the German said, "The commander just tapped his head and said, 'We thought you were a 'Dummkopf,' or off your head. Why waste bullets on a Dummkopf?'" Millin didn't object at all to this. In fact, he "was very pleased that they thought I was mad because everybody else seemed to be getting shot and wounded and being a bagpiper probably saved me."
This didn't save Millin from witnessing the horrors of that day. As he marched up and down that beach, he saw men "lying, blood pouring from them. I will see their faces till the day I die. Wounded men were shocked to see me. They had been expecting to see a doctor or some kind of medical help. Instead, they saw me in my kilt and playing the bagpipes. It was horrifying, as I felt so helpless."
Successful in taking Pegasus Bridge from the Germans, Lord Lovat and the rest of the 1st Special Service Brigade pushed on. A few days later, during the Battle of Bréville, the commander was badly wounded, bringing an end to his service. Millin, on the other hand, continued on with the 1st SSB as they moved into the Netherlands and Germany. He was demobilized in 1946, and went to serve Lovat on his estate in Scotland.
Bill Millin's later life and legacy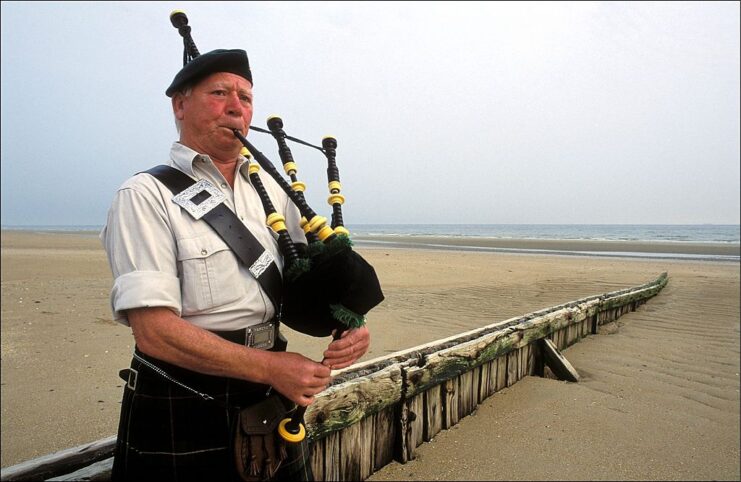 Years later, Bill Millin changed careers and became a psychiatric nurse. He was regularly involved in D-Day commemorations, and, in 2009, was awarded the Légion d'honneur. When Lord Lovat died in 1995, Millin played his pipes one last time for him.
Perhaps Millin's legacy is best seen in the iconic 1962 film, The Longest Day. While he isn't a major character in the movie, if you carefully watch the scenes with Lovat on Sword Beach, you'll see a piper accompanying him. Many think Millin played himself, but he was actually portrayed by Leslie de Laspee.
While his likeness is captured in The Longest Day, Millin is also commemorated in a statue in Colleville-Montgomery, near Sword Beach, that was unveiled in June 2013.
More from us: The 'Illegal' World War II-Era Forest That Went Unnoticed for Over 50 Years
Bill Millin died on August 17, 2010, at the age of 88.