To emerge victorious from a global war, a nation must not only produce gallant warriors for the battlefield, but they must maintain an unprecedented level of industrial production on the home front. This prerequisite to victory led to the need to exempt some men from military service during WWII.
For some, it was a welcome reprieve as they avoided the dangers of war. For men like Alexander Bonnyman, he would have nothing of the sort. Despite being over 30 years of age, having already served in the military, and running a critical copper production, Bonnyman scoffed at the notion of his exemption.
Voluntarily joining the United States Marine Corps at the outbreak of the war, Bonnyman went on to distinguished service in the Pacific. Culminating his service by standing on top of a Japanese fortification and sending over 150 Japanese to a violent end, Bonnyman was nominated for the Medal of Honor on Tarawa before making the ultimate sacrifice for his country.
From a Miner's Life to the Pacific
Alexander Bonnyman was born on May 2, 1910, in Atlanta, Georgia. His family moved to Knoxville, Tennessee, where his father ran a large coal company in the area. Growing up, Bonnyman proved himself to be quite the academic and athlete. Studying engineering at Princeton while playing football, Bonnyman's thirst for adventure caused his early exit from academia.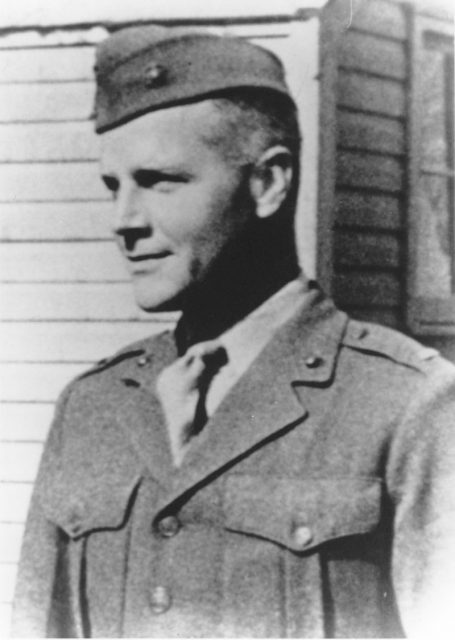 In 1932, Bonnyman signed up for the Army Air Corps to begin his life of adventure and military service. Unfortunately, his penchant for buzzing control towers caused him to wash out of training before he completed it. Heading back to the mining business, he took up several jobs before eventually setting up his own copper mining business in New Mexico.
It was that decision which earned him the ultimate free pass from war. Copper was a vital industry to the war effort, and America was going to need all its resources to win. When the clouds of war gathered, Bonnyman's sense of duty and adventure called him elsewhere. Forgoing his exemption, Bonnyman enlisted in the United States Marine Corps for a rendezvous with military history.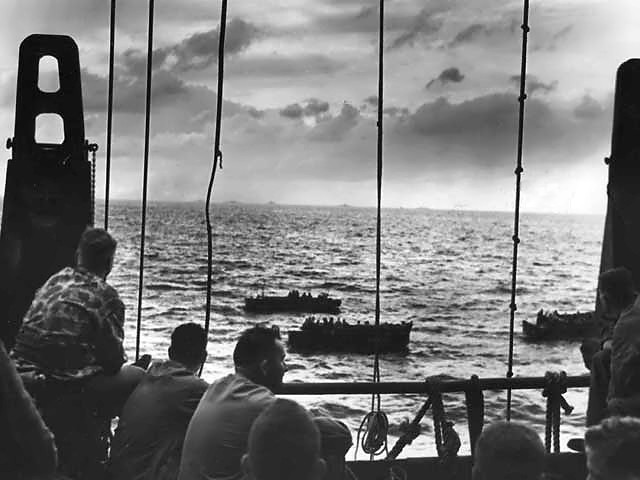 A Natural Leader
By October of 1942, Bonnyman was headed to the Pacific. He served as an engineer as part of a Marine pioneer unit. Likely due to his background in mining, Bonnyman excelled at the role of engineer and quickly distinguished himself among his peers. At the Battle of Guadalcanal, he served with distinction and perhaps due to his natural maturity was viewed as a leader. By February of 1943, he was given a battlefield commission to second lieutenant.
In November of 1943, Bonnyman was hitting the beaches of Tarawa as part of a shore party that managed beachhead logistics. It was there that Bonnyman took note of the assault wave being pinned down by enemy artillery fire and which was taking heavy casualties. Leaving his logistics role, Bonnyman organized a group of five men to relieve the pressure. Grabbing explosives and flamethrowers, he used his engineering background to destroy several enemy fortifications.
By day two he had put together a demolition team consisting of just 21 Marines to take on a substantial Japanese fortification manned by over 150 enemy soldiers. Charging across the fire swept fields, Bonnyman took the fight to the opening of the fortification – taking their toll on the enemy in such numbers, they had to run back for additional supplies during the assault. It was at that point that Bonnyman took to the top of the fortification for his final stand.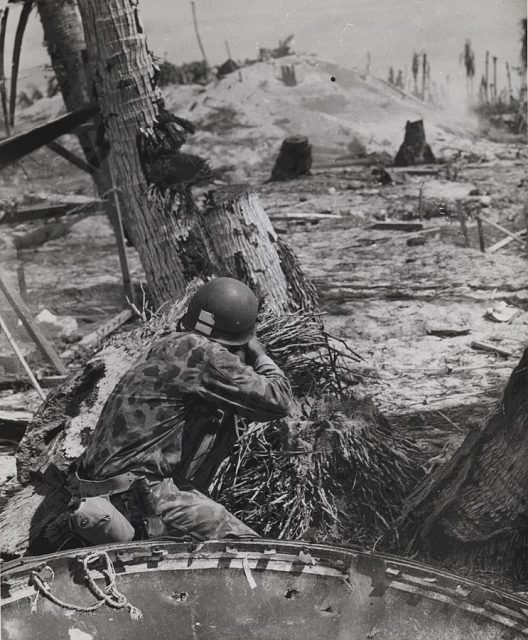 Cutting Down the Enemy
Once Bonnyman gained the top of the defensive position, the Japanese knew what it meant for their chances of survival against an accomplished engineering team. Running for their lives over 100 Japanese soldiers exited the structure. Unfortunately for the Japanese, the Marines had them sighted and began to pick them off in massive numbers. Holding the position against a counter-attack, Bonnyman held the line killing three more Japanese before he was mortally wounded.
Bonnyman's brave stand resulted in the annihilation of over 150 hardened Japanese soldiers. When the battle for the position was over, Japanese resistance was broken in the sector resulting in a net gain of over 400 yards of territory with no more friendly casualties.
Bonnyman was posthumously awarded the Medal of Honor for his gallant stand and courageous leadership. For a man who had every reason to be at home in the United States, he selflessly made the ultimate sacrifice for his fellow Marines.