The word Nazi conjures up rather unpleasant associations, to say the least. When even the Nazis shuddered at the exploits of one of their own; he must have been especially nasty indeed.
Oskar Dirlewanger was born on September 26, 1895, in Würzburg, Germany. He was a machine gunner with the Prussian Army in WWI in the 123rd Grenadier Regiment. He saw action in Belgium and France.
Wounded six times, he was awarded the Iron Cross, 2nd, and 1st Class, and became lieutenant of the Infantry Regiment 121. At the end of the war, he was serving on the Eastern Front in Romania where German units were to be imprisoned. Instead, he led 600 men back to Germany.
Dirlewanger already had a reputation for alcoholism and a violent temper before the war. When he returned, he was even worse. A police report deemed him a "mentally unstable, violent fanatic and alcoholic, who had the habit of erupting into violence under the influence of drugs."
Unable to adapt to peace, Dirlewanger joined the Freikorps paramilitary militia – perhaps as an outlet for his post-traumatic stress. He fought in the German Revolution of 1918-1919; and also against German communists, Polish nationalists, and a German uprising.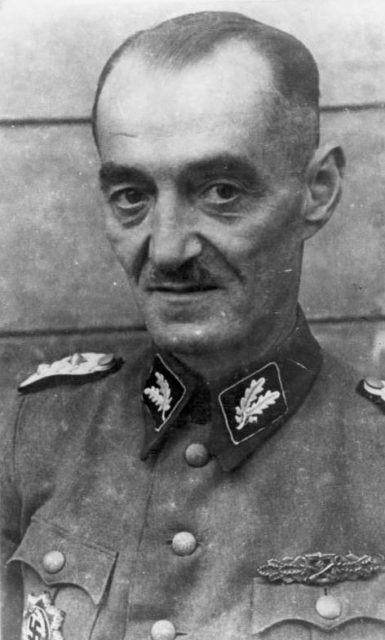 Dirlewanger had created a student militia. They were deployed to the town of Sangerhausen which had been occupied by the Communist Party of Germany. On March 27, 1921, Easter Sunday, they attacked the city but failed, and had to be rescued by pro-government troops. During the fight, a bullet grazed Dirlewanger's head. Later, in 1935, with the Nazis firmly in power, Dirlewanger was made an honorary citizen of Sangerhausen. He was celebrated as its "liberator from the Red terrorists," and jokingly called Gandhi because he was so thin.
During that period, he earned a Doctorate in political science, joined the Nazi party, and worked at various jobs – including a four-year stint as an executive director for a Jewish textile factory. He also spent time in and out of jail for embezzlement and possession of illegal arms, but that was just the beginning.
In 1934, he raped a 14-year-old girl who was a member of the League of German Girls; a Nazi youth group. He then got drunk, stole a government car, and crashed it.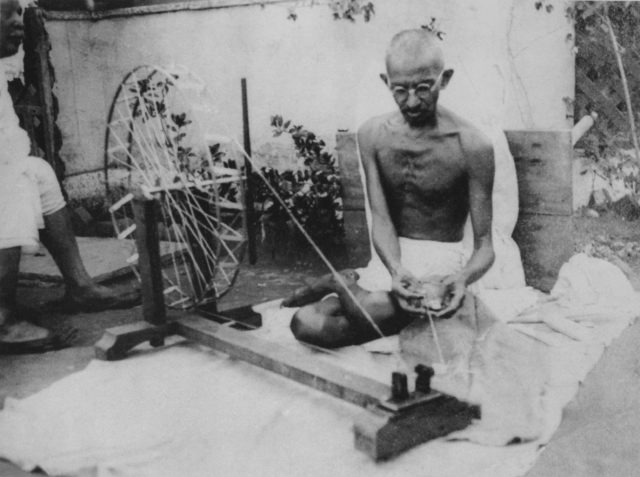 The Nazi party expelled him, revoked his doctorate title and military medals and sent him to prison for two years. Shortly after his release he repeated the same offenses and was sent to a concentration camp for sexual offenders. Fortunately for him, he had friends in high places.
One of those friends was Gottlob Berger, a Nazi official who was best buddies with Heinrich Himmler – head of the Gestapo (Secret State Police) and mastermind of the death camps. Dirlewanger became a reserve member of the Schutzstaffel (SS) – the Protection Squadron.
He joined the Spanish Foreign Legion to fight in the Spanish Civil War. Transferring to the German Condor Legion, he served from 1936 to 1939 and was wounded three times. Dirlewanger had his doctorate reinstated and was officially welcomed back into the Nazi party.

His next stop was the Waffen-SS (the SS military arm) where he became a junior company commander responsible for 50 to 100 men. He evidently made an impression as he was promoted to commanding officer of the 36th Waffen Grenadier Division which entered fame as the infamous Dirlewanger Brigade.
Initially, they were a mix of regular soldiers and poachers – the latter because their tracking skills were considered useful in hunting down partisans. Later, they enlisted an unusual variety of recruits – convicted criminals, mental asylum patients, concentration camp inmates, homosexuals, and gypsies. The party was just getting started.
Their first assignment was guard duty at a labor camp at Stary Dzików in German-occupied Poland. The camps at that time were prisons, not places of mass killings. Dirlewanger felt otherwise.
Nor did they limit themselves to the camp; the local populace were also terrorized. Mass rapes were common, while their favorite sport involved young Jewish women. The brigade enjoyed stripping them naked, whipping them, injecting them with strychnine then watching them convulse to death.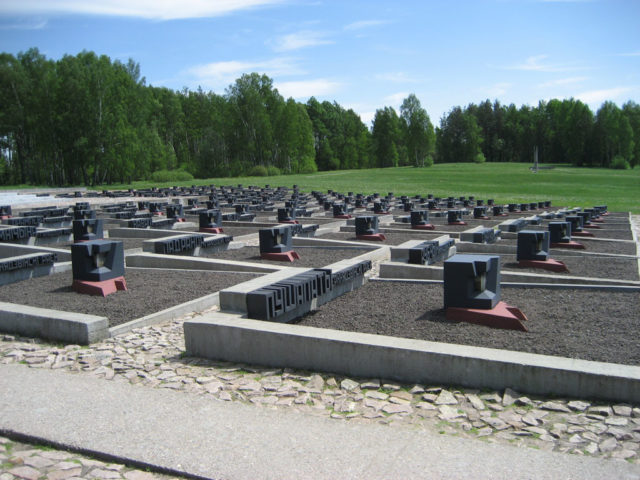 The atrocities were investigated by SS Judge Georg Konrad Morgen. The judge found Dirlewanger guilty of murder, corruption, and race defilement (having sex with racially unacceptable people), but it did no good. Berger and Himmler approved because the Nazis were in a war against what they believed were sub-humans.
After the war, Berger told the Allies that Dirlewanger was "hardly a good boy… but he was a good soldier, and he had one big mistake – that he didn't know when to stop drinking."
So the good soldier's brigade pacified the Russian city of Belarus by slaughtering everyone. Their favorite method involved locking civilians in a barn and then setting it ablaze. Another 30,000 were shot throughout Byelorussia during 1942.
The brigade upped their ante the following year during Operation Cottbus when they extinguished another 120,000 in 200 villages. For his efforts, Dirlewanger earned a gold German Cross on December 5, 1943.
Events changed during Operation Bagration (June-August 1944). The Soviets began pushing the Germans out, devastating Dirlewanger's men. They took their revenge out on the Poles by participating in the suppression of the Warsaw Uprising (August-October 1944).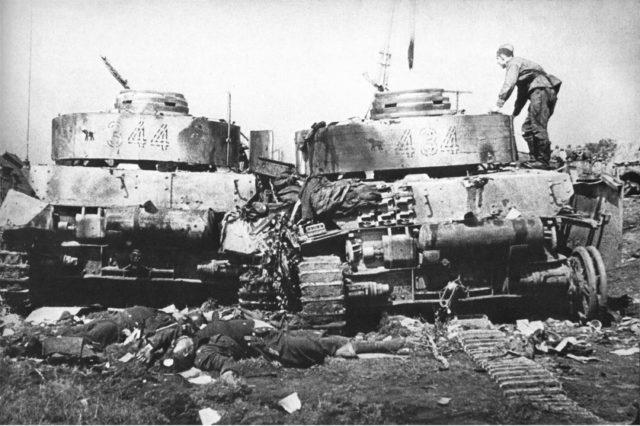 They burned down hospitals with patients inside. Nurses and doctors were whipped, gang-raped, and hung. Some 40,000 were slaughtered in the Wola District in just two days. A German soldier claimed the brigade murdered 500 toddlers with bayonets and rifle butts to save ammo – earning Dirlewanger a Knight's Cross of the Iron Cross on August 15, 1944.
He went on to suppress the Slovak National Uprising in October 1944, and from there, to Hungary and eastern Germany to fight the Red Army. In February 1945 in Brandenburg, he was shot in the chest. Realizing the war was lost, he went into hiding.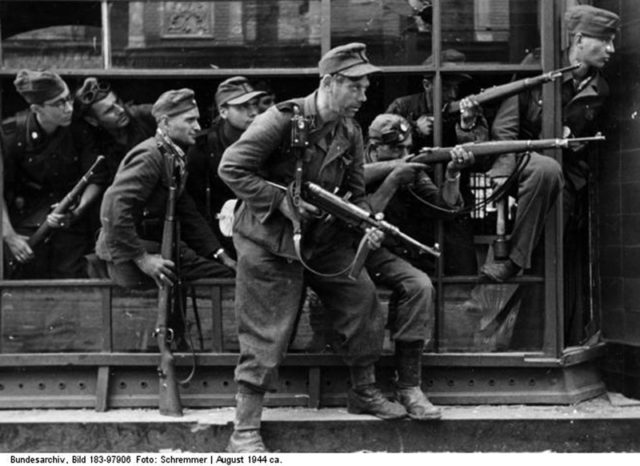 On June 1, he was arrested by French occupation forces in Bavaria where he was living under a pseudonym. A former concentration camp inmate recognized him, and he was sent to Altshausen concentration camp where he died sometime between June 5 and 7, 1945.
It is believed he was beaten to death by Polish guards; a merciful death considering what he had done to so many.