Best known as the "Man with the Donkey," John Simpson Kirkpatrick was one of many larger than life figures who landed with the ANZACs during the Gallipoli Campaign. Serving with the 3rd Australian Field Ambulance, he and his donkeys aided their comrades during the offensive, becoming almost-legendary figures by the time the First World War came to an end.
John Simpson Kirkpatrick's early life
John Simpson Kirkpatrick was born on July 6, 1892 in County Durham, England. He began working with donkeys as a youngster on his summer holidays, a skill that would place him in good stead in the years to come.
When he turned 16, Kirkpatrick volunteered as a gunner for the Territorial Force, before joining the British Merchant Navy in 1909. When his ship was docked in New South Wales, Australia in May 1910, he deserted his crew and took odd jobs around the country.
After the First World War broke out in 1914, Simpson enlisted in the Australian Army, in part to return to England. On his forms, he declared himself to be "John Simpson," likely dropping "Kirkpatrick" to make it difficult for officials to identify that he'd deserted his ship years prior.
3rd Australian Field Ambulance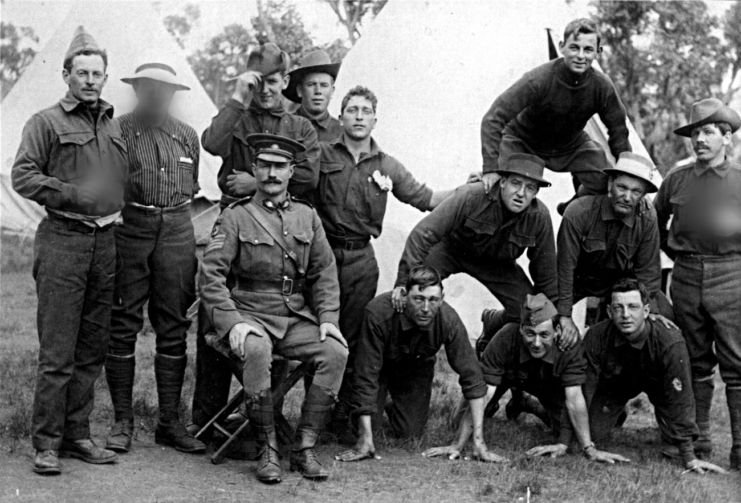 John Simpson Kirkpatrick enlisted as a field ambulance stretcher bearer in Perth on August 23, 1914, after which he began training at Blackboy Hill Training Camp. Following this, he was assigned to the 3rd Australian Field Ambulance, regimental number 202, with whom he served for the entirety of his time overseas.
The group were sent to take part in the Gallipoli Campaign, which, at the time, was already well underway, landing at ANZAC Cove on April 25, 1915 as part of the 1st Australian Division. It didn't take long for Kirkpatrick to get into the swing of things, carrying injured soldiers from the frontlines to receive medical attention.
It was on April 26 that he made the decision that would become the source of his fame: using a donkey to transport the wounded servicemen, instead of carrying them on a stretcher or over his shoulders. Kirkpatrick and his donkey became a common sight on the frontlines; he sang and whistled while the pair walked along the battlefield.
Duffy the donkey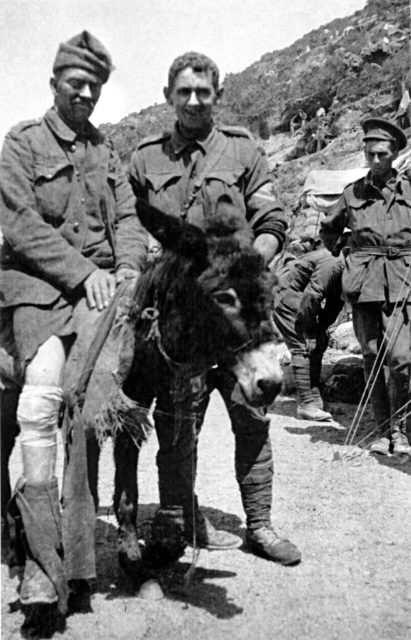 Although Duffy is perhaps the best known of John Simpson Kirkpatrick's donkeys, sources indicate he likely had multiple – or, at the very least, different nicknames for the same one: Duffy No. 1, Duffy No. 2, Murphy, Abdul and Queen Elizabeth.
It wasn't long before some of the other stretcher bearers began using donkeys alongside Kirkpatrick, as it made it easier to move the injured over the terrain and away from the frontlines. His actions were highly praised by Gen. John Monash, who said:
"Private Simpson and his little beast earned the admiration of everyone at the upper end of the valley. They worked all day and night throughout the whole period since the landing, and the help rendered to the wounded was invaluable.
"Simpson knew no fear and moved unconcernedly amid shrapnel and rifle fire, steadily carrying out his self-imposed task day by day, and he frequently earned the applause of the personnel for his many fearless rescues of wounded men from areas subject to rifle and shrapnel fire."
John Simpson Kirkpatrick is killed in action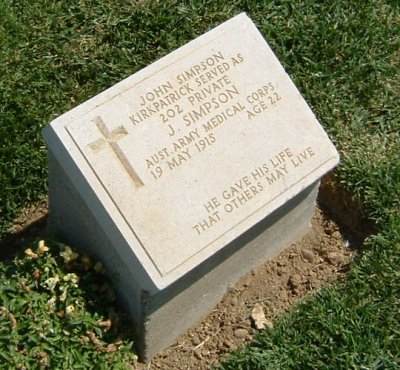 Sadly, John Simpson Kirkpatrick's dedication to the wounded was short-lived, as he was killed in action (KIA) during the Third Attack on ANZAC Cove on May 19, 1915. He was only 22 years old.
Sources indicate Kirkpatrick was struck by a machine gun bullet that traveled through his heart. He'd been attempting to bring soldiers back from the front. Reports also state that the donkey he had with him that day was spared from the same gunfire, with his comrades continuing to look after the animal.
The commanding officer of the 21st Kohat Indian Mountain Battery wrote, "[Simpson] had many donkeys and men killed beside him but led a charmed life till 19th May. We treasured his last donkey and evacuated it safely at the end with a view to presenting it to Australia but it was stolen from our mule lines in Mudros."
Other sources say that one of Kirkpatrick's donkeys was passed along to Lt. Richard Alexander Henderson of the New Zealand Medical Corps, a man often confused as Simpson in images from the Gallipoli Campaign.
Remembering John Simpson Kirkpatrick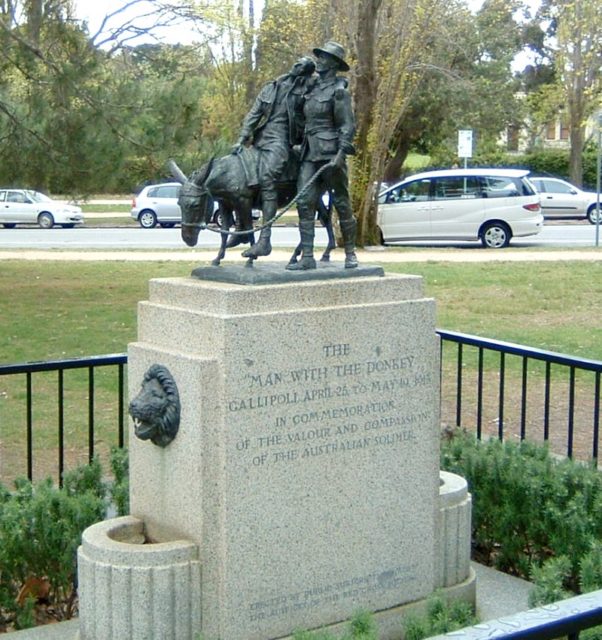 Although he only served for just over three weeks, John Kirkpatrick Simpson became an almost mythical figure in the years that followed his death. He is credited with saving 300 men over his 24 days of service. Many were said to have been seriously wounded, yet it has been pointed out that only those with more minor wounds would have been able to travel on Simpson's donkey.
More from us: 37  mm M1916: The French 'Bunker Buster' That Became a Hindrance on the Western Front
Those with injuries to the head or chest couldn't have ridden down a valley, even with the assistance of the handler. Nonetheless the stories persist, and numerous memorials to the "Man with the Donkey" still exist. He has even been portrayed in films, television shows and on postage stamps.
Despite his efforts, Kirkpatrick never received the Victoria Cross he was nominated for, due to a clerical error, one which has never been remedied.