Many thanks go to Doug Banks and his team – the masters of colorization. The beauty of these colorized images is that color allows you to pick out and study the smallest detail. These are sights that our forefathers would have seen. Must have been strange for them to witness the war in color then to see it recorded in black and white.
Do not click on their page – you will become addicted to their work. It is the research that they do on each image that makes the captions themselves a history lesson. Facebook page here WW1 Colourised Photos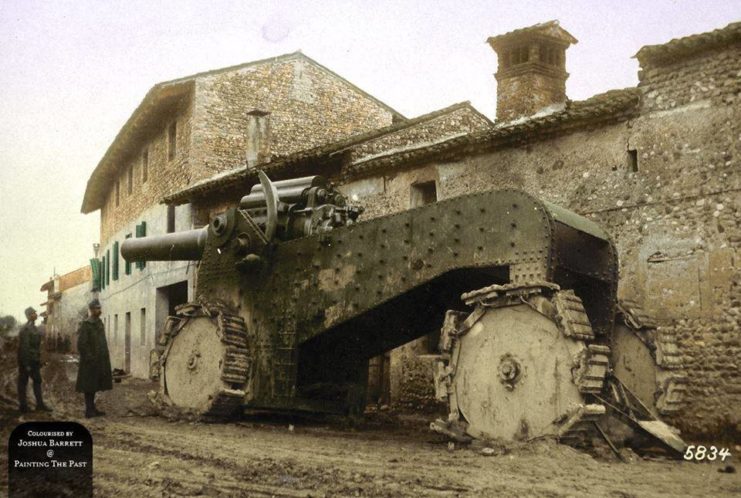 A captured Italian, Obice da 305/17 modello 16 howitzer on a siege carriage with Bonagente wheel belts is inspected by a pair of Austro-Hungarian soldiers in a village near Udine, Italy, November, 1917. National Archive/Official German Photograph of WWI and colorized by Joshua Barrett from the UK. www.facebook.com/paintingthepastofficial/?fref=nf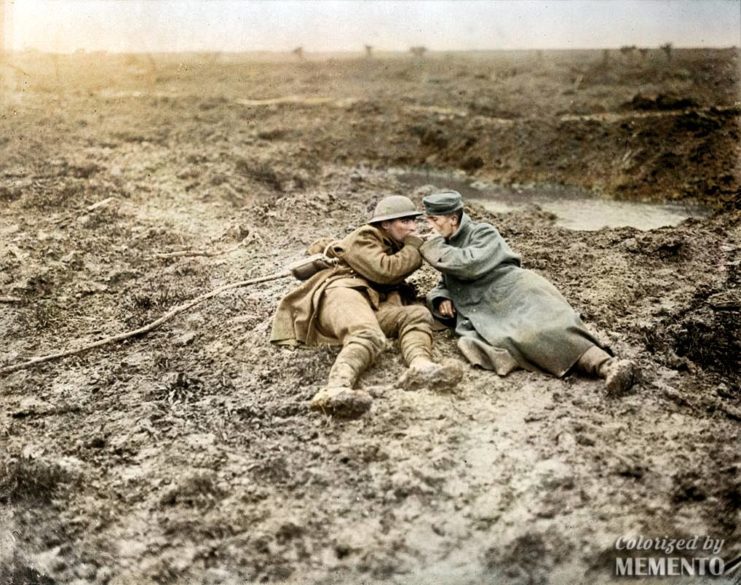 Two wounded soldiers – a Canadian and a German – light cigarettes on the muddy Passchendaele battlefield in Belgium in 1917- colorized by Toussaint Bonavita from France.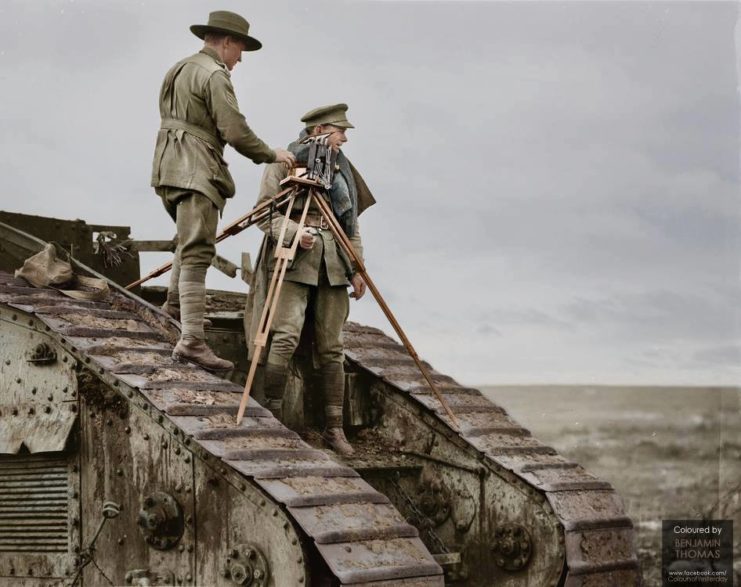 Australian Official Photographer, Captain George Hubert Wilkins, MC, (right) with Staff Sergeant William Joyce (left), standing with tripod and camera on a British Mark V tank , as the pair record the advance of Australian troops through the Hindenburg Line. Ronssoy, a commune in the Somme department in Picardie in northern France. 4th October 1918. Colorized by Benjamin Thomas from Australia. www.facebook.com/coloursofyesterday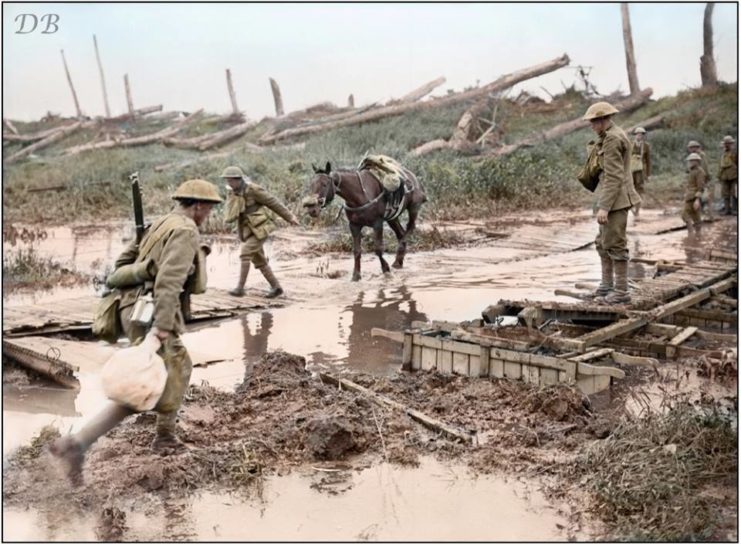 The Battle of Pilckem Ridge: Crossing the Yser Canal at Boesinghe, 31st July 1917. The offensive began on 31 July 1917, but made disappointingly small gains. The British artillery bombardment, which was needed to shatter the enemy's defensive trench system, also wrecked the low-lying region's drainage system, and unusually heavy rainy weather turned the ground into a wasteland of mud and water-filled craters. For three months, British troops suffered heavy casualties for limited gains. (Colorized by Doug)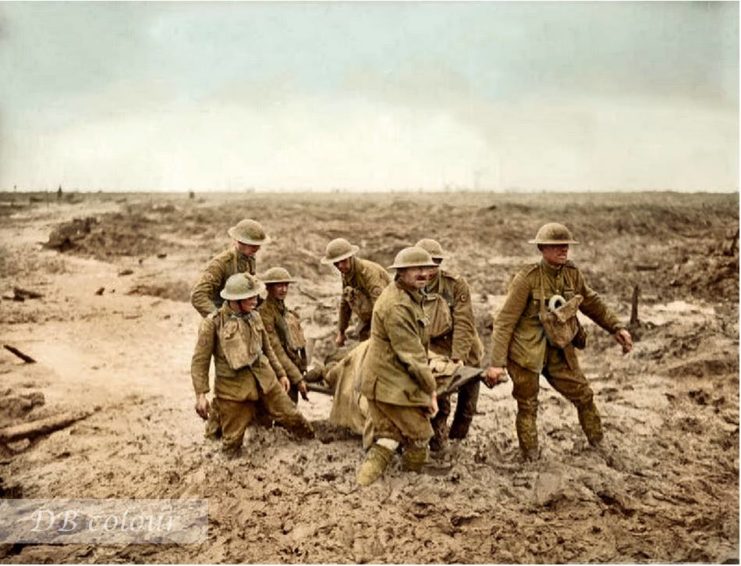 "Battle of Pilckem Ridge" Stretcher bearers struggle in mud up to their knees to carry a wounded man to safety near Boesinghe on the 1st August 1917. (Colorized by Doug UK)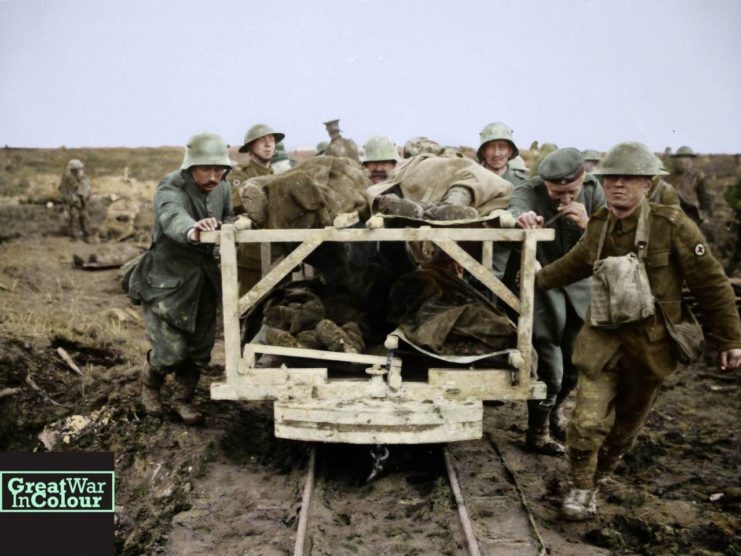 Canadian Dept. of National Defence, Library and Archives Canada and colorized by Taylor Summer-Kibbleyworth -http://greatwarincolour.tumblr.com/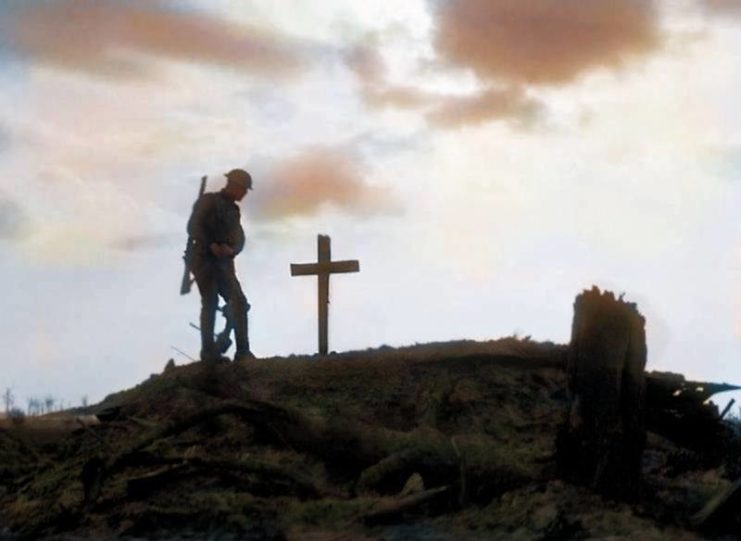 Ypres, 22nd August 1917. (© IWM Q 2756) Has been colorized by Royston Leonard from the UK and his Facebook page is www.facebook.com/pages/Colourized-pictures-of-the-world-wars-and-other-periods-in-time/182158581977012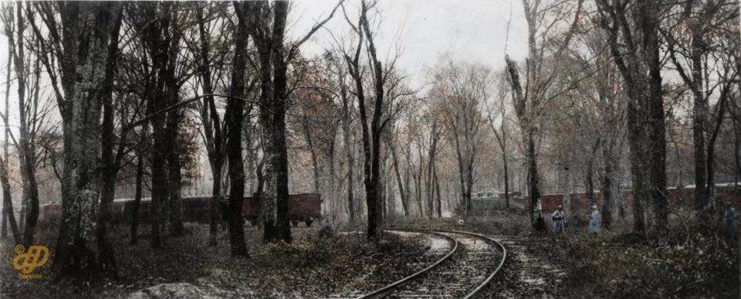 Location of Marshal Foch trains and German parliamentarians, the day before the Armistice. On the right, the train of Marshal Foch, left the Germans. Source : BDIC (Colorized today by Frédéric Duriez)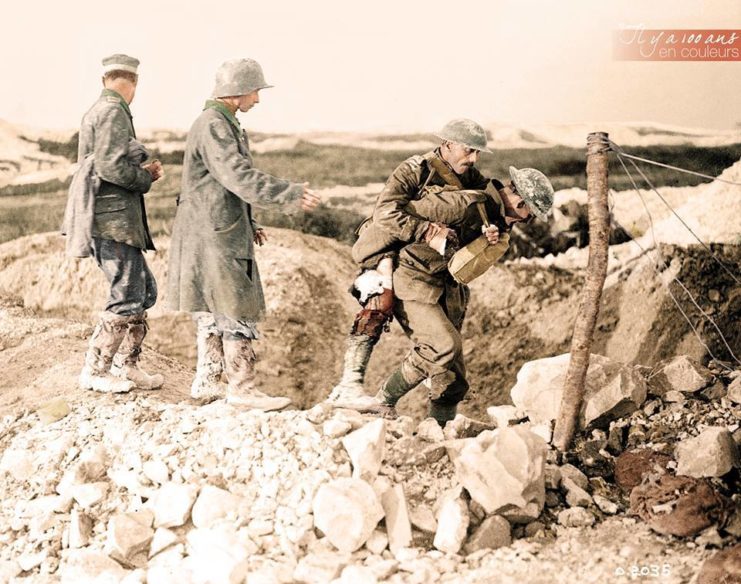 Canadian soldiers and German POWs at the Battle of Hill 70, north of Lens in the Nord-Pas-de-Calais region of France between 15 August 1917 and 25 August 1917. Colorized by Luc Heinrich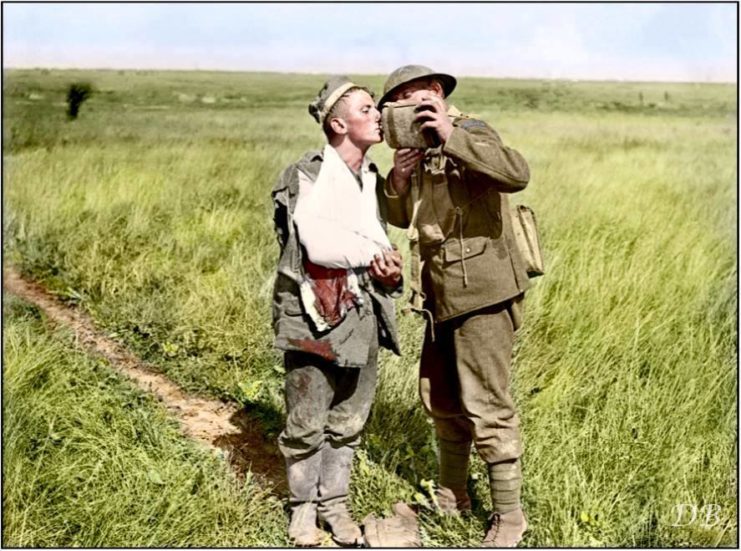 A Scots Guardsman giving a wounded German prisoner a drink, near Courcelle-le-Comte. 21 August 1918.
1st Btn Scots Guards, with the 2nd Guards Brigade were in the assault on Moyenneville and the village of Courcelles-le-Comte was taken by the 3rd Division on 21 August 1918. (Photo source – © IWM Q 6983). Brooke, John Warwick (Lieutenant) (Photographer). (Colorized by Doug)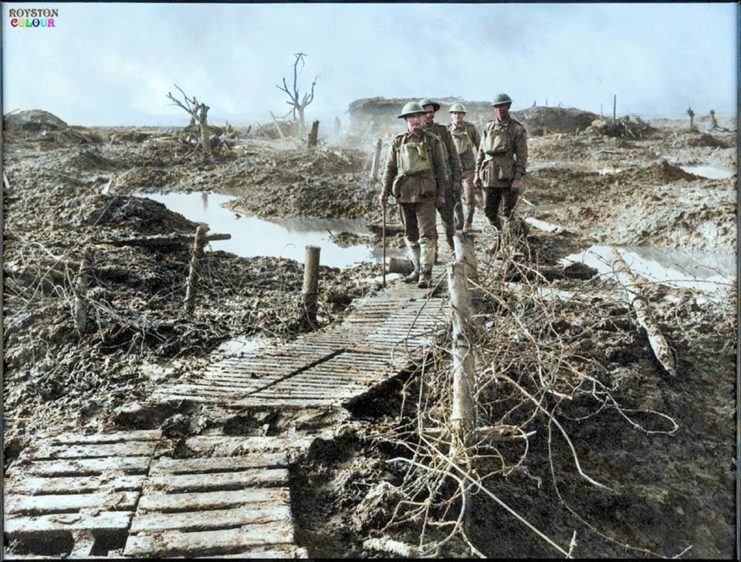 October 22, 1917. This was over a portion of the country captured by the Australians in the fighting of the Third Battle of Ypres, during September and October 1917. (Photo source – Australian War Memorial). Photographer – Frank Hurley
(Colorized today by Royston Leonard)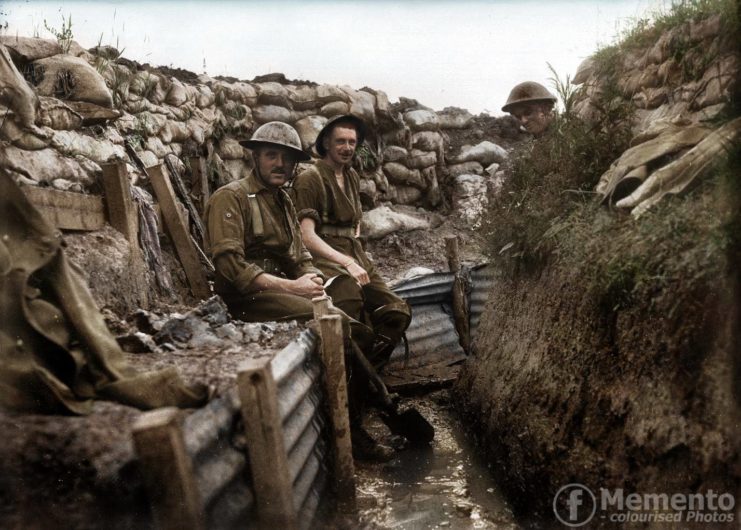 Beautiful work in the colorization of the image – Photo Source – Gallica colourized by Toussaint Bonavita from France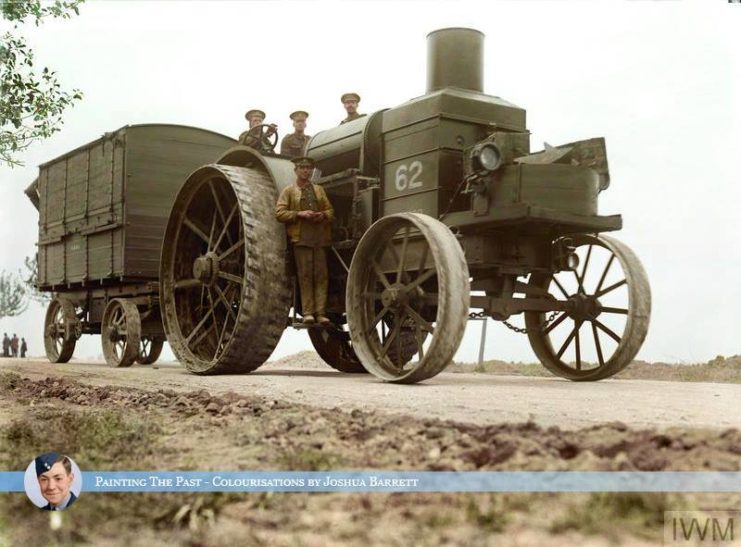 By 1918 there were 74 of these tractors in use, 52 of which with the Admiralty where they were used, amongst other things, for pulling 15 inch naval guns; a task which required 8 tractors and has been colorized by Joshua Barrett from the UK
www.facebook.com/paintingthepastofficial/?fref=nf