During the Second World War, the Dornier company was building a radically different airplane, the Do 335 Pfeil ("Arrow").
Having a unique "push-pull" layout and a reduced aerodynamic drag of the in-line alignment of the two engines; one at the front of the plane, and one in the tail.
The Do 335 was one of the fastest piston-engine airplanes of the war, being capable of reaching speeds of 474MPH. The first prototypes were delivered in May 1944, and they were quickly taken into production. However, as happened so often with the Nazi's miracle weapons, that was far too late in the war to change the tide.
In January of 1945, the first planes were delivered to the frontline units, but when the factory was overrun in April of that year, only 11 had been completed.
The first combat encounter of the Do 335 was claimed by French ace Pierre Clostermann when he intercepted one in April 1945. Clostermann was leading a flight of four Hawker Tempests from No. 3 Squadron RAF over northern Germany when they saw a Do 335 flying at maximum speed at treetop level.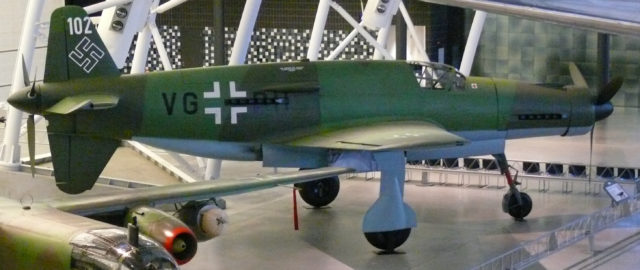 The German pilot reversed course after spotting the Allied fighters and managed to escape, even though the Tempest had a top speed of 432 MPH.
Only one Do 335 survived the war; it was taken intact in the factory on 22 April 1945 and transported to the United States for testing and evaluating.
After these tests, it was left to rot outside for years until it was first donated and later transported to the National Air and Space Museum. By a strange quirk of fates, in 1974 the plane was transported back to the factory in Germany to be restored. Some of the men who built it in April 1945, were now restoring her; what are the odds of that!
After restoration, the plane remained in Germany until 1986 when it was transported back to the United States. You can now visit her in the Steven F. Udvar-Hazy Center of the National Air and Space Museum.
https://youtu.be/jK8ydLY5QHQ