This footage gives you detailed views of the CASA 2.111 that was owned by the Commemorative Airforce. This craft was the only example left in existence that still flew, until 2003 when it sadly crashed.
The CASA 2.111 was designed to be a medium bomber that was manufactured in Spain by Construcciones Aeronauticas SA (CASA). This aircraft was designed with the German Heinkel He 111 in mind and looked very similar, in terms of their frames. The CASA 2.111 however, had heavier armament than the He 111 and used different engines, eventually opting for Rolls Royce Merlin as their engine of choice. This engine choice happened as they suffered problems with the original German built Junkers engine.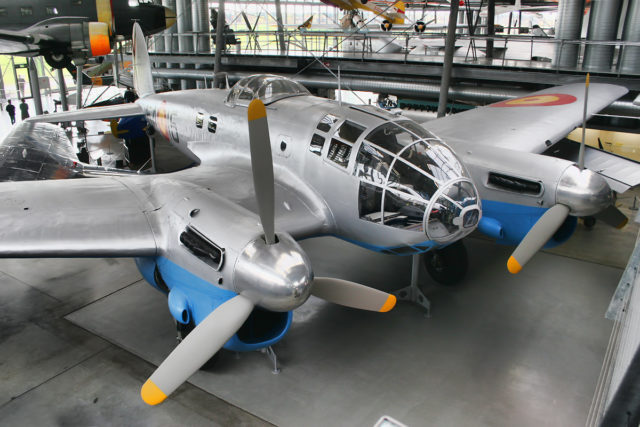 Of all the CASA 2.111's created, only 14 (approx) survive to this day, all in various non-flying conditions. These remaining aircraft are either in storage or on display at aviation museums / facilities.
This particular CASA 2.111 was the last of its type that could still fly. On July 10th 2003, it was involved in a crash landing that ended fatally. This tragedy of a landing happened while attempting to land at Cheyenne Municipal Airport after flying from Midland, Texas. It was en-route to an air show in Missoula, Montana when the accident occurred.
Eyewitness accounts state the aircraft appeared to lose power in one engine while on its final approach to the airstrip and crashed through a chain fence. Following this, it then collided with a building (a school bus-washing business) that was undergoing construction. Sadly in this collision, the pilot and co-pilot were fatally injured (Neil R. Stamp and Charles S. Bates).
Videos, such as this one, and images taken at the Armed Forces Air Show (1997) are all that remain of this aircraft.
https://www.youtube.com/watch?v=iZd9Ocmg0tw