One of the most highly decorated American soldiers of World War II, Audie Leon Murphy, was born on the 20th June 1925.  His life story was an incredible mix of heroism and acting – heroism because he was one of the bravest and most successful warriors the United States of America ever produced and acting because, when his military career ended, he turned his attention to Hollywood and became an international celebrity in a film career that spanned 21 years.
Murphy received a vast amount of awards and decorations both from his own country and from France and Belgium. These include the American Campaign Medal, the French Croix de Guerre with Silver Star, Campaign Medals for the Middle East, Africa and Europe, the French Legion of Honor, French Croix de Guerre with Palm, the World War II Victory Medal, the Army of Occupation Medal, the French Liberation Medal, the Belgian Croix de Guerre and the American Medal of Honor and Legion of Merit. In total, Murphy received 33 awards and medals.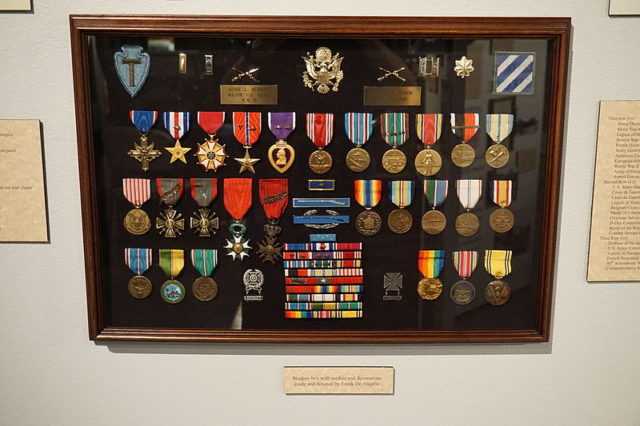 Amongst these was the prestigious Medal of Honor, which was awarded to Murphy after he single-handedly held off a company of German soldiers at the Colmar Pocket and then, incredibly, even after being wounded, led a counterattack.
The Germans scored a direct hit on an M10 tank destroyer, setting it alight, forcing the crew to abandon it. Murphy ordered his men to retreat to positions in the woods, remaining alone at his post, shooting his M1 carbine and directing artillery fire via his field telephone while the Germans aimed fire directly at his position.
Murphy mounted the abandoned, burning tank destroyer and began firing its .50 caliber machine gun at the advancing Germans, killing a squad crawling through a ditch towards him. For an hour, Murphy stood on the tank destroyer returning German fire from foot soldiers and advancing tanks, killing or wounding 50 Germans.
He sustained a leg wound during his stand and stopped only after he ran out of ammunition. Murphy rejoined his men, disregarding his own wound, and led them back to repel the Germans. He insisted on remaining with his men while his wounds were treated. For his actions that day, he was awarded the Medal of Honor.
https://www.youtube.com/watch?v=NVfk4tGHweo