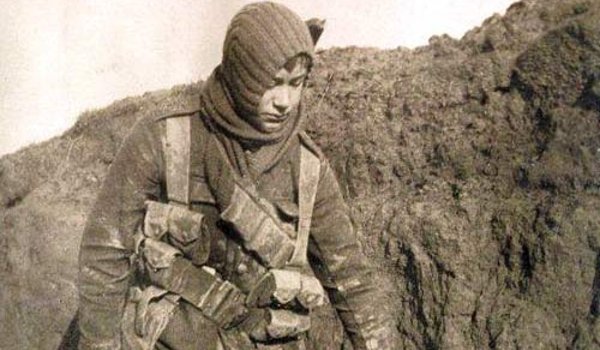 One of the youngest soldiers recognized by historians today was known as the Boy Soldier during World War I.  A memorial of the boy was unveiled in 2014 in Waterford City in front of members from the British Legion and the Naval Service Reserve.
The boy's name is John Condon; he fought for the Allied side and was killed at age 14, he is buried in the Poelcapelle War Cemetery in Belgium. It is one of the most visited graves of all the soldiers who gave their lives in the first world war.
His nephew, who visited his grave recently, said that Condon joined the war because of his sense of adventure, just like many of the young men who joined the army. The reason why he, and many others, joined the war effort was because the young men were told that their attendance in the war would buy future Home Rule for Ireland. Sadly, the boy's family didn't even know he had gone off to fight.
The boy grew up in Ballybricken of Waterford before being encouraged, by a recruiter who promised the Home Rule, to join the Allied ranks.  Condon joined the Special Reserve Defense Force and trained in the barracks in Clonmel.  He obviously lied about his age in order to join the army, but his nephew said he was big for his age, which most likely helped get him into the army, the Irish Post reports.
In December of 1914, Condon's group was deployed to Flanders.  Many of the young men believed that they would be returning home as heroes after their tour, however, that was not the case.
Within a couple of months on May 24th, 1915, Condon fell a victim of the war by a German gas attack.  He was one of nearly the entire 2nd Battalion of the Royal Irish Regiment who died during that attack.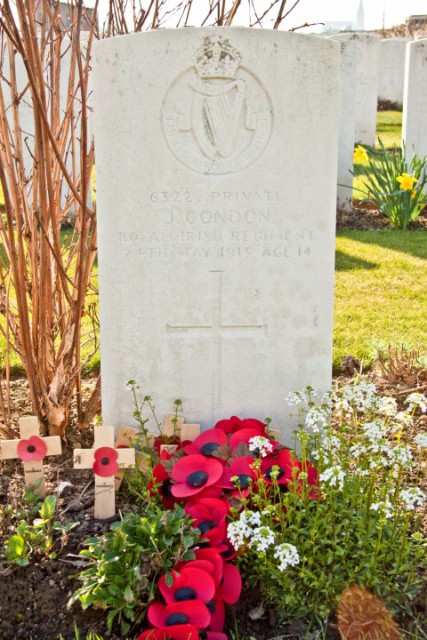 Sadly, many of the men who fought were buried right where they fell, near the trenches The men who did survive and came home to Ireland seeking full independence from England.
It took almost eight years to find the Boy Soldier as he was buried in an unmarked grave. His boots and braces were still intact from when he fell. The only way he could be identified was from the stamp on his boot which indicated his army service number.
After finding out the boy's actual age, the Irish government was uncomfortable.  Highlighting the death of such a young soldier made him a martyr for English cause, so the people in government hoped his story would be forgotten and never told again.
Currently, in Ypres, Belgium there are lists of the 56,000 men who gave their lives fighting. There is a sculpture of the Boy Soldier honoring his bravery and his memory.
"Poelcapelle British Cem.07" by Wernervc – Own work. Licensed under CC BY-SA 3.0 via Commons.