Chuck Yeager, the man who broke the sound barrier, has died at 97.
This staggering achievement became part of popular culture through novel 'The Right Stuff'. There was far more to the man of course. Yet ultimately America wouldn't have touched the stars had a 24 year old Yeager not hopped aboard the experimental Bell X-1 plane in October 1947.
The groundwork for the space program was laid that day, over a nail-biting flight lasting just 14 minutes.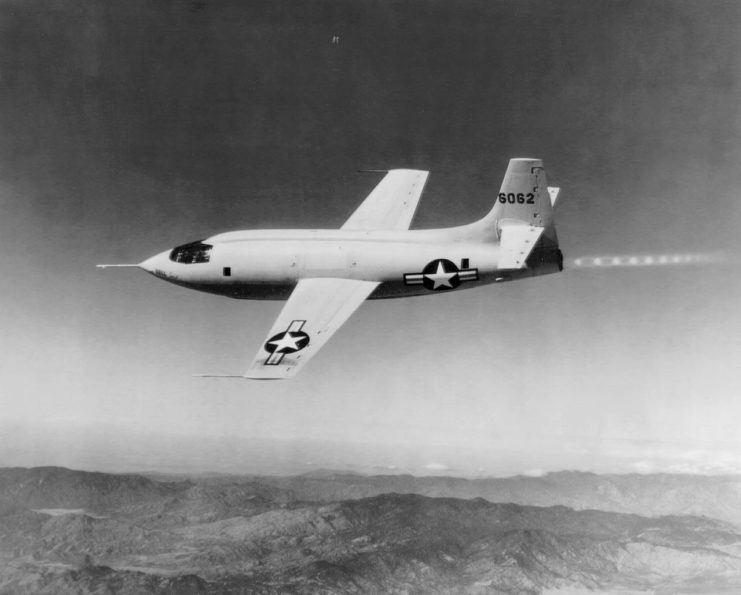 Hopping aboard may be overstating things. Yeager found any sudden movement difficult at the time, seeing as he'd broken 2 ribs in a recent riding accident. Keeping those injuries under the radar, he reportedly took a broom handle with him so the hatch could be closed without the tell tale screams of agony.
He was then dropped from the bomb hatch of a B-29 over the Mojave Desert. Climbing to 43,000 feet, he generated the first ever sonic boom at a speed of approx 700 mph (a little over Mach 1).
"It was a feat of considerable courage," writes BBC News, "as nobody was certain at the time whether an aircraft could survive the shockwaves". As the New York Times puts it, he went on to "personify the death-defying aviator".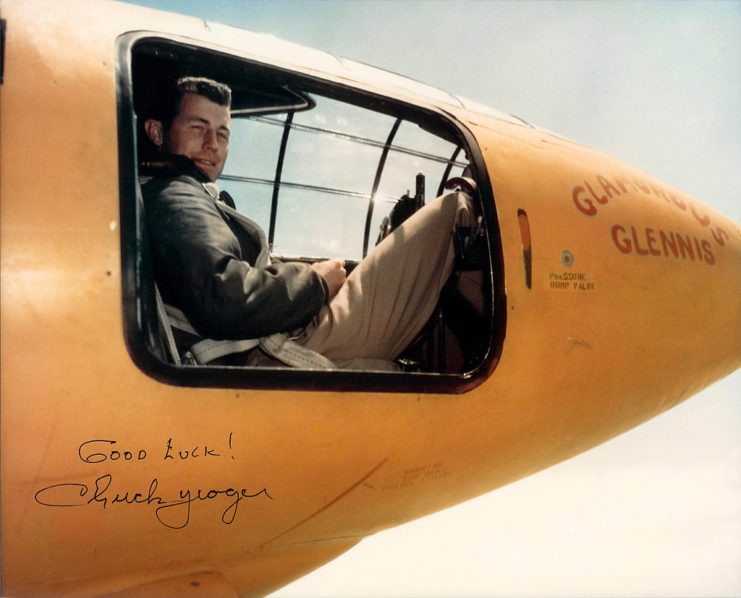 For Yeager the experience was welcome, but at the same time underwhelming. How so? The Times quotes the pilot from his memoirs, where he called the trip: "a poke through Jell-O". He realized that "the real barrier wasn't in the sky but in our knowledge and experience of supersonic flight." The meteoric news wasn't revealed till the following year.
Yeager lacked the qualifications to be on a space shuttle himself. He did however help train future astronauts at Edwards Air Force Base – formerly Muroc, where the B-29 launched him into the history books.
In fact Yeager nearly missed out on the Air Force altogether. According to the Daily Mail, his age and education level blocked a first attempt. The advent of World War II led to a rethink up top. Yeager was in the door, together with what the Mail describes as his "remarkable 20/10 vision, which once enabled him to shoot a deer at 600 yards."
The country boy from Myra, West Virginia was on his way to becoming king of the cockpit. Born in 1923 to farmer father Albert and mother Susie Mae, he spent a couple of Summers at the Citizens Military Training Camp, Fort Benjamin Harrison in Indiana. He then left his family behind, including 2 brothers and sisters, to fight Hitler in 1941.
He did this initially as a mechanic. Reportedly the sight of pilots with attractive women on their arm part-inspired him to seek a life in the air. Once the criteria for taking on pilots was changed, Yeager gained his wings and earned his stripes.
Before he smashed the speed of sound, Yeager downed multiple German planes as an "air ace". He took out 13 enemy fighters in total. 5 of those were in 1 day. All the more remarkable given he'd previously been shot down himself.
Months earlier his P-51 Mustang was hit in French airspace. A wounded Yeager bailed out and worked with the Resistance to reach the Pyrenees. On top of that he needed to escort a comrade in arms across the frozen peaks and to safety in Spain (neutral territory).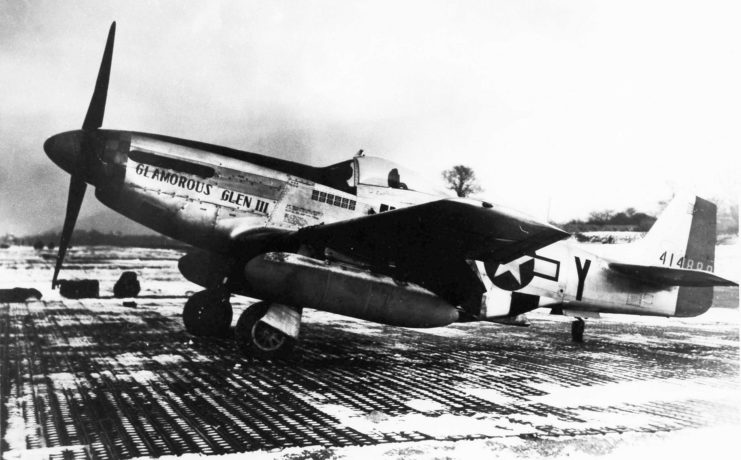 Surviving this dramatic situation brought respect. However, Yeager's new-found knowledge of the Resistance meant he needed to be kept away from his famously interrogation-happy opponents. No more air escapades. Or so they thought. Yeager wanted to fly again and argued his case. He managed to talk Supreme Allied Commander – and later President – Eisenhower into sending him back to the clouds.
By the time he broke the sound barrier, Yeager's track record was exemplary. In the years since 1947 he gained a reputation as America's most decorated pilot, in addition to its greatest one. A Purple Heart, Distinguished Flying Cross and the Presidential Medal of Freedom are just some of the awards in his collection. He served in Vietnam as a Colonel. Eventually he was promoted to Brigadier-General.
In 1953 he broke barriers again, this time by traveling at over twice the speed of sound in 1953 (Mach 2.44). The plane in question was an X-1A. He went on to beat sound hands down in 2012 at the grand old age of 89. This celebrated the 65th anniversary of his original feat.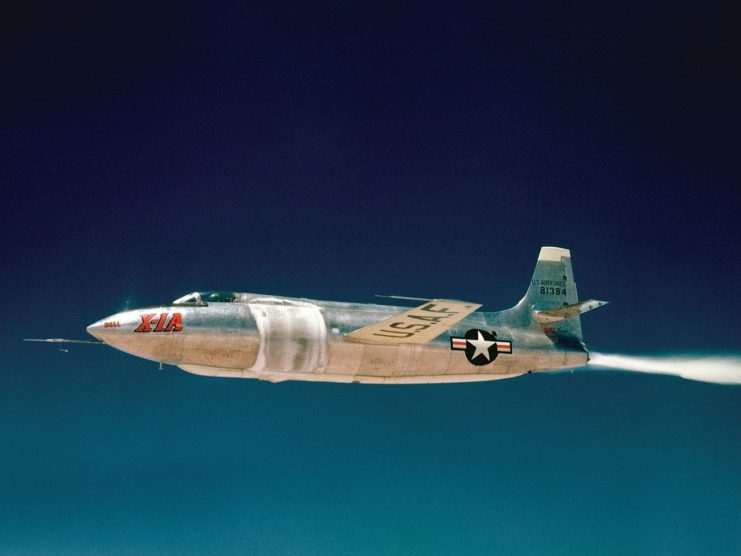 Yeager officially retired in 1975. He entered the National Aviation Hall of Fame two years earlier. Then in 1979 his achievements were fictionalized by acclaimed author Tom Wolfe. 'The Right Stuff' was adapted into a movie in 1983. Fittingly the action opens with events surrounding Yeager's Bell X-1 flight. Sam Shepard played him.
The expression "Right Stuff" referred to the particular and unflappable qualities needed by US astronauts. Yeager himself didn't appear to be a fan of the expression. To him his achievements were a result of hard work, rather than any natural ability.
Yeager passed away on Monday in Los Angeles. Cause of death is unknown at time of writing. He leaves behind his wife Victoria, who he wed in 2003. Posting on Twitter, she writes about his "legacy of strength, adventure, & patriotism". The veteran pilot drew extra attention over the past few years for his own output on the platform. Replies to Tweets were on the short, no nonsense side according to reports.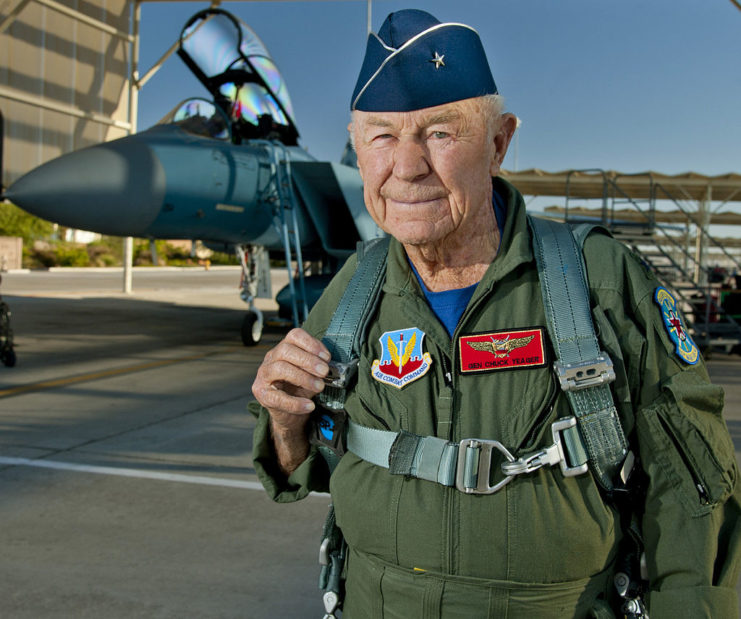 Major League Baseball's Steve Yeager is his cousin. He was previously married to Glennis Dickhouse from 1945 to her death in 1990. The X-1 rocket plane's nickname was 'Glamorous Glennis' in her honor. Susan, Don, Mickey and Sharon are the couple's children.
Writing on the NASA website, Administrator Jim Bridenstone believes Yeager "set our nation's dreams soaring into the jet age and the space age". He calls him "a true American original".
"May he rest in peace and his legacy live on forever" tweets the US Air Force.
"The man could not have been cooler" writes author Don Winslow
Former President Bill Clinton tweets Yeager's "daring and skill captured our imaginations and expanded our understanding of what was possible."
Another Article From Us: RIP 'Wild Geese' Star and Battle-Hardened Veteran Ian Yule
Charles Elwood Yeager: 1923 – 2020. RIP.