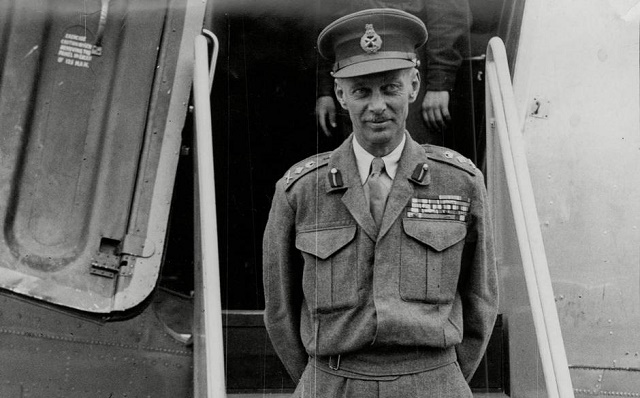 The WWII journal left behind by General Sir Miles Dempsey has recently gone under the hammer, and it appears to oddly disregard the Normandy landings as a line has been crossed through them. At least, that is how things appear. No one is actually one hundred percent certain why General Dempsey decided to scribble through an entire week's worth of schedule in his WWII journal, namely the week during which D-Day took place.
The book itself is what is known as an "engagements diary," and it is exactly what it sounds like it would be. Both prior to and following the week of the Normandy invasion, General "Bimbo" Dempsey had left a record of numerous important obligations in his WWII journal, many of them involving other men of rank. Interest in why Sir Dempsey might have stricken the week from his diary has arisen partially given that the week he crossed off was the date of an engagement about to see its seventieth anniversary commemorated worldwide.
Sir Dempsey's belongings have not been examined quite so thoroughly in the past. As a general, he was not one to be glorified and much preferred to keep to himself. As such, his WWII journal did not fall under scrutiny until it was up for purchase. This falls in line with many people in his generation, though he easily could have been a prominent name if chose to be as he was one of history's rare generals to have been knighted on the battlefield by King George VI.
Many other documents have also been revealed concerning Sir Dempsey, giving a fuller view of his service during the Second World War. One of the most interesting aspects of the documents is actually that, with the exception of the WWII journal, they are not written by Dempsey himself. Instead, others felt the need to express tribute for the man. Not only was he involved in D-Day, but he was also involved in the surrender of the Germans at the end of the war, the Mail Online reports.
The WWII journal of Sir Miles Dempsey provides an interesting insight into the engagements of a high-profile war general, and raises some interesting questions regarding his plans for D-Day. No one knows if he crossed off the dates to keep his schedule clear, to keep his plans secret, or because he was unsure as to whether or not he would survive. Either way, his WWII journal is a prized war artifact once used by a respected general.