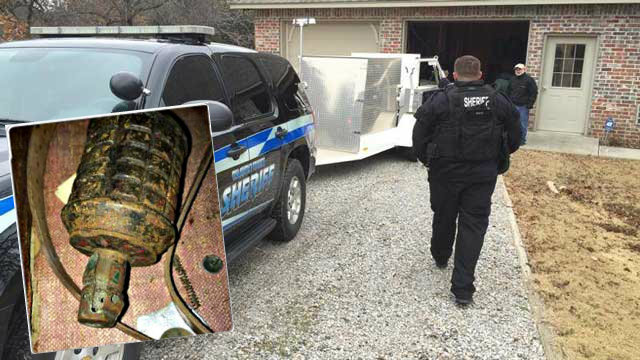 Oklahoma City – Rick Young learned the lesson of not assuming anything the "explosive" way when he discovered a live WWII Japanese hand grenade sitting inside a box he got from his WWII vet father nearly a decade ago and had to call in a bomb squad to detonate it
According to reports, Young of the Eastern Oklahoma County uncovered the said WWII Japanese hand grenade among several WWII memorabilia collected by his father from the conflict including a samurai sword and a rifle.
Apparently, Rick Young's father had served as a Marine in Saipan during the said conflict.
According to reports, Young recounted how his father told him about being the luckiest Marine in Saipan as during a combat he was involved in, a hand grenade landed right beside him but fortunately, it did not explode.
Young further went on to say that after his father told them the story, the family just assumed that the WWII Japanese hand grenade inside his box of WWII mementos, as a souvenir, was already diffused. However, it turned out that it wasn't and they found out nearly a decade later.
When Young inspected the WWII Japanese hand grenade, believed to be a type 97 hand grenade first used by the Japanese Imperial Army, all its elements were still together — it had its fuse, it contained TNT and its pin was out.
After doing a little research online and arriving to the conclusion that the explosive device was, indeed, still active, Young called the Oklahoma County Sheriff's Office. The department sent a bomb squad immediately and detonated the WWII Japanese WWII hand grenade in a nearby field.
In its Twitter feed, the sheriff's office expressed its gladness that over the years, the live WWII Japanese hand grenade had not detonated and harmed anyone. Young was glad, too, and added this piece of advice: do not assume anything.