Maynard L. "Beamy" Beamesderfer passed away on August 11 at 92 years old. He was a WWII hero whose last words were, "Did I do good?"
Memorial services were held at University Presbyterian Church in Santa Teresa, New Mexico. A celebration of his life took place at the Fort Bliss National Cemetery.
Beamesderfer was one of the original Pathfinders, the first combat paratroopers to jump into Normandy ahead of the D-Day invasion in 1944. He also jumped into Holland as part of Operation Market Garden, a failed attempt by the Allies to invade Holland. Beamesderfer also fought at the Battle of the Bulge.
"I loved to hear the stories he talked about when he was in World War II," his 14-year-old grandson, Robert Sutton III, said. He took every chance he got to visit with his grandfather and hear those stories.
"I like his story about when he was in Holland and was captured as a prisoner of war," Sutton said. "He was a skinny and tall guy and there was a pocket in one of the walls he could fit through. He used a banjo wire to take out all of the guards that were holding them in and brought the rest of the soldier's guns and broke out. He was probably the only reason they could escape."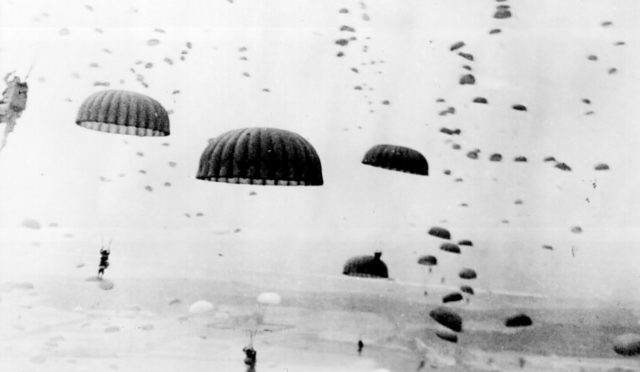 Beamesderfer was part of the 501st Parachute Infantry Regiment, 101st Airborne Division.
"This was before the airborne invasion. There was a part of their job to set up homing devices which were going to direct in the aircraft that were bringing in the allied troops," said John Ceballos, the public affairs specialist with the Benavidez-Patterson All Airborne Chapter 82nd Airborne Division Association.
Beamesderfer was instrumental in organizing the Benavidez-Patterson Association in El Paso. He was a member of that organization until his death.
The chapter has six remaining veterans from WWII. Veterans from that era are dying at a rate of over 420 per day, according to the National World War II Museum.
Beamesderfer is survived by children Carey Beamesderfer, Carole Green and LuAnn Wieland. 11 grandchildren, 26 great-grandchildren, and two great-great-grandchildren also survive.
His wife Miriam L. "Mimi" Beamesderfer died in January.