A World War II-era bomb was found at a construction site near the campus of the Florida State University. An Air Force explosives team dug a deep hole and then detonated the explosive in the hole.
The explosion was heard several miles away. A construction crew had discovered the bomb and contacted the Tallahassee Police.
Shannon Glassner is a sophomore at Florida State. She lives in a sorority house about three blocks from the blast site. She said it sounded like loud thunderclap and that a couple of people in the house screamed.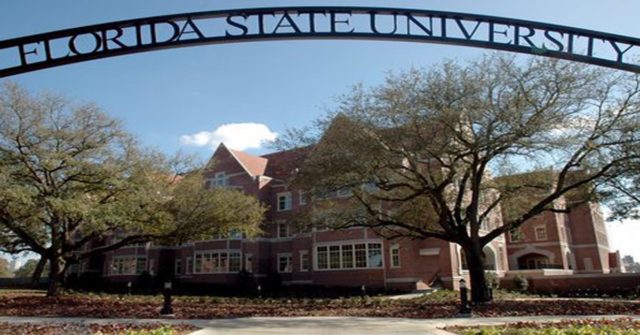 The Tallahassee police bomb squad supervisor had examined the device with a pair of binoculars and determined that the device could very well be a bomb.
The police blocked off several streets around the site. Officers prevented traffic and pedestrians from getting near the bomb. A fire engine and ambulance were on site as a precaution.
A multi-story apartment building just outside the taped-off area had several people leaning out their windows to ask questions of the police officers. They were concerned about the size of the bomb and whether they would be alerted if there was any cause for alarm.
The 325th Explosive Ordnance Disposal Flight from Tyndall Air Force Base in Panama City came to the site and confirmed that it was a World War II-era bomb. According to the Florida History website, Tallahassee had an airfield that was used for training in WWII.
Once the neighborhood was evacuated, a large hole was dug, the bomb placed in it, and then it was covered with dirt to prevent shrapnel from flying out.
According to North American Properties, the company that owns the land on which construction crews are building an apartment block, the bomb fell out of the roots of a tree they were pulling from the ground, Fox News reported.
The company has hired experts to be sure the site is clear of any more explosives before they continue with construction.