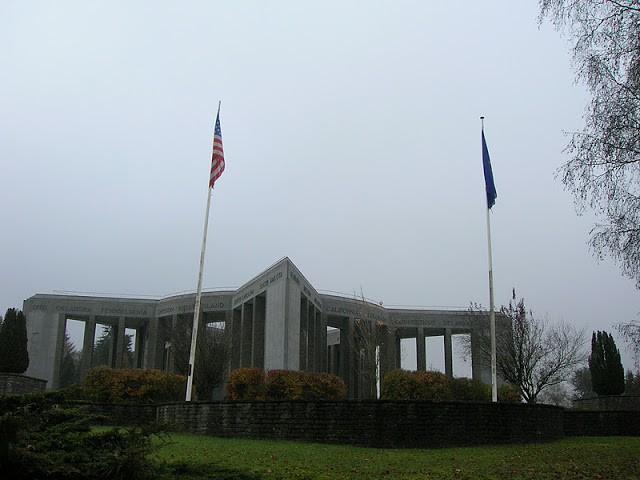 The Bastogne War Museum, dedicated to WWII, has been open to visitors since late March. Bastogne itself has been the site of numerous fascinating WWII stories, many of which are related through exhibits. The WWII museum itself relates much of the war's contents to the Battle of the Bulge, and seeks not only to honor the war's troops, but also to provide some perspective on what happened.
One interesting feature of the museum is the recurrence of four particular characters—an American airman, a German grenadier, a Belgian teacher, and a young civilian boy. Each of them shares a unique tale of how they were affected by WWII, allowing visitors a look at the war from multiple points of view.
The exhibits tells their own stories, such as that of a burnt teddy bear which a WWII soldier recovered in Bastogne following the city's evacuation. The city was attacked at the very end of 1944, and one young lady had left the toy in her house. As it was a Christmas gift, she wanted it back dearly. Not only did a trooper from the United States get it back for her (in exchange for liquor), but he narrowly risked his life in doing so. The bear now resides at the museum, with tour guides explaining the bear's journey, the USA Today reports.
Three periods of WWII are covered in depth by the exhibits. The first is the lead-up to the war's outbreak, as well as the political effects the outbreak had. The second is the major part of the war, as opposing sides invaded each other. This section leads all the way up to the beginning of the Allies' success in securing freedom for internees. And of course, the museum also concentrates strongly on the war's end for its final phase. In all three sections, both battle and everyday life are examined.
The museum houses exhibits which are three-dimensional as well. Both are designed to provide unique, firsthand looks at WWII experiences including a local bomb raid and a battle scene. There are also recorded talks with people from Bastogne who were present for the war. This is all located in rather close proximity to the Bastogne Barracks, which was an important location in Bastogne during WWII. Along with the Bastogne War Museum, there is no shortage of history to be found in the town if visitors are seeking enlightenment as to the true everyday conditions of the war.