Almost everyone has heard of Hadrian's Wall, or the Great Wall of China or the Berlin Wall but not many people are familiar with the Atlantikwall, built by Nazi Germany between 1942 and 1944.
For 1,670 miles from the uppermost part of Finland to the border between France and Spain, Hitler built a series of tunnels, underground bunkers, gun batteries and hidden mined obstacles. Most of the fortifications needed to be manned creating barracks, offices, kitchen and dining facilities, ammunition storage and toilet facilities. One underground bunker, located under The Hague in the Netherlands even had saunas for its 3,000 military inhabitants.
In 1942 Scheveningen, a fishing village just a few miles from The Hague city was made a restricted area by the Germans resulting in over 135,000 residents being forcibly evacuated. Using Dutch civilians and prisoners of war along with German troops and engineers over 35,000 tons of concrete was used to create what was virtually a small underground town. Most of the buildings nearest the coast have fallen into the sea or have fallen apart, but many of the inland sites remain untouched. One small bunker was even incorporated into a private home when it was built. Many of the entrances were filled with rocks and sand after the war as the Dutch wanted to put the years of occupation and war behind them.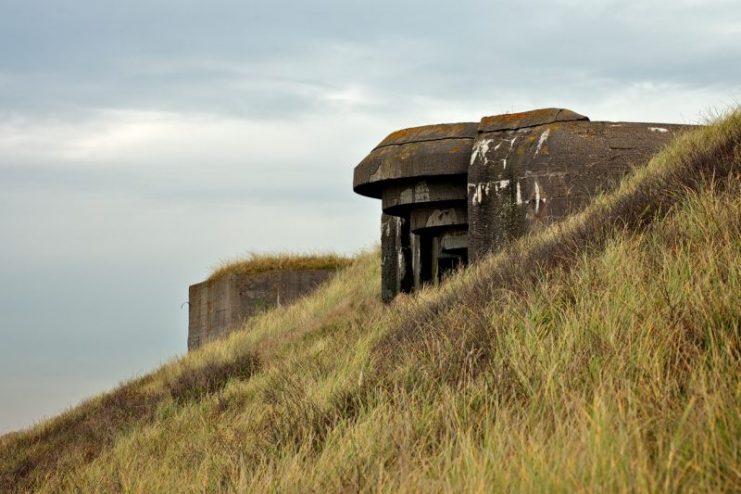 Slowly, the European Atlantikwall Heritage Foundation has been digging out and discovering new bunkers and tunnels. Many found on private property have gone up for sale, some have been left alone to shelter wildlife and others are being restored and have become the Atlantikwall Museum.
The Foundation has cleaned up the tunnels and bunkers and has been adding items to make them look as they did when they were occupied by the Germans. The artwork on the walls, furniture rebuilt to specifications and artifacts such as helmets, bottles of German ale and reproduction phones, typewriters and Nazi propaganda fill the tunnels and rooms. Mannequins have been dressed and placed in positions where the Germans did their work. Wartime graffiti and signs carved into or painted on the walls have been preserved.
They are open to the public one day a year in June on Bunker Day when The Hague welcomes tourists to walk through the restored bunkers. When Bunker Day was launched in 2014, there were only a few bunkers along the tour, but now there are open bunkers along the coast of The Netherlands and a few in Belgium. Before and after pictures of one of the restored bunkers can be seen at 40 Before and After Pictures from the WW2 Atlantic Wall Museum.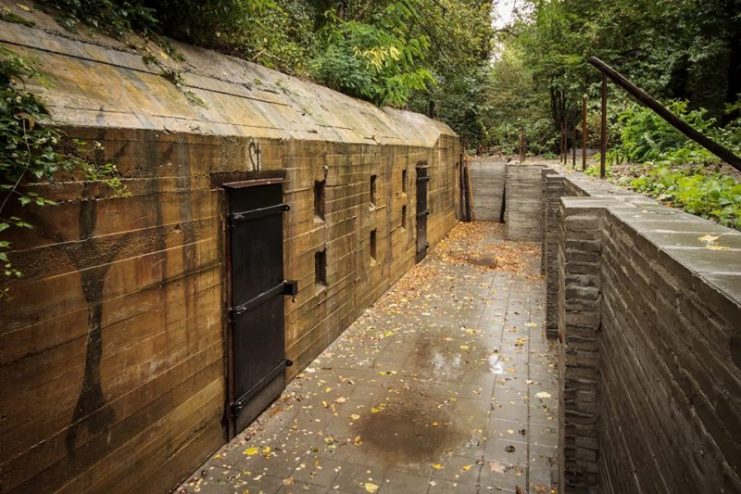 People in the countries which contain parts of the Atlantikwall have mixed reactions on its preservation. Some want it destroyed and forgotten; others think it should be allowed to tell its history. As more and more sites emerge, it will soon be necessary to make a determination.
In 2011 Rene-Georges Lubat was sent by the Mayor of his town to work on the original Atlantikwall. He was interviewed about his experiences and had this to say:
"There was no choice about it. We had to go. Naturally, we weren't enthusiastic, but it is not as if we had any choice. The conditions were not terrible. We weren't beaten or anything and we got a basic wage. At the start, we could go home on Sundays but after Stalingrad, they put up barbed wire and we were stuck inside the work camp. Of course, we knew we were building defenses for the Germans and it felt bad. I remember at the end of the war my two brothers came home. One had been a prisoner, the other a deportee. I felt so bad I did not want to go to the party celebrating their return. But I do think the wall should be preserved now. It is important to remember what happened – the ignominy of it all, the cataclysm that we had to endure."