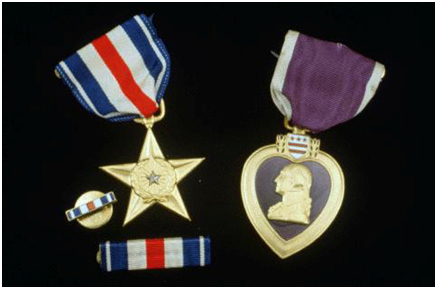 Earnest Love literally had to wait a lifetime for recognition of his efforts during WW2.  Nearly 70 years after Love was wounded in a fierce battle during a fierce battle in the pacific he finally received his 8 medals including the Purple Heart and the Silver Star.  Love received his 8 decorations in May at the Binghamton office of Congressman Richard Hanna, who helped the veteran get the medals.
Love was only 18 at the time of his enlistment into the New York National Guard in 1939 and later served in the Army's 27th Infantry Division when the United States entered the war.  Love was still with the 27th when they fought alongside the marines on Siapan Island in June 1944 where he was wounded in a fierce battle.  He has been accredited with killing over a dozen enemy soldiers on the beach of Siapan, the Fox News reports.
Now 92 years of age, Love lives in upstate New York with his family.  He has enjoyed a long career spanning 3 decades with IBM.  Mr Love is said to be very proud to have finally received his 8 decorations but with a sense of the bittersweet he adds "the country I fought for all those years ago does not seem to be the same country we live in today".