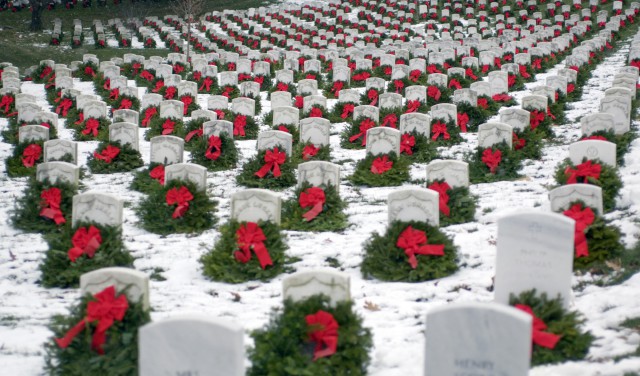 Each year, during the first two weeks of December, Americans are accustomed to seeing fresh green wreaths on the graves of those who have fallen while serving their country.
The tributes appear on graves in over 1,000 cemeteries all over America and beyond – there are American military graves or memorials in 24 foreign locations. The wreaths let families know that their loved ones have not been forgotten by a grateful nation.
Many people believe that the memorial wreaths, each one costing around fifteen dollars are paid for and placed by the government, but that is not the case. The operation is funded and carried out by an organisation called 'Wreaths Across America'.
It is no small task, there are over 400,000 graves in the Arlington National Cemetery alone, and altogether an army of 800,000 volunteers place almost three-quarters of a million wreaths in time for 'Wreaths Across America day' which this year falls on December 9th.
The project was started in 1992, when Morrill Worcester, the owner of the Worcester Wreath Company in Maine, found himself with a surplus of holiday wreaths as the end of the holiday season approached. Recalling a childhood visit to Arlington, Worcester arranged to lay wreaths on some of the graves there.
His gesture started a movement that grew as the years passed, and Wreaths Across America day became an annual event. In 2007, Worcester founded the non-profit organisation that now continues the tradition.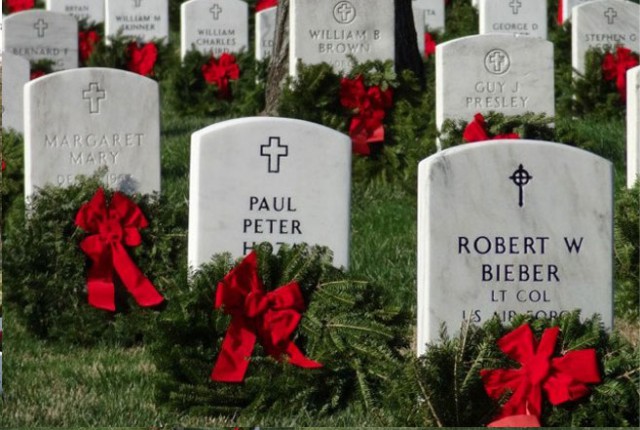 All this costs money, a great deal of money, and Wreaths Across America receives no government funding. Every penny of the three and a half-million-dollar budget has to be raised through donations, and that is no easy task, especially when economic conditions force ordinary Americans to think about every dollar they spend the Breitbart reports.
This year, as November drew to a close, Wreaths Across America was well short of the amount it needed, and many thousands of wreaths have still to be funded. The shortfall amounts to almost half a million dollars, and time is running out.
Donations continue to arrive, but the problem is not yet resolved. Some foreign countries will not permit the importation of fresh foliage, so in those locations volunteers must make local supply arrangements. Wreath-laying ceremonies can then be arranged- it all takes time and money.
As the deadline approaches, it can only be hoped that the necessary funds will arrive in time, and as they have in past years, American veterans' graves will all bear an evergreen wreath.
Your support makes all the difference in making our mission a success. Help place a wreath on all fallen heroes' graves this December.
(U.S. Air Force photo by Master Sgt. Jim Varhegyi)