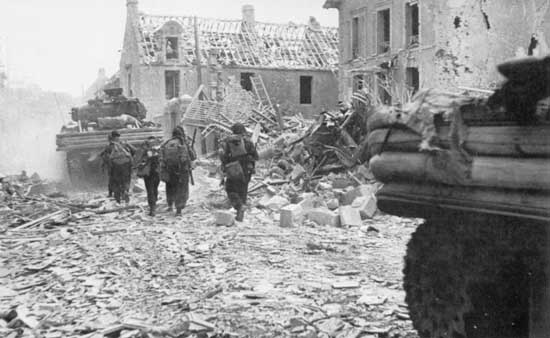 Stock image of soldiers moving inland on Sword Beach
Bill Adams is a World War Two veteran and has been searching for the family of a fellow soldier who had died during the D-Day landings back in 1944.
Bill was just 19 years old when he took part in the D-Day landings. He was a private in the First Buckinghamshire Battalion of the Oxfordshire and Buckinghamshire Light Infantry, and he recently received the highest military honour in France – the Legion d'Honneur.
Nevertheless, Bill remains desperately sad over the friends he lost all those years ago during the D-Day landings. One particular friend who died was his best friend Ian Holland, who was from Berkshire. He was nicknamed, Dutchy.
Bill recalls how the sea was very rough as well as the enemy fire they came under when they landed on the coast of Northern France. Bill says that he landed at Normandy with Ian, and they both survived the initial landing, but Ian was killed the next morning.
They were unloading petrol containers and nearby German troops started firing at them. Bill says he was at one of the truck, while Ian was at the other, and it was Ian who got hit and was killed.
Today it is more than 70 years since the incident occurred, yet Bill has never given up trying to contact Ian's family back at home. Bill is now 91 years old and has one child.
He recalls how his entire battalion had to make their way to the French beach by wading through the choppy waters of the English Channel, along with all of their equipment. Bill was a machine gunner and so had to carry his heavy gun and ammunition ashore.
Bill says that he Germans would fly over them very low in order to bomb the beaches.
Ian was buried at a military cemetery at Hermanville and Bill often visits his grave. Now that Bill is getting older, he is never more so keen to finally get in touch with Ian's relatives to make sure they know what happened and that they know where he is buried.
So far Bill has discovered that Ian had a brother called Herbert, but has found little other information about his family. Meanwhile local media have found records that show Ian was born in 1924 and that his parents were Robert and Evelyn Holland.
Now Bill's local newspaper; thisisoxfordshire.co.uk, is trying to help in his search.