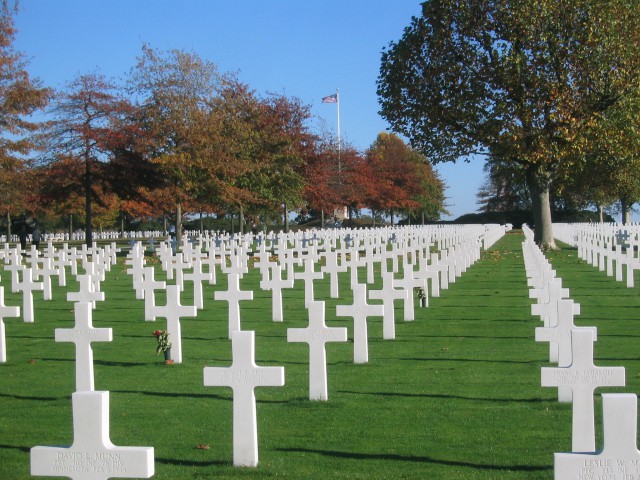 Thousands of World War Two US soldiers who were killed in action are being honored in the Netherlands.
One of them is Stanley McNivick from Trenton, New Jersey. Stanley served in the US Army as a Corporal. He joined the army in 1944, but never returned and was laid to rest at the Margraten Cemetery in the Netherlands, along with thousands of his comrades.
The cemetery is full of white tombstones, and now to mark the 70th anniversary of World War Two, the Foundation United Adopters American War Graves is matching the soldiers with the blank thousands of blank tombstones.
The project has been named the Faces of Margraten, whereby photographs of each of the soldiers are being sourced from family members. The photographs are being digitally stored, as well as a copy being placed at the gravestone of each soldier in the cemetery. Currently around a third of the soldiers' photographs have been sourced.
The cemetery holds over 10,000 American soldiers and is managed by the American Battlefield Monuments Commission.The Chairman of the Foundation says that they want to honor and thank the soldiers who gave their lives for freedom.
Stanley McNivick had only been enlisted for two months, serving with the 408th Infantry Regiment, 102nd Infantry Division, when he went missing in action. A few weeks later the US War Department notified his mother, Tillie. Finally a few days later they notified her that Stanley had in fact been killed in action by German troops behind enemy lines in Apweiler, Germany.
Prior to Stanley joining the army he had worked in a liquor store and loved horses. Even though Stanley had been brought up in the city, he was an avid rider and was a natural in the saddle.
Stanley's family don't have any photos of their dead ancestor, and his mother decided not to have his body returned to the US, instead agreeing to his body being buried at the Margraten Cemetery in the Netherlands along with other fallen soldiers.
This was a common decision during the war. Around 40% of soldiers' families decided to let their bodies be interred alongside their fellow soldiers in military cemeteries around Europe.
Stanley's nephew and family actually decided to visit the Netherlands and to visit the cemetery where Stanley was buried. He says it was an emotional trip that left the family speechless, the NJ.com reports.
The foundation is spurred on by the experiences of families such as Stanley's and they intend to ensure the soldiers buried in Europe are never forgotten.
Image: Joris Nieuwint