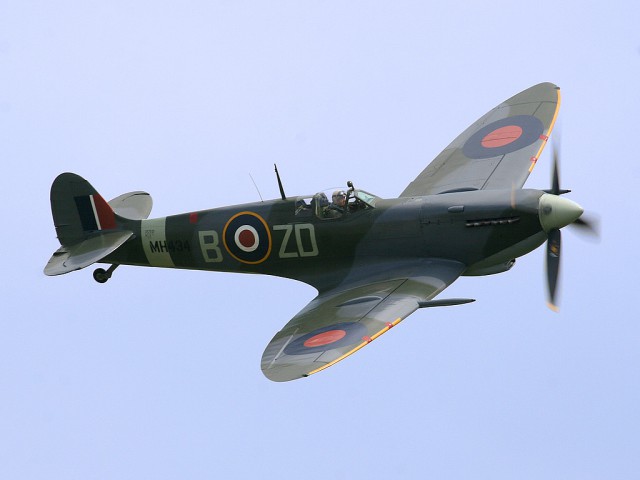 [Via]
A World War Two spitfire has been renovated back to its original flying condition and is to be auctioned off for sale.
There are only around 55 of the Mark 1 Spitfire models still flying from a total number of more than 20,000 that were built during World War Two.
The spitfire has become an icon of World War Two because of the role it played during the Battle of Britain.
On the commemorations for 70 years since the end of World War Two there is a lot of interest from potential buyers of the renovated spitfire. It is expected to be sold for around £2.5 million.
The summer season of air displays in the UK ensures enthusiasm and interest in vintage aircraft is maintained, and the air shows are becoming more and more popular. There are currently about 80 annual air shows in the UK, Duxford being one of the most well-known and people come from all over the world to attend.
Maintaining, renovating and rebuilding vintage aircraft has become big business and many are powered by volunteers and enthusiasts.
The spitfire that has been the latest to receive renovations was last flown in 1940. RAF pilot, Peter Cazenove crash landed on the beaches of Calais in northern France when he came under enemy fire. Peter survived and thought since he was only across the channel that he'd be able to get home quite easily, but he was captured by the Germans and spent the rest of the war as a prisoner. The spitfire remained on the beaches, sinking further and further into the sand.
It wasn't until 40 years later that the tide began to uncover the remains of the aircraft. French port authorities contacted various British experts and eventually the aircraft was bought by a private American businessman, the BBC News reports.
Some parts of the original engine have been salvageable and a bespoke propeller has been made, since the originals are no longer available. Special smooth tyres were also made so that they matched the original tyres used.
The proceeds from the sale of the aircraft are to be given to the Royal Air Force Benevolent Fund.