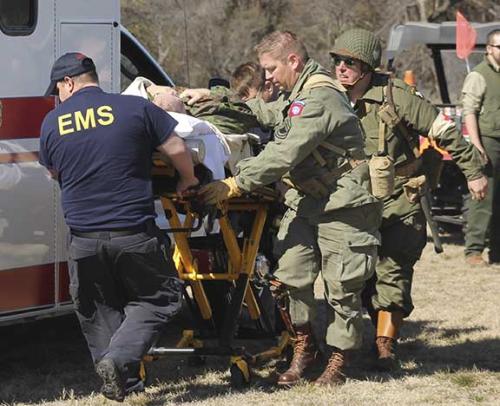 A World War Two re-enactment went terribly wrong in Jacksboro, Texas in February when a man was hit with live ammunition.
Participants gathered for the war re-enactment at Fort Richardson State Park in Jacksboro, with all ammunition required to be blank.
As participants arrived and registered for the event all weapons and ammunition went under security checks.
However, as the event got underway, Scott Fullerton, a World War Two enthusiast and reenactor from Aubrey in Denton County, was hit in his stomach by a round of live ammunition.
Emergency workers were quick to the scene, as Scott became winded from the bullet. He recalls how he was unable to breathe and emergency workers said he was only within centimetres of losing his life.
Scott says that there is a big difference between being hit by a blank and being hit by a live round, and he definitely knew when he'd been hit by the live ammunition.
The ammunition was found to be a .30 caliber carbine bullet and had been issued from an M1 rifle, CBS News reports.
The bullet hit Scott in the stomach and came out the other side. Scott believes it's a miracle he is still here since if the round missed all of his vital organs and if the round had been any bigger it could have hit his heart and he would have died.
A spokesman for Texas Parks and Wildlife said that all weapons should have undergone inspection prior to the start of the event and that all events in the past have occurred without incident. However they are awaiting the full report from the investigation into the incident before deciding how to proceed.
The name of the person who shot Scott has not been made public.
Scott says that he doesn't harbour any ill feelings towards the man who shot him. He says he believes it was a mistake and would never have fired the round on purpose.
Once he is fully recovered Scott says the incident hasn't put him off taking part in World War Two events and says that he is eager to join more of the re-enactments.