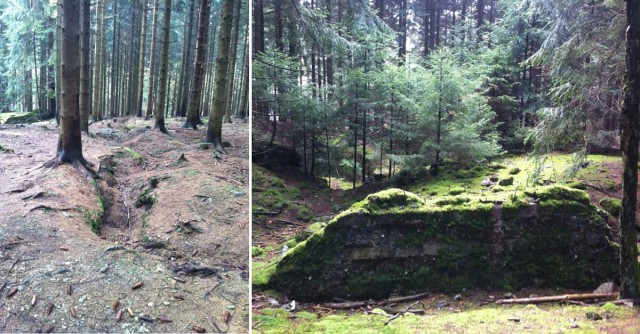 Previously undiscovered World War Two battlefields have been uncovered in Europe with trenches, craters and supplies and munitions littering the landscape.
Researchers are now able to get a previously unknown perspective of the war and the German's ground tactics against the Allies.
The University of Toronto has taken to the battlefields to conduct further studies of the untouched war landscape. David Passmore who is leading the research and study of the battlefields says that even though the war is intimately documented this kind of archaeological study will hopefully reveal much more.
It is the battles that took place in the forest regions between France, Belgium, the Netherlands and Germany that are not so widely well-understood.
The researchers have already uncovered craters thought to be from bombs deployed by Nazi troops in the Normandy region. They have focused on the battles that occurred in the forests in the last year of the war between 1944 and 1945, which include the Ardennes, Hürtgenwald and Reichswald forests as well as the forests in the Arnhem region of the Netherlands.
Previous desk-based research has put the researchers in a good position to locate the battlefields once they are on-site and has given them the best chance of finding key wartime artefacts and locations such as the trenches and bomb craters, as well as actual depots where the Germans based themselves to plan and execute war strategies.
It is getting to these actual forest-based sites that enables the researchers to bring the wartime documentation to life and either corroborate facts, or dispel myths. It is also giving them key insights into where troops were actually located and how they were fighting, the LiveScience reports.
The depots are providing information about where the Germans based themselves and how their war plans were coordinated.
Passmore also says that while the project is immensely informative it can also be emotional as well because they are excavating in sites that haven't been touch for 70 years and so it really brings to life what the soldiers endured.