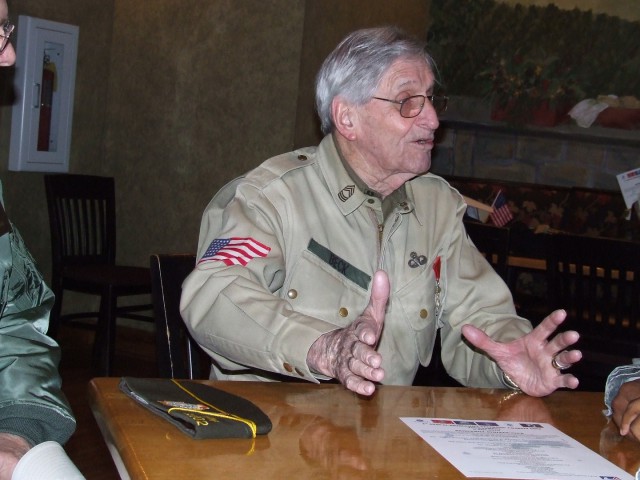 On 6th June this year, the 71st anniversary of the D-Day landings, World War Two Atlanta veteran Carl Dean Beck died after a fall at his home in Dectaur, Atlanta.
He was buried under a magnolia tree.
Carl had been a soldier with the US Army during the war joining up at just 17 years old. He was one of the dwindling number of veterans alive today. Around 16 million troops served in the war and now only around 850,000 are still alive, with an estimated few hundred passing away every day.
One veteran who attended his funeral said that many joined up to the army as a way of surviving. Many had come from farms and rural areas and joining the war effort was a way for them to get out into the world.
Carl joined the 101st Airborne, 501st Parachute Infantry Regiment, H Company. It was E Company that became famous as 'Band of Brothers'.
When the D-Day landings happened, Carl was dropped behind enemy lines along with hundreds of other Allied paratroopers in the middle of the night. It was their job to attack Nazi positions in land, while the coastal attack would come in the early hours of the morning.
Carl made it to the ground and met up with another paratrooper. They stuck together and finally made contact with other fellow Allied troops and launched attacks on German troops.
The paratroopers had to live off the land and what they carried with them. They were also helped by the local French people and the French resistance. Carl would retell his story of survival to as many people as he could, reliving his war years and because he didn't want the memories of World War Two to ever be forgotten.
A childhood friend of Carl's and another veteran, George Wilkerson, at 91 years of age also attended his funeral. The two grew up together as farm boys in Missouri and then later moved to Atlanta.
Wilkerson fought in Europe along with the Allied ground force that entered German and liberated many concentration and prison camps along the way. When his battalion liberated Dachau concentration camp he said that he couldn't believe the devastation and death that lay everywhere.
He was sent home after the liberation of Europe and was expecting to be deployed to the Pacific to continue the fight against Japan, but the atomic bombs put an end to that, the myAJC reports.
Wilkerson recalled how Carl would tell his stories of midnight raids, getting caught by Germans and that he even had nickname for his gun, Jivin' Joan.