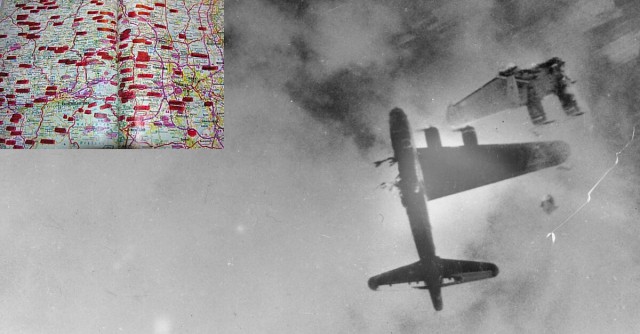 A group in Germany continues to recover and locate plane wrecks from World War Two still strewn across Germany. Sometimes they still have the remains of the pilot or crew inside.
One of the group members, Uwe Benkel, has a map that marks all of the air crash sites that they locate.
It's a road atlas – the kind you find in a car – and is battered, old and used. But when you look inside you can see that it isn't a normal map. Red ink litters the pages and the blotches have started to spread all over Germany. Uwe is determined to continue the search and find all of the crash sites in commemoration of those who gave their lives during the war.
Even though it is now 70 years since the end of World War Two, signs of the war are still everywhere in Germany. From bullet hole marks on the outside of buildings, terrible out of place 1950s buildings in the middle of centuries old towns and areas which were heavily bombed and then rebuilt after the war, monuments, bomb scares from unexploded ordinance such as a 1100lb bomb which recently shut down the central Unter den Linden district in Berlin.
Many of these remnants of World War Two are located underground, hidden from view. These are the ones that Uwe looks for. Uwe and a team of volunteers known as the Arbeitsgruppe Vermisstenforschung go on search for the war missing. They have excavated thousands of aircraft, find missing pilots and ensure they receive a proper funeral.
Through this work, the group has been able to mend families and heal wounds as relatives often never knew what had happened to their loved ones.
Uwe lives near a US Army base in Kaiserslautern and his search takes him and his team to the deepest depths of the German countryside. They began searching 15 years ago and continue to search to this day.
Uwe's interest in the recovering the wrecks began when he was present at an airshow crash in 1988. 70 people were killed and 400 injured when three Italian fighter jets collided and crashed, the Spiegel Online International reports.
The remnants of the crash including personal belongings were strewn everywhere for days after the crash, and Uwe realised how personal the situation was and how important it was to recover what they could for the families.
Not long after the event he visited the Royal Air Force museum at Hendon, in England, and was fascinated by the wrecks that had been recovered by the RAF and were now on display. Ever since Uwe has been on his search and will continue until as many wrecks have been recovered as he can in a lifetime.