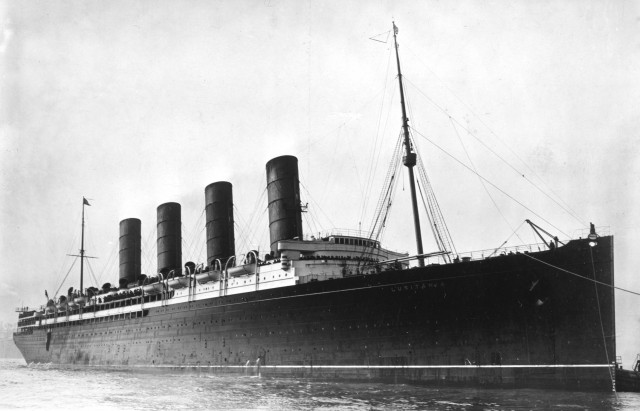 On the 175th anniversary of cruise liner company, Cunard, starting business, three of its flagship liners will visit Liverpool, the city where they were all built.
The Queen Elizabeth, Queen Victoria and Queen Mary 2 will all make the journey to Liverpool between 24th and 26th May.
However another Cunard liner that won't be joining the anniversary celebrations is the Lusitania, which was sunk off the coast of Ireland in May 1918 during World War One. The liner was sunk by a German U-Boat and more than 1000 passengers and crew died.
Even though the Lusitania was hit by a missile from the U-Boat, many conspiracy theories surrounded the sinking.
The liner's captain was William Turner from Liverpool. He survived the sinking and lived another 15 years after the incident, but his career as a mariner was finished once the Lusitania had been lost.
Turner and many of the passengers and crew from the Lusitania are buried in Wallasey Rake Lane Cemetery.
The radio operator from the ship also survived, Robert Leith. Once the boat had been hit, Leith righty put out an SOS message to get help.
He also took photos as the ship was sinking, and only abandoned his post when the power failed and the ship was tilting into the water. Leith escape into one of the lifeboat's even though it was full of water.
But Captain Turner was afterwards accused of not doing enough prior to the attack to steer clear of the German U-Boat.
The U-Boat was just off the Old Head of Kinsale in southern Ireland, as the Lusitania was making its way up to Liverpool, close to the Irish coast.
Captain Turner believed his route was correct and testified in the preceding enquiry. He said that he had been notified that the U-Boat was 20 miles away via a radio transmitted coded message, and so was correct to follow the route he took.
Two radio operators were on board the Lusitania, but only Leith was called to give evidence at the enquiry and the radio log book had gone down with the ship. Therefore there was no conclusive evidence that Turner had made the correct decision to continue on his chosen route, the Liverpool Echo reports.
The enquiry questioned why he did not take a more evasive route that could have avoided the U-Boat completely. Nevertheless, Turner and the Cunard line were cleared of any intentional actions that would have put the Lusitania in danger.