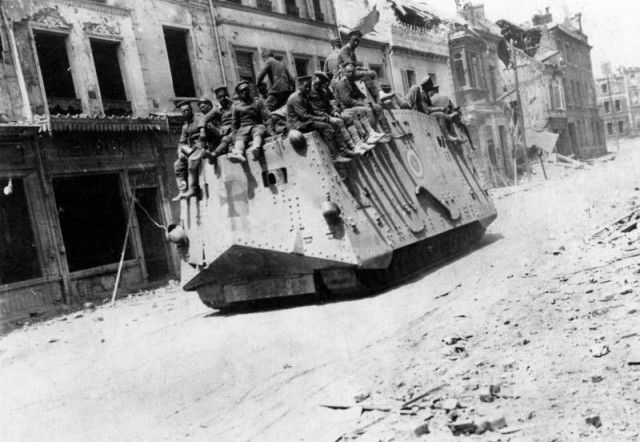 A7V tank at Roye on 21 March 1918 Via
A World War One German Mephisto A7V tank has been put on display at the Australian War Memorial in Canberra, it is thought to be the last surviving tank of its kind.
The tank is on display in Canberra as part of the centenary commemorations of World War One and will stay on display for the next couple of years before it goes back to its home in Brisbane.
The Mephisto was a massive steel tank that had large metal tracks and caused many casualties and difficulties for the Allies. It most notoriously fought on the western front in French territory including at St Quentin and Villers-Bretonneux in 1918.
Cutting-edge for its era the A7V was not a welcome sight for Allied troops which were trying to push the Germans back east. It was the first time tanks were used in warfare and it was difficult for ground troops to work out how to fight back against the tanks.
The A7V that is now kept in Australia last saw battle in April 1918. The Germans waited until a morning fog lifted and at around lunchtime on the 24th April they made a mass attack on British troops using 13 of the tanks, the ABC News reports.
This was the tank's second battle and thanks to the fighting skills of the Allies the tank was disabled and left on the battlefield by the Germans.
It was Australian troops from Queensland and Tasmania that later discovered the tank. They waited until it was dark and then recovered the tank from the battlefield. It was kept by Allied forces on the front line and was later delivered to Brisbane on Australia's east coast. It has since been kept as part of a permanent exhibition at the Museum of Queensland.
The A7V was the German Army's first tank used by the military and was developed in direct response to the British built tanks that were starting to be used on the battlefield. Only 20 of the A7Vs were made, and the Australian exhibit is the last known original to be in working condition and survived the World War One battlefield.