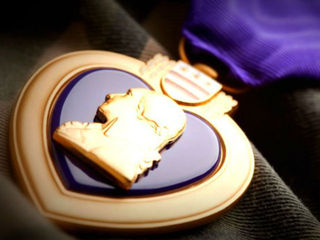 She wasn't going to let go to the small rectangular box, after it went missing for over 50 years. All the containing objects were awarded to her father, Jackie Nesbit Jr., in 1945, after he died. Pat Davis said she never loses it out of sight now. She received her father's award on Christmas Day.
She believed the box got lost in the 1950s and she did not think she will ever get to see it. With the help of her son-in-law and numerous other supporters from all over the country, she was able to get it back. Davis received the Purple Heart medal awarded to her father during the Second World War, after his death in 1945.
Davis said that was the best Christmas present and that she was so happy to have something from her dad back with her, although she never met him. Pat Davis was born in 1945, while Jackie Nesbit Jr. was fighting in Europe during World War II. He served as a paratrooper with the 17th Airborne 466th Parachute Field Artillery Battalion.
Nesbit died during Operation Varsity, aged 21, 69 days after his daughter was born. He was awarded the Purple Heart for his service. Davis doesn't remember seeing the medal when she was little, as her family moved often, but she believed it got lost in the 1950s. She gave up on trying to find it until one day, when the subject was brought up and her son-in-law, Mike Winder, decided to track down the medal, the News-Sentinel.com reports.
Winder found out that the medal had been sold and purchased several times by collectors. He found the current owner of the item, who was offering to sell it for $1,200. For Davis it seemed such a high price, she didn't think she will have it back. However, her son-in-law did not give up but with the help of people all around the country he raised the money to buy the medal. That's how he connected with a man called Kory Wood, who knew Winder's family very well and wanted to do anything he could for Davis to have the medal by Christmas.
On Christmas day, Mike, Her son-in-law, took everybody into a room, gave a short speech about how important family is and continued with Nesbit's story. That was the moment, Davis said, she knew he had the medal.  "I was beside myself. I was sobbing, my daughter was sobbing. Everyone in the room was," she said.